Cooper T81 car-by-car histories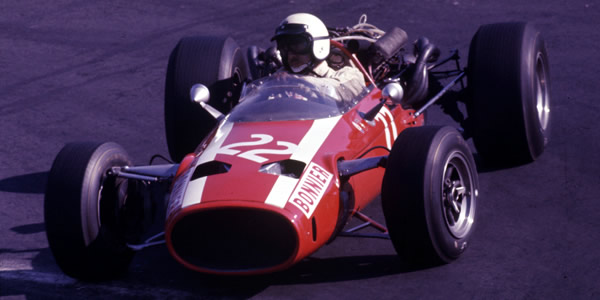 The voluminous Cooper T81 was the first of Cooper's 3-litre Formula 1 designs and was powered by a Maserati V12 engine derived from that of the 1950s 250F. The T81 won two Grands Prix and was raced by famous names such as John Surtees and Jochen Rindt.
Much had changed at Cooper in a short time before the debut of the Cooper T81. Charles Cooper had died in October 1964, and his son John was unsure how to take the team forward. The 3-litre Formula 1 was approaching fast, and Cooper would need an engine. Roy Salvadori had a ready-made solution for Cooper as his car sales business had just been bought by Chipstead Motor Group, an organisation put together by car salesmen Mario Tozzi-Condivi and Peter Hodge, and chaired by 31-year-old Marks & Spencer heir Jonathan Sieff. Tozzi-Condivi was an old friend of Maserati owner Adolfo Orsi, who happened to have a suitable V12 engine. The deal was done by April 1965, Chipstead buying the Cooper Car Company for £200,000, and then securing an engine supply contract with Maserati. In Modena, engineer Giulio Alfieri started to update the 1957 2.5-litre 60-degree twin ohc V12 engine with fuel injection and electronic ignition. Owen Maddock's place as Cooper designer had been taken by Derrick White, a South African whose credentials included the chassis of the lightweight Jaguar E-Type. He was assisted by Bob Marston and, as this would be Cooper's first monocoque, by Tony Robinson, who had built Lotus 25-inspired monocoque cars for British Racing Partnership from 1963 to 1965. As White had already studied one of Robinson's BRPs in detail, the T81 not surprisingly followed standard Lotus 25 principles with an open 'bathtub' monocoque comprised of two stressed-skin pontoons joined by a steel floor and three fabricated steel bulkheads. However, housing the Maserati V12, its fuel requirements, and its massive ZF gearbox meant that the T81 was vast compared with the trim Lotus 25. It had inboard front suspension with Lotus-like rocker arms, and standard rear suspension with outboard springs and twin radius rods. Cooper would run two cars for Jochen Rindt and Richie Ginther from their new base at Canada Road, Byfleet, having moved from Cooper's old home in Surbiton. Customer cars were sold to Rob Walker for Jo Siffert, to Jo Bonnier and to Guy Ligier.
The bulky new car proved too cumbersome at Monaco, the opening round of the 1966 season, but Rindt led in the rain in the second round at Spa, before John Surtees picked him off in the new Ferrari. Ginther then left for his planned drive at Honda, and was replaced by Chris Amon, but within days, Surtees fell out with Ferrari and quit, joining Cooper to drive Ginther's car at the French GP with Amon shifted into a hurriedly built third works car. Amon was dropped after that race so that Rindt and Surtees could have a spare car, and development paid off with Surtees leading at the Nürburgring, and although Jack Brabham won, Surtees led his teammate home in second and third. Rindt then led Surtees and Siffert in a 2-3-4 at Watkins Glen before Surtees gave the T81 a deserved first victory at the Mexican GP.
Surtees left for Honda for 1967, and Pedro Rodriguez took his place in the T81 alongside Rindt, the Mexican taking a fortuitous debut victory at the South African GP in January. The T81B was then ready and was soon followed by a new design, the T86, but T81s continued in use all season. The extra works car, F1-7-66, was sold to Ligier to replace F1-4-66 that he had destroyed at the 1966 German GP, and Rindt's 1966 F1-3-66 was used as a training car before being sold to Argentina for their 'F1' championship. The car used by Ginther, Surtees and Rodriguez, F1-6-66, remained with the team throughout 1967, its original ZF transmission being replaced by the Hewland DG300 used on the newer T81B. This car was then sold to Mitsubishi Industries in Japan, who later scrapped it. After Rob Walker's car was destroyed in his 1968 garage fire, this leaves only three survivors: the Argentina car which has not been seen since 1980, Bonnier's F1-5-66 which lived in the Donington Museum for decades, and Ligier's F1-7-66 which was retained by him for many years. It was recently on display at the Imola circuit museum.
Please contact Allen Brown (allen@oldracingcars.com) if you can add anything to our understanding of these cars.
These histories last updated on .