Cooper T82 car-by-car histories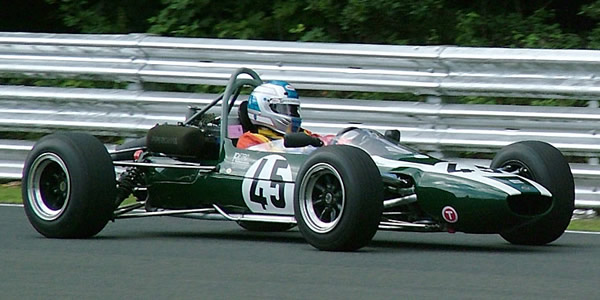 Cooper developed the 1965 T75 into the new T82 design for 1966, but only found two buyers: Jo Bonnier and Jo Siffert raced a BRM-engined car, and loyal Bob Gerard ran a SCA car. Neither achieved any success in Formula 2 but the former car had a second career in SCCA Formula A.
The T82 suffered from the same understeer problems as the smaller F3 T83 but with less people to complain about it, less was done. Bob Anderson drove Bob Gerard's T82-SCA in the 1966 F2 season but could not manage any better than a seventh place at Crystal Palace in June. Jo Siffert also managed a seventh place on the T82-BRM's debut at Goodwood in April but he did not race it again. Jo Bonnier then ran the Écurie Suisse car a couple of times but fared no better, and after that it was just hired out a few times before being returned to Cooper's new Canada Road factory where it was rebuilt with a 2-litre Coventry Climax V8 engine for Tom Jones to use in SCCA Formula A. In 1967, Bob Gerard got the one-off new T84 while retaining his T82 as a second car. His T82 vanished from F2 after that season but is likely to be the SCA-engined T82 that was run in hillclimbs for many years by Rotherham's Don Gray .
As well as the Jones and Gray cars, Lynn Beamont had a SCA-engined 1966 Cooper in Texas for SCCA Formula C. This car arrived in the US in the autumn of 1967 and was described as a T83 in period. In recent years it has been described as a T82, possibly because of its SCA engine.
If you can add anything to our understanding of these cars, please contact Allen Brown (allen@oldracingcars.com).
Chassis
History
Current owner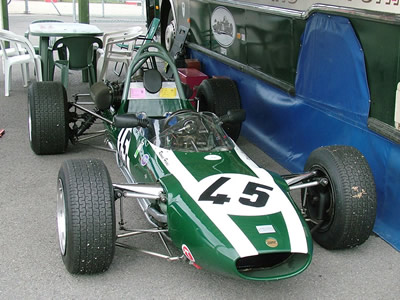 Run by Bob Gerard as a quasi-works F2 team in 1966 for driver Bob Anderson, but also raced by Mike Beckwith towards the end of the season. Rebuilt with a Ford twin cam for the new 1600cc F2 in 1967 and driven by Beckwith, Peter Gethin, Alan Rollinson and others. Presumably this is the car that was next seen in 1969 when fitted with its original Cosworth SCA engine and being raced in hillclimbs by Donald L. Gray (Rotherham, South Yorkshire). Gray continued to pick up class award with this car into 1972. Subsequent history unknown but a "ex-Rollinson, ex-Gethin" Cooper T82 was raced by Ronnie Haines with a Ford twin cam engine in FORCE races in 2003 and in HSCC racing since then. Taken to Australia at the end of 2012 and raced by Haines in the Tasman Revival series.
Driven by: Bob Anderson, Mike Beckwith, Bob Ellice, Peter Gethin, Alan Rollinson, John Cardwell, Harry Stiller and Donald Gray. First race: Goodwood, 11 Apr 1966. Total of 28 recorded races.
Ronnie Haines (UK) 2012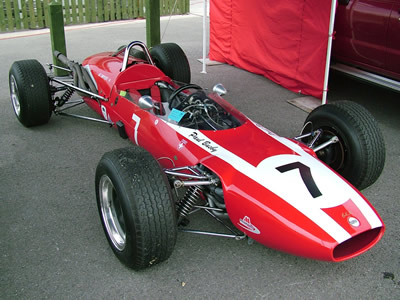 To Jo Bonnier Racing and fitted with a BRM P80 engine for Jo Siffert to race in F2 in 1966; then entered by Ecurie Suisse for Bonnier himself, plus several guest drivers. The car then returned to the factory where it was rebuilt with a 2-litre Coventry Climax FWMV V8 engine and sold to Tom Jones (Eastlake, OH) for use in SCCA Formula A. Jones also secured an entry for the 1967 Canadian GP in this car but was unable to qualify. He was fourth in the SCCA Run-Offs in 1967 and continued to run the car in FA in 1968, then as a FB with a Ford twin cam in 1969. "G. Brown" raced a Cooper T82 in a support race at the Canadian GP in September 1968; presumably this car. It is reported that it was then sold to Rick Kohler (Ohio), presumably the Rick Kohler (Canton, OH) who raced very successfully in FV in Central Division in the mid-1960s, and that he ran it in FB with a BMW engine. Later located in Ft Lauderdale, FL by Paul Busby (Melton Mowbray, Leicestershire) who returned it to the UK and restored it to 1966 specification. Raced by Busby in HSCC Classic Racing Cars Championship events in 2002. Raced by Busby in the Tasman Revival race at Sydney Motorsport Park, Australia in November 2012. Seen at the Silverstone Classic in July 2014.
Driven by: Jo Siffert, Jo Bonnier, Sten Axelsson, Max Johansson, Giancarlo Baghetti, Thomas C. Jones and G Brown. First race: Goodwood, 11 Apr 1966. Total of 15 recorded races.
Paul Busby (UK) 2014
These histories last updated on .