Cooper T83 car-by-car histories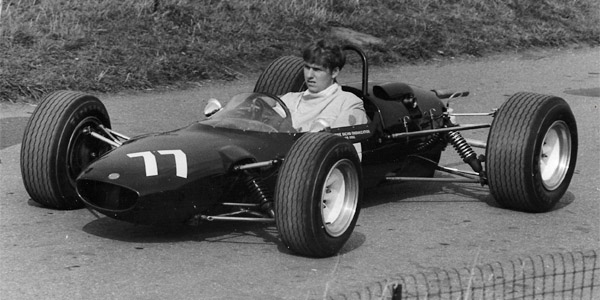 The 1966 Formula 3 Cooper T83 was slimmer and more streamlined than the preceding T76, and inherited its inboard front suspension. It suffered major handling problems which Cooper were unable to fully resolve.
After Charles Cooper's death in October 1964, John Cooper had sold up to Jonathan Sieff's Chipstead Motor Group in May 1965. The Hollyfield Road factory became a car showroom and a new production facility was created at Canada Road in Byfleet. Most of Owen Maddock's design team had gone and production cars, F2 and F3, were no longer a priority. The 1966 F3 design was an evolution of the T76: a bit slimmer and a bit more streamlined, and following the general trend of being squarer in profile. It was that profile that proved to be the problem as the flat bottom of the car allowed air to become trapped underneath which caused the car to lift. Without the aerodynamic knowledge, the design team blamed the front suspension for the resulting understeer and the cars were modified to use outboard springs and dampers; similar to the suspension of the successful Lotus 41. The few top drivers who had invested in a Cooper quickly gave up and bought Brabhams, leaving T83s to net just one third place all season. Older T76s did better.
The T83s did not have much of an afterlife either. One won a few libre races fitted with a Cosworth SCB, and another was very successful in 1968, but only on the hot and dusty airfields of Texan SCCA Formula C.
If you can add anything to our understanding of these cars, please contact Allen Brown (allen@oldracingcars.com).
Chassis
History
Current owner
Mystery Cooper T83s
After the cars had flopped so badly in 1966, a few owners retained them in 1967 in the hope that they could be sorted out, but there was no great demand for second hand T83s. It is likely that two or three of these went to the US, where Lynn Beaumont in Houston, Texas had one of them for Formula C with a potent Cosworth SCA engine. In more recent years, perhaps because of the SCA engine, it has been referred to as a T82. Other T83s may well have been sold to the US with their original 1-litre F3 engines for Formula C, but they are unlikely to have been competitive and will be among the many unidentified Formula C Coopers that raced in 1967, 1968 and 1969. Bill Prout's Formula B Cooper was identified as a T83 in an advert in 1969, but its identity is unknown.
Some would also have stayed in England, and Mike Stow has a recollection of racing a T76 and a T83 in club racing before selling both to Robs Lamplough. An American driver Ray O'Connor had an unidentified T83 at a couple of F3 races in Europe in 1967. Mike Herbertson's F3 Cooper in 1966 and 1967 was reported to be a T76 and also to be a T83; whether this was a T76 updated with T83 bits, or a T83 backdated to T76 specification is unknown.
Chassis
History
Current owner
Lynn P. Beaumont (Houston, TX) campaigned a Cooper T83 with Cosworth SCA engine in SCCA Formula C in 1968 and 1969. He first acquired the car late in the 1967 season and raced it at the 1967 Run-Offs, qualifying very well in fifth and finishing third. He had qualified for the Run-Offs by scoring 21 points in a De Tomaso, all by 18 August. In 1968, Beaumost dominated FC in the Southwest Division, winning 25 of 27 races in the car, according to his commendation when he won San Jacinto Region's "Best National Driver" Award at the end of that season. Southwest Racing News' report on the award described his car as a Cooper T83/Cosworth SCA. In 2006, a Cooper appeared at the Monterey Historics which was described as being the ex-Beaumont Cooper but was called a Cooper T82, not a T83. It was reported to have been owned by its then current owner since 1981. It was driven at the event by Jack H. Wade III (Ponchatoula, LA) and photographs show that it had outboard front suspension, a change applied to a number of T83s as well as to the T82 sold to Tom Jones. Unknown since 2006.
Driven by: Lynn P. Beaumont. First race: Daytona, 26 Nov 1967. Total of 11 recorded races.
Unknown
Bill Prout (Ivoryton, CT) raced a Cooper in Formula B in SCCA Area 1 Championship races with New England Region in 1969. When he advertised the car in June 1969, he described it as a Cooper T83 with Ford twin cam engine.
Driven by: William Prout Jr. First race: Lime Rock (R3), 14 Jun 1969. Total of 2 recorded races.
Unknown
In addition to the above, unknown Cooper T83s were driven by Ray O'Connor and Steven Woods.
Opportunities for further research
We are very keep to hear from anyone who owned a Cooper T83, or who has additional information that might develop the very thin histories developed so far. Please contact Allen Brown if you can help.
Sources
Doug Nye's 1983 book Cooper Cars was republished in 1991 and 1999, and is still available from all good stockists, for example AbeBooks. In that book, Doug published all the surviving Cooper chassis records, which include the seven Cooper T83s shown on this page. The Formula 3 race histories of these cars can then be derived from the detailed work of the Formula 1 Register, whose F3 books are available to order.
Thanks to Ian Hebblethwaite for his help on the history of F3-1-66, and to Eric Perrin for summarising his research into the history of F3-6-66.
These histories last updated on .