Cooper T86B car-by-car histories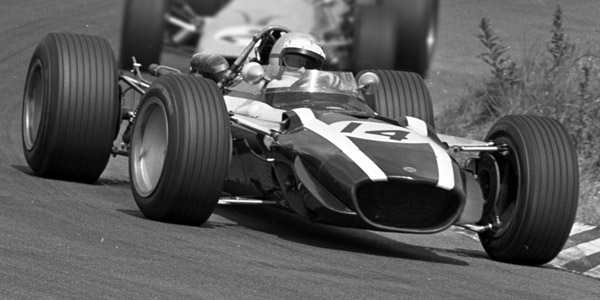 Cooper built a modified version of the Cooper T86 for 1968, and fitted it with a BRM V12 engine. Despite some early promise in its first two GPs, it proved to be slow and unreliable.
Cooper had started the 3-litre Formula One in 1966 with Maserati's 1950s V12 engine, but it was soon clear that this was too old and too heavy to be competitive. In 1967, BRM announced a new V12 engine based on its very successful 2-litre V8, and available in 2½-litre form for Tasman racing and in 3-litre form for sportscar racing. Bruce McLaren, who was still using 2-litre BRM V8s in his F1 car, was keen to use it as a F1 engine, and outperformed BRM's H16-engined cars when his McLaren M5A made its debut in August used the under-developed prototype V12. Cooper also expressed an interest, planning a version of the existing Maserati-powered Cooper T86 to take the BRM V12. Derrick White designed the car, but left to join John Surtees on his Lola and Honda projects before it was completed. Tony Robinson returned to Cooper as technical manager, but the detail work to complete the T86B was done by White's assistant Bob Marston, who would later move to Lola as chief engineer. When the car was featured in a John Bolster article for Autosport in March 1968, Bolster gave credit for the car to John Cooper and Robinson, which earned a sharp rebuke in the letter pages from Cooper's F1 boss Roy Salvadori. The chassis followed the lines of the Maserati-engined T86, but the outer skins were Noral sheet, a product of the Northern Aluminium Company Ltd that had been used extensively in the British aircraft industry, instead of the magnesium and aluminium used in the T86. The BRM P101 2-valve V12 engine was smaller and lighter than the Maserati, so the T86B was a neater and better packaged car.
Cooper had planned to race the T86B in 1967, but the V12 engine project was behind schedule, and Cooper's first unit, engine number 101-002, did not arrive in time. The first T86B was completed in time for testing at Goodwood in November 1967, but BRM needed the engine for the Tasman series, so the car did not race until March 1968. Cooper was now in complete and rapid decline. Main sponsor BP had pulled out of motor racing, leaving only the tyre contract with Firestone and the rapidly reducing income from the Mini Cooper tie up with BMC to augment income from start money and prize money. Drivers Jochen Rindt and Pedro Rodriguez left at the end of 1967 for Brabham and BRM respectively, and Salvadori objected so strongly to the choice of BRM engines over Cosworth for 1968 that he was offered a lucrative car dealership in return for leaving. He was replaced as Cooper's F1 boss by John Cooper, returning from the Mini Cooper saloon racing team.
Drivers at the start of the season were Ferrari sports car team member Ludovico Scarfiotti and Lancashire GT racing phenomenon Brian Redman, but Scarfiotti was killed in a hillclimb accident on 8 June and Redman was badly injured the next day when he crashed his Cooper T86B at Spa. Replacements Lucien Bianchi and Vic Elford were good all-rounders, but not F1 standard. BRM chief engineer Tony Rudd's unwillingness to commit BRM to the V12 instead of wasting further energy on a 64-valve version of the H16 left BRM increasingly uncompetitive during 1968 and the 2-valve version of the BRM V12 could not compete with the Cosworth DFV, leaving the T86B well off the pace throughout 1968.
Please contact Allen Brown (allen@oldracingcars.com) if you can add to our knowledge of these cars.
As the Cosworth DFV dominated the 1968 season, it became clear that Cooper had backed the wrong option, and that prioritising their BMC relationship had been a mistake. Cooper's sales of racing cars had declined to virtually nothing, with the one-off 1967 Formula 2 T84 and Formula 3 T85 having been fatal to the company's ambitions in those arenas. A T88 was built for Peter Rehl to use in Formula C in 1968, and Rehl was also the only customer for Cooper's Formula A T90 for 1969. However, Cooper's decline in F1 meant that BMC were less interested in having Cooper's name associated with the Mini, and Cooper's last source of income dried up. John Cooper looked for sponsorship for the 1969 season, but no deal was struck, and the team folded early in 1969. The remaining equipment was sold at auction in June 1969, including the two surviving T86Bs. One was run in libre racing by John Scott-Davies in 1969 and 1970, and later by David Taylor, but was damaged beyond repair when crashed by mechanic Roger Banks while testing at Oulton Park. The other was hilllclimbed with some success by Martin Brain, and now competes in Vernasca Silver Flag events in Italy.
These histories last updated on .