Coyote II (1971) Indy car-by-car histories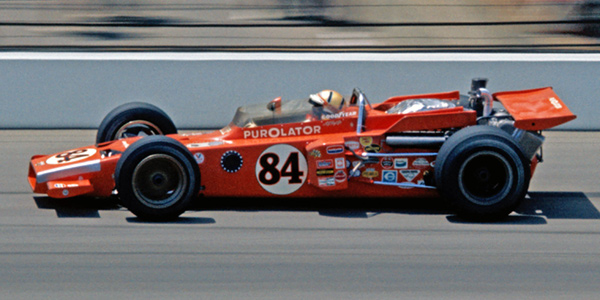 AJ Foyt commissioned Bob Riley to design a new car for 1971, to replace the dated Len Terry-derived cars that Foyt had been using since 1966. It could not compete with the McLarens or 1971 Eagles, but Foyt won one race when the quicker cars hit problems.
From 1966 onwards, AJ Foyt's team had been slowly evolving his Coyotes from their starting point as copies of the Len Terry-designed Lotus 38. Although Foyt had won the 1967 Indy 500 in a Coyote, he had only won three races since, at Trenton in 1967 and at Continental Divide and Hanford in 1968. The only other Coyote success had been Jim McElreath's win in the inaugural California 500 in September 1970, but that was hardly representative given the number of retirements. For 1971, Foyt decided he needed a new design, and employed a 'pencil', as racing car designers were then disparagingly known in Indycar circles. He chose Bob Riley, then an engineer at Kar Kraft, the supposedly independent company set up by Ford to develop the Ford GT40 racing program. Riley had done some work on the suspension of one of Foyt's Lotuses, and had also designed a complete car for Formula Super Vee.
Riley was determined to reduce the front area of the car to reduce drag, but this gave him a packaging issue, as the new car had to hold the 75 gallons of fuels allowed by USAC rules. The result was that the cockpit was very cramped, with the steering shaft going through the footbox and so little space around the driver's arms that Foyt had to change gear by reaching across with his left hand. The car was square in profile, with a wedge shape, with the main radiator housed in the nose. An oil radiator was situated on the left side of the car in a cowling. The car was claimed to be 200 pounds lighter than its predecessors at 1,350 lbs and held 74 gallons of fuel, eight more than before. It was fitted with a Hewland LG500 four-speed gearbox instead of the previous two-speed, had brass radiators instead of aluminium and used Lockheed brakes after Foyt had experienced brake problems three times in 1970. Sponsorship came again from Sheraton-owned auto parts firm Thompson Industries, with additional backing from Purolator oil filters. The car was called the Coyote II by Foyt, indicating that the 1966-1970 cars were all viewed as a single design. Riley's name was not mentioned at all in the announcement, and press reports said that Foyt was one of the few drivers who designed his own cars.
Unfortunately, we do not know the current owner of the #84 car. If you can help with this, or add to our understanding of these cars, or have photographs that we can use, please email Allen at allen@oldracingcars.com.
Chassis
History
Current owner
New for AJ Foyt at the 1971 Indy 500, where he finished third. Presumably the car he used for the rest of the season, but it is possible he used the sister car or older cars at short track events. NSSN reported that he used this car when he won at Phoenix in October 1971, his first USAC race win in over two years, when the car had "undergone major chassis changes, including the moving of the radiators to the rear of the chassis, ala McLaren". The car was sold to the MVS team for 1972 and raced by Jim Hurtubise at the Indy 500. MVS also bought an older 1969/70 Coyote for the short ovals. This car was then raced by George Snider as MVS's #29 entry on the longer tracks later in 1972. Although Sessions was reported to be driving the team's 1972 Eagle at all his races in 1973, photographs and race video show him driving the Coyote at least twice. It was bought from MVS in 1975 less engine by the Dewco Construction team of Jack Owens (Indianapolis, IN), and fitted with a stock block Chevrolet. It ran in this form for two years, but only started one race. Then unknown until the early 1980s when it was entered by Robert W. Gaby's B&G Racing for Steve Ball (Osslar, IN) at the 1981 Indy 500. Ball's entry was withdrawn after the team's owner ran into financial issues, but Ball was invited to start the Pocono race a month later as USAC were short of entries. The car was later sold to Chuck Haines, who later sold it to a new owner who took it to Walt Goodwin to be restored. Subsequent history unknown. Being restored by Rick Duman's Turn 4 Restorations, LLC (Speedway, IN) in July 2016. Raced by Angus Russell (Ormond Beach, FL) during 2017 and 2018. Russell sold the car to Mike Hays (Lincoln, Nebraska) in 2020, and he still had it in December 2021.
Driven by: AJ Foyt, Jim Hurtubise, George Snider, Sammy Sessions, Jack Owens and Steve Ball. First race: Indianapolis Motor Speedway (R5), 29 May 1971. Total of 15 recorded races.
Mike Hays (USA) 2021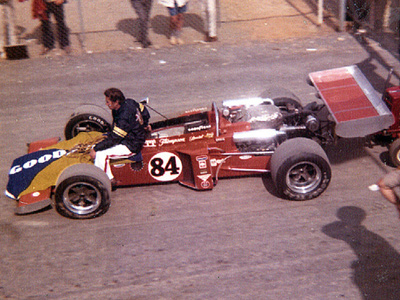 New as AJ Foyt's backup car for 1971 and taken over by NASCAR driver Donnie Allison for the Indy 500. Also raced by Allison at Pocono where he hit the wall during the race and as far as can be determined it did not appear again that season. Presumably the car raced by Foyt at Phoenix at the start of 1972. Taken to the 1972 Indy 500 as Foyt's #84 backup car and qualified by George Snider. Raced by Sammy Sessions as Foyt's #84 entry at Michigan, Pocono and Ontario later that season. Subsequent history unknown, but it was in Jim Brucker's Movieworld/"Cars of the Stars" museum at Buena Park, CA at some point. When Brucker's museum closed in 1978, his collection was moved to Santa Paula where it sat in a warehouse until 1993. The Coyote was loaned to the Santa Paula Union Oil Museum for its "Legends of Auto Racing" exhibit in December 1993. It was next seen in 2001 when bought from Jerry Friedrich (also then in Santa Paula, CA) by Bruce Linsmeyer (Orlando, FL) and restored by his Avon Aero between 2001 and 2005 when it was fitted with a non-turbo Ford V8 and was missing its left-hand side radiator. Traded to former single-seat Can-Am racer Chuck 'Rick' Parsons (Inverness, IL) for a 1968 Shelby Turbine Indy car and run by Parsons in The Mitty at Road Atlanta in early May 2011. Sold via Mecum Auctions in May 2011. New owner unknown.
Driven by: Donnie Allison, AJ Foyt, George Snider and Sammy Sessions. First race: Indianapolis Motor Speedway (R5), 29 May 1971. Total of 7 recorded races.
Unknown owner 2011
Unexplained sightings of 1971 Coyotes
Bill Wiswedel recalls that Orrin Becker, a jeweller from Williamsville, New York, in the Buffalo area, had a 1971 Coyote on display at an Indy 500 memorabilia show in downtown Indy sometime probably in the early 1980s. It had a mockup engine at the time, but Becker had acquired parts to make up a 255ci Ford engine from Howard Gilbert. As the No 9 car was in California in the 1980s, this is likely to have been the #84 car in between Steve Ball and Chuck Haines.
Acknowledgements
My thanks to my usual collaborators Simmo Iskül and 'gbl' for their help with this subject, to Bill Wiswedel, and to Steve Ball and Bruce Linsmeyer for information on the cars they owned. The first Coyote II was unveiled on 28 April 1971 and much of the technical description of the car comes from a UPI press release, widely reproduced in American newspapers on 29 April 1971.
Unfortunately, we do not know the current owner of the #84 car. If you can help with this, or add to our understanding of these cars, or have photographs that we can use, please email Allen at allen@oldracingcars.com.
These histories last updated on .