Coyote III (1972) Indy history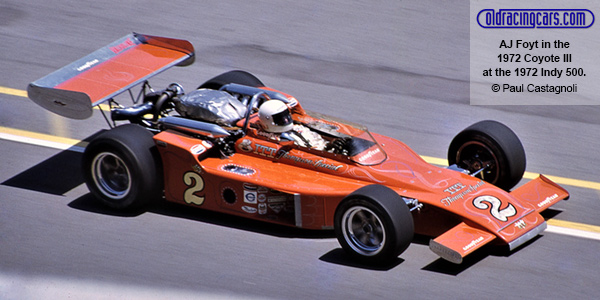 Bob Riley designed a new Coyote III for AJ Foyt in 1972, similar in layout to the recently announced 1972 Eagle. Foyt missed much of the season due to injury, and when he did race the car it was always one of the first retirements.
When Foyt announced the new Coyote III on 28 April, via a press release to UPI, he described it as a 1973 car, built early. It had been completed in just 72 days, suggesting it was started in mid-February, just after the speed of Bobby Unser's new 1972 Eagle in testing became clear. The car was clearly inspired by the Eagle, with a low, wide monocoque and the main radiators situated behind the front wheels. The oil coolers sat neatly on top of the sidepods but the bulky Foyt V8 engine - "no longer a Ford" - dominated the airflow to the back of the car. Its weight was again given as 1350 lbs, and the engine was rated at 800 bhp.
The car got its first laps at the Speedway on 2 May, but practice was plagued with problems, including two burnt pistons and a blown oil cooler before he recorded a lap of 188.8 mph just before qualifying began. After having to abort his first qualifying run with the engine smoking, he qualified on day two at 188.996 mph, the fifth-fastest time but significantly off the pace of Unser's Eagle '72 and the two leading McLaren M16Bs of Peter Revson and Mark Donohue. At the race start, the Coyote failed to fire up and after two pit stops to try to sort out a turbocharger problem, Foyt retired.
Foyt broke his ankle in a dirt track race at DuQuoin on 28 May, so missed the Indycar races at Milwaukee, Michigan and Pocono, returning for the California 500 at Ontario in early September. Despite his weight having ballooned during his time off to the point that a crew member was worried they'd never get him into the car, he qualified sixth and charged through the gap left by Jerry Grant's non-starting Eagle at the start and held the lead for 24 laps until the Coyote's gearbox failed. After two more races also resulted in early retirements, Foyt commissioned Riley to produce a completely new car for 1973, and the 1972 Coyote was sold to Lee Brayton, who had previously bought two older Coyotes. Brayton found the car just as difficult, and after an accident in 1973 it was modified with Eagle suspension and an Eagle nose. It survives still in that form today.
If you can add to our understanding of these cars, or have photographs that we can use, please email Allen at allen@oldracingcars.com.
Chassis
History
Current owner
Built new for AJ Foyt for the 1972 Indy 500, where he qualified in 17th position on day 2, with the fifth fastest time, but retired early. Foyt was injured at DuQuoin the day after the 500 and did not return until Ontario in September, by which time he was reported to have built a new car. However, later history would suggest this was the same car, but with some updates. He led at Ontario, but retired at all three of the remaining races of the season. The car was sold to Lee Brayton for 1973 as the #61 Diamond Reo entry, with John Gleason as his chief mechanic. Brayton raced the car at TWS and Trenton early in the season, but he was unable to qualify for the Indy 500. After damaging the Coyote at Ontario later in the season, Brayton bought the ex-Gordy Johncock 1972 Eagle from Patrick Racing. The Coyote was rebuilt and retained by Brayton as a backup for 1974, still as the #61, and was qualified for the Indy 500 by Rick Muther. After Brayton damaged his Eagle in practice at the Indy 500, he raced the Coyote one more time at Pocono. The car is reported to have gone to Patrick Racing as a show car and presumably was the Sinmast Special Coyote loaned to an Indianapolis bank in May 1975. However, Brayton had acquired sponsorship from Sinmast, who later sponsored Patrick, so maybe it was actually owned by Sinmast. The car's history is then unknown until it was found in "a Chevrolet dealership in Carmel, a northern Indianapolis suburb, in 1984" by Thomas W. Acker (Largo, FL). Acker displayed the car at a car show in Florida in 1990 still in #20 blue-and-white Patrick livery. It was acquired from Acker by Vonnie Sue Martin for her husband Ron Martin (Bluff City, TN) in 2005 and restored to its 1974 configuration by Walter Goodwin. Martin displayed it at the IMS in 2008 and 2011, after which he sold it to Charles Ungurean (Columbus, OH). Ungurean sold it to Bruce Revennaugh (Marble Falls, TX) in 2014. Displayed by Revennaugh at the Indianapolis Historic Indycar Exhibition in May 2017. Still with Revennaugh in December 2021.
Driven by: AJ Foyt, Lee Brayton, Bill Puterbaugh, Dick Simon, Bentley Warren and Rick Muther. First race: Indianapolis Motor Speedway (R3), 27 May 1972. Total of 11 recorded races.
Bruce Revennaugh (USA) 2021
Acknowledgements
My thanks to Simmo Iskül and 'gbl' for their help on this research, to Bill Wiswedel for further information, and to Rick Bunning and Ian Blackwell for the use of their photographs. Some information in this article is drawn from an article in the Tampa Bay Times 23 May 2008 describing the Martins' acquisition and restoration and quoting Acker, and from Bruce Revennaugh's information board displayed alongside the car.
It has been suggested that the car was built using bulkheads acquired from AAR, but the original Bob Riley drawings show that the front bulkhead was not an AAR piece. Also, the chassis number of the car has been given as 'R-71-2" but that appears to have been a USAC reference number used on the car's USAC data sheet and refers to the car being entered as #2. Together with a comment in Autosport (14 Sep 1972 p32) that the Ontario car was new, this has led to a belief that two 1972 Coyotes were built, but it seems much more likely that there was only one.
If you can add to our understanding of these cars, or have photographs that we can use, please email Allen at allen@oldracingcars.com.
These histories last updated on .