Dragon 1976 Indy car-by-car histories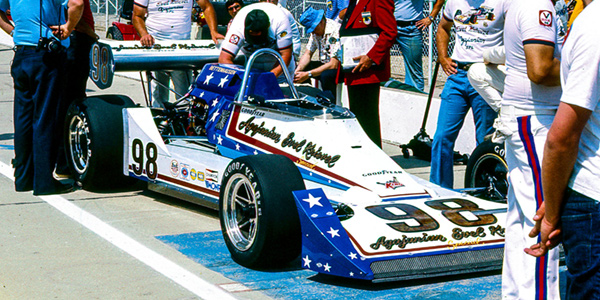 Grant King built two new cars for 1976, named Dragons as it was the Chinese Year of the Dragon, instead of Kingfish as his previous cars had been named. They were used for three seasons, but the team's best results through that time were achieved with the backup 1973 cars.
Grant King had been running his 1973 Eagle-copy cars for three seasons, but in 1975 had only competed in the Indianapolis and Pocono 500-mile racers. JC Agajanian split from the Leader Card operation mid way through 1975, and teamed up with King for 1976, giving the team the backing to produce new cars. The cars followed the lines of AJ Foyt's 1973 Coyote, a line also taken by Lindsey Hopkins' 1974 Riley and George Bignotti's Wildcats, all of which were designed by Bob Riley. John Martin, who had run his own operation with a McLaren M16B, joined to drive the lead car. The new team, using Aggie's traditional #98 and #97 for its two entries, used the 1973 cars for the opening two races of the season and introduced the Dragon at the 1976 Indy 500. Martin and Kinser both qualified easily. Gary Bettenhausen replaced Martin for 1977, when again both cars qualified comfortably for the Indy 500. Billy Vukovich took Kinser's place in the #97 for a few races later in 1977, but in 1978 the team focused on Bettenhausen in the #98. The #97 entry was used just once in 1978, at the Indy 500, where Roger Rager wrecked his Dairy Queen-backed car.
The best results achieved by the team during this period were Bettenhausen's second place at Mosport Park in July 1977 and sixth, also at Mosport, in June 1978, but both results were in the 1973 Kingfish that the team had kept as backups. Exactly where the Dragon was used is still be fully determined, as photographs continue to show the 1973 Kingfish cars being used on road courses and short tracks. Statistically, the Dragon was very unsuccessful - at the time of writing, 30 race starts are known and only eight of those resulted in a finish, with a best position of seventh.
If you can add to our understanding of these cars or have photographs that we can use, please email Allen at allen@oldracingcars.com.
Chassis
History
Current owner
New for Sheldon Kinser to drive at the 1976 Indy 500 as JC Agajanian & Grant King's #97 entry sponsored by TheBottomhalf, a local men's clothing store. Also driven by Kinser at Pocono and Ontario, and it is possible this car was John Martin's #98 entry at short track races in 1976. For Kinser at the 1977 Indy 500 as the #97 Genesee Beer entry, then driven by Billy Vukovich with the same sponsor at Pocono, Mosport Park, Michigan and Ontario later that year. For Roger Rager at the 1978 Indy 500, entered by Agajanian/King and sponsored by Daily Queen but wrecked during practice. The car was stored in a loft after this but the nose sat outside the back of Grant King's workshop, leading to stories that the whole car was outside and in poor condition. It actually survived in very original condition. It was still with owner Eddie Legg in August 2022, when it was for sale. and is still awaiting restoration in October 2021.
Driven by: Sheldon Kinser, Billy Vukovich and Roger Rager. First race: Indianapolis Motor Speedway (R3), 30 May 1976. Total of 8 recorded races.
Eddie Legg (USA) 2022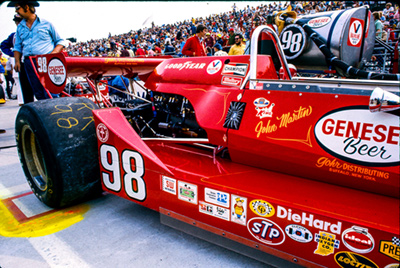 New for John Martin to drive at the 1976 Indy 500 as JC Agajanian & Grant King's #98 Genesee Beer entry. Also driven by Martin at Milwaukee, Pocono, Michigan, Trenton, Milwaukee again and Ontario, but it is possible that he was using the sister car at the short track races. Entered by Agajanian and Evel Knievel for Gary Bettenhausen to drive in 1977, but he used an old 1973 Kingfish at least once at short track events. For Bettenhausen again in 1978, now entered by Agajanian, King and JC Purcell, and with Oberdorfer Foundries as title sponsor. The car was retired from racing at the end of 1978, and crew member Bill Throckmorton recalls that "the Evel Knievel car hung upstairs with the orange Oberdorfer colors on it until Grant restored it". The car was restored to its Evel Knievel 1977 livery and by 2014 was reported to be owned by Chris Agajanian, son of JC Agajanian. It was loaned to the Evel Knievel museum (Topeka, KS) in 2017, but was back in Agajanian's shop by early 2018. Still with Chris Agajanian in 2021.
Driven by: John Martin and Gary Bettenhausen. First race: Indianapolis Motor Speedway (R3), 30 May 1976. Total of 22 recorded races.
Chris Agajanian (USA) 2021
The King-Agajanian-Purcell partnership after 1978
Aggie Agajanian, Grant King and Usona Purcell ran the old 1973 Kingfish in 1979, then King attempted to build a ground-effect car for 1980, aiming to copy the 1979 Penske PC7. The car could not be prepared in time for qualifying for the 1980 Indy 500, so driver Roger Mears was put into an old 1973 Kingfish, which had no chance of qualifying. Roger Mears qualified the "King PC7" in 1981, but was bumped from the lineup, and Jim McElreath didn't come close in 1982, the team's only appearance that year. King had by now wound down his racing operations and was producing equipment for the roofing industry. Purcell entered a March using the #98 number in 1983, and for 1984 the Agajanians formed a new partnership with Mike Curb to enter Ligier Indycars for the well-funded Mike Chandler. JC was by now 70, and quite unwell, so his son Chris took over the Agajanian operation. The elder Aggie died in April that year after a long fight against cancer.
Acknowledgements
My thanks as ever to Michael Ferner, Simmo Iskül and 'gbl' for their help sorting out the histories of these cars. Thanks also to Richard Deming for the use of his photographs.
If you can add to our understanding of these cars or have photographs that we can use, please email Allen at allen@oldracingcars.com.
These histories last updated on .