Eagle 1967 Indy car-by-car histories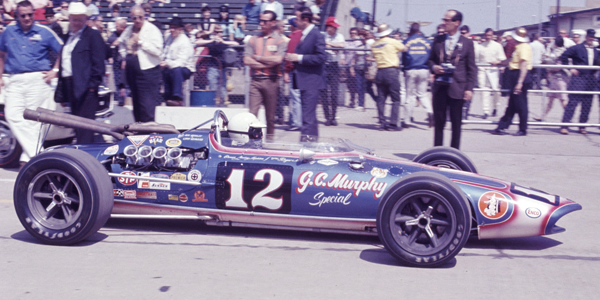 The 1967 Indy Eagle was only the slightest of enhancements over the 1966 model, and the chassis numbering actually continued from the earlier car. Bobby Unser's Rislone/Leader Cards car was the most successful of the batch in 1967, winning two races.
Four customer cars were delivered in 1967, and were delivered to Leader Card Racers for Bobby Unser to drive, to Lindsey Hopkins for Roger McCluskey, to 'Smokey' Yunick for Denny Hulme, and to Pacesetter Homes for Jochen Rindt. AAR also retained two cars for their own purposes, and these were entered at the Indy 500 for Dan Gurney and Richie Ginther. Ginther could not get his car into the race and it was sold to Friedkin Enterprises before qualifying finished, and was put into the race by Jerry Grant. Rindt wrecked his car during practice but Unser, McCluskey, Hulme and Gurney all qualified. AAR did not enter a car in the later championship races as Gurney was focused on the F1 Eagle, and his Indy 500 car appears to have been sold to AJ Foyt. Both Unser and McCluskey had good results in their cars, finishing 1-2 in each of the Mosport races, but elsewhere Mario Andretti's Hawk, Foyt's Coyote, Al Unser's Lola and even Gordy Johncock's Gerhardt proved to be quicker. Unser continued to use his 1967 car in 1968 after his Indy 500-winning 1968 Eagle was wrecked, and he clinched the 1968 USAC National Championship in the car.
Like the 1966 cars, the chassis numbers of the 1967 cars are by no means certain but the numbers used here are based on the results of conversations between Dave Thomas, Walter Goodwin, AJ Watson, Dick Cecil, Willie Davis, Jud Phillips and others. All five of the surviving cars still exist today but one was sold in 2009 and the new owner is not yet known. If you can add anything to our understanding of these cars, please contact Allen Brown (allen@oldracingcars.com).
Chassis
History
Current owner
Eagle 67
'the Pacesetter Homes car (208?)'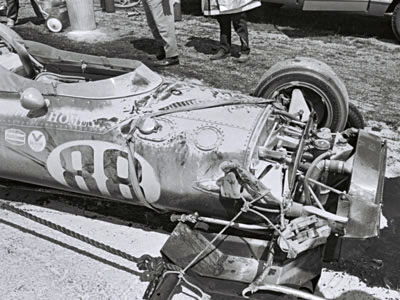 Sold to John W. Klug, founder of California builders Pacesetter Homes, fitted with a Ford quad cam engine and entered for Jochen Rindt at the #88 car at the 1967 Indy 500. Arrived on 1 May but crashed heavily just eight days later and "damaged extensively". Believed to be the car later sold to SCCA racer Lou Sell (Fullerton, CA) and raced in road course events from July 1968 onwards. Crashed at Riverside in December 1968 when Sell was very badly injured and the Eagle was torn in half.
According to Mike Devin, writing on Facebook in June 2018, he used the front half of this tub and the back of the car crashed by Wally Dallenbach at Dover Downs in 1969, to build a Sprite show car for Jack Beckley, long-time chief mechanic on the Lindsey Hopkins Eagles. Beckley left Hopkins in June 1970, and Don Kenyon took over the whole operation. The subsequent history of the Sprite show car is unknown.
Driven by: Jochen Rindt and Lou Sell. First race: Continental Divide (R11), 7 Jul 1968. Total of 5 recorded races.
Destroyed 1968
Eagle 67
'the Smokey Yunick car (209?)'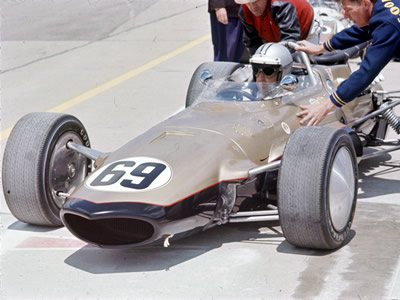 Sold to legendary NASCAR mechanic Henry "Smokey" Yunick and entered as the #69 entry for Denny Hulme at the 1967 Indy 500, fitted with a Ford V8 and with support from the City of Daytona. Hulme finished fourth but Yunick did not run the car in any other events and later in the season in went to the Lindsey Hopkins to replace a car damaged at Hanford. In 1968, this car was identified as the #38 backup car for McCluskey at the Indy 500. It was not entered in 1969, suggesting it might have been the team's road course car, but it reappeared in 1970 at the Indy 500 as the #37 car for Mel Kenyon. Later to Bob Dickson for engine builder Bruce H. Crower, fitted with Crower's 203 ci turbocharged Chevrolet V8 engine and raced by Rick Muther at Phoenix at the end of 1972. Retained in 1973 as a backup to Crower's 1972 Eagle. Advertised by Crower in April 1974. Still in this configuration when bought from Jim Mahoney by Thomas W. Acker (Largo, FL) in 1993 and then sold to Don and Joan Lyons (Dowagiac, Michigan) in 2003. Fully restored to 1967 specification by Lyons and sold from the Lyons collection at the Gooding & Company Pebble Beach Auctions in August 2009.
Driven by: Denis Hulme, Roger McCluskey, AJ Foyt and Rick Muther. First race: Indianapolis Motor Speedway (R3), 31 May 1967. Total of 7 recorded races.
Don and Joan Lyons (USA) 2009
Eagle 67
'the Leader Card car (210?)'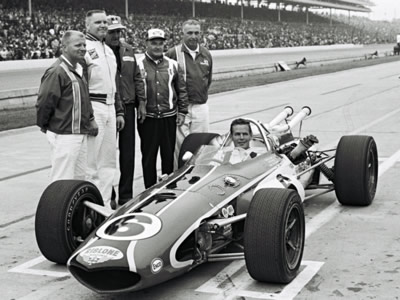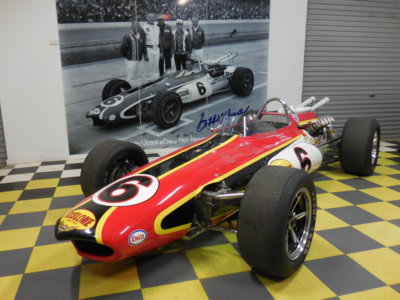 Sold to the Jud Phillips half of the Leader Card team, fitted with a Ford V8 and entered for Bobby Unser as the #6 Rislone car from the start of the 1967 season. Retained for 1968 and run still with its Ford engine alongside a new 1968 Eagle which had an Offy turbo engine. The '67 car was used again by Unser in 1969, when it was described as 'his accustomed short-track car, an old Eagle of the original cylindrical shape with a turbo/Offy'. Crashed at Phoenix Nov 1969 and heavily damaged but evidently repaired as it was raced again during 1970. Again its exact usage is unclear and at some point the car transferred to the AJ Watson half of the Leader Card team. It was retained by Watson and later repainted in its Bobby Unser 1967 livery. Bought from Watson by Aaron Lewis (Cessnock, NSW, Australia) in July 2005 and given a full mechanical restoration. Sold by Aaron in 2014 to Scott Borchetta (Nashville, TN), the founder of Big Machine Records, who ran it in the vintage event at Indianapolis in May 2015. Also appeared at the Historic Indycar Exhibition in May 2016. This car was part of the IMS Museum's "The Amazing Unsers" exhibition in 2018. At the Historic Indycar Exhibition in 2019.
Driven by: Bobby Unser, Jim McElreath and George Snider. First race: Phoenix International Raceway (R1), 9 Apr 1967. Total of 45 recorded races.
Scott Borchetta (USA) 2019
Eagle 67
'the Hopkins/McCluskey car (211?)'
Sold to Lindsey Hopkins, fitted with a Ford V8 and entered for Roger McCluskey as the #12 G. C. Murphy car from the start of the 1967 season. Hopkins already had a 1966 car and also acquired Yunick's '67 Eagle towards the end of the year after one of the team's regular car was damaged at Hanford. These three cars were available to McCluskey again in 1968 as the #8 G. C. Murphy entry but 211 was not present at the Indy 500 that year and it is not clear how it was used in 1968. Wally Dallenbach took over the Hopkins ride in 1969, with Sprite sponsorship, and drove 211 at the Indy 500 before crashing it at Dover Downs in August. Thought to be the modified car raced by Mel Kenyon at Milwaukee in August 1970. Returned to Indy in 1972, wearing #73 but now significantly modified with outboard front suspension. Probably the Eagle raced by Kenyon at several races later in 1972 before Hopkins acquired a new 1972 Eagle for him. Possibly appeared once more at TWS in 1973. Acquired by Jim Gilmore in Jackson, MI, painted in Gilmore Racing colours and displayed on the wall in Jim Gilmore Enterprises (Kalamazoo, MI). Later in the Gilmore Car Museum (Hickory Corners, MI). Sold at the Gilmore Estate auction in September 2005 to Bob Donahue (Indianapolis, IN). At George Lyons' Contemporary Motorcar Ltd (Erie, PA) for body, paint, striping and lettering restoration in March 2016. Appeared at the Historic Indycar Exhibition in May 2016 but still not mechanically complete. The restoration was finally completed by Peter Jamie in late 2018. Badly damaged at the Indycar historic event in May 2019.
Driven by: Roger McCluskey, Wally Dallenbach, Mel Kenyon and Jim McElreath. First race: Phoenix International Raceway (R1), 9 Apr 1967. Total of 33 recorded races.
Bob Donahue (USA) 2019
Eagle 67
'the AAR #74 car (212)'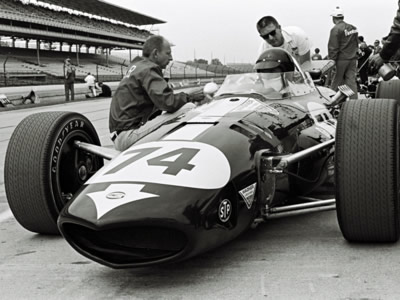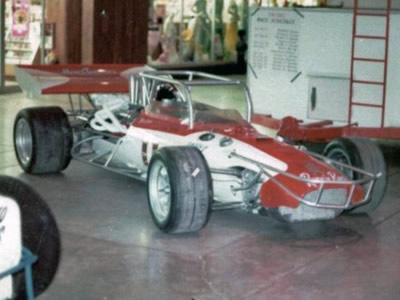 The #74 AAR entry for Dan Gurney at the 1967 Indy 500, fitted with a Ford V8 and with support from Wagner Lockheed. Sold after the race to AJ Foyt and very probably the car raced by him at Mosport Park in July 1967. The history of the car over the next three years remains unknown but it reappeared at the 1970 Indy 500 still as part of the Foyt team but now equipped with a turbo Ford and entered as the #83 Greer car for Donnie Allison, who finished fourth. Then sold to Bill Simpson (Los Angeles, CA) and raced by him with a Chevrolet engine and three late-1970 races. Fitted with an Offy turbo for Simpson in 1971 and 1972. Sold to Marv Carman (Union City, Michigan) and turned into a supermodified, but at some point the car was very badly damaged in a workshop fire. The remains of the car were acquired by Richard Bible and they were stored until 2008, when bought by Indycar collector Bill Wiswedel (Holland, Michigan). In 2012, Wiswedel sold the fire-damaged tub and its surviving components to Justin Gurney, son of Dan Gurney and then CEO of AAR. He sent the tub to John Mueller and Jerry Wise of Entrepreneur's Motor Sports (Fresno, CA), who built a completely new car to take its place, there being no part of the damaged tub that was usuable. The new car was unveiled on Dan Gurney's 84th birthday in April 2015. On display in the Revs Institute (Naples, FL) in Feb 2017.
Driven by: Dan Gurney, AJ Foyt, Jim Hurtubise, Donnie Allison and Bill Simpson. First race: Indianapolis Motor Speedway (R3), 31 May 1967. Total of 20 recorded races.
AAR/Dan Gurney (USA) 2017
Eagle 67
'the AAR #42 car (214)'
The #42 AAR entry for Richie Ginther at the 1967 Indy 500, fitted with a Ford V8. Ginther made two attempts to qualify but the car was sold on 21 May to Friedkin Enterprises (Houston, TX) for Jerry Grant after their #78 entry had been bumped. Qualified by Grant but retired from the race. Retained for Grant, still as the #42, for the rest of 1967. Sold with Friedkin's other car, chassis 203, to Walt Michner's Michner Petroleum team for Johnny Rutherford to drive in 1968, 1969, 1970 and 1971, by which time the team had been taken over by Pat Patrick. Known as "Geraldine" during this time, the 1966 car was the most developed of the pair, with the reliable 1967 car being nicknamed "Old Shep". Patrick reorganised for 1972 and the '67 car was sold to Bay State Racing for Bentley Warren to race during 1972, still as the #36 entry. Retained for 1973 and made one last appearance at Trenton in September 1974. Later restored to 1971 Rutherford specification but then unknown until restored by John Mueller of Entrepreneur's Motor Sports (Fresno, CA), to its 1967 #42 livery. Sold in 2013 to Rob Dyson (Millbrook, NY). On display at the offices of RACER magazine in January 2014. On display at Indianapolis in May 2015 and at the Historic Indycar Exhibition in 2016, 2017, 2018 and 2019.
Driven by: Jerry Grant, Richie Ginther, Bill Cheesbourg, Ronnie Duman, Johnny Rutherford, Tony Adamowicz, Jim McElreath and Bentley Warren. First race: Indianapolis Motor Speedway (R3), 31 May 1967. Total of 26 recorded races.
Rob Dyson (USA) 2019
These histories last updated on .