Eagle 1968 Indy car-by-car histories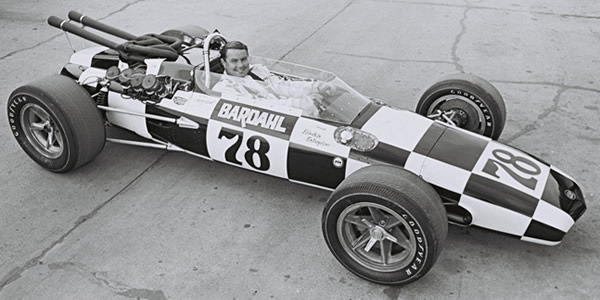 After two years using a Len Terry design, AAR employed Tony Southgate to design the 1968 Indy Eagle. Bobby Unser won the 1968 Indianapolis 500 in the Leader Card Racers example, and Dan Gurney and Gordy Johncock won later races in sister cars.
In the two years since Dan Gurney had created All American Racers in 1966, the company's attractive Eagle Indycars had been highly competitive but had only won a handful of races. For 1968, he recruited a young designer from Lola, Tony Southgate, who had worked with Eric Broadley on the development of the Can-Am Lola T70. Southgate designed a lower, flatter monocoque, and changed from the Lotus-style rocker-arm suspension used by Len Terry on the earlier Eagles to the outboard springs and wishbone suspension still favoured by Lola and Brabham.
Five 1968 Eagles were ready in time for the 1968 Indy 500: those of owner Lindsey Hopkins for driver Roger McCluskey (chassis 401), owner Leader Card Racers and crew chief Jud Phillips for Bobby Unser (chassis 402), Tom Friedkin for Jerry Grant (chassis 403), and the two works cars entered at #48 for Dan Gurney (chassis 404) and at #42 for reigning World Champion Denny Hulme (chassis 405). Several different engine options were used, with Hopkins and Leader Card opting for the turbo Offy, Gurney's own car being fitted with the stock block Gurney Weslake Ford, Hulme's having the quad-cam Ford V8 Indy engine, and Friedkin risking the unproven turbo Ford. All five cars qualified and Unser, Gurney and Hulme finished 1-2-4. Gurney was focusing on Formula 1 in 1968, and only appeared at three more Indy races in 1968, two at Mosport Park in June and one at Riverside in December, and won all three of them in his Gurney-Weslake-powered car.
A sixth car was acquired by Roger Penske (chassis 406), fitted with a 302 ci Chevrolet engine and made its debut in Mark Donohue's hands at Mosport Park in June. Bobby Unser rolled his Indy-winning Eagle at Mosport and this was either repaired or replaced with another chassis which Unser then wrecked in a test session at Riverside in December before it had even been painted. This monocoque still survives, still showing the serious damage from its Riverside accident, so Leader Card either repaired the Mosport Park monocoque or acquired a new tub which was then built up for Unser to race on road courses in 1969. In 1970, Leader Card had two 1968 Eagles, one run by AJ Watson for Mike Mosley which the Carl Hungness Yearbook said was the 1968 Indy 500 winner, and one run by Jud Phillips for Unser on road courses, which Hungness said had never been to the Indy 500, so this latter car must be the chassis 407 shown in AAR records as going to Leader Card Racers after the Indy 500. The final car shown in AAR records, chassis 408, went to Tom Friedkin.
There is still a huge amount that we do not know about these cars. If you can add to our understanding, or have photographs that we can use, please email Allen at allen@oldracingcars.com.
Chassis
History
Current owner
Eagle 68
401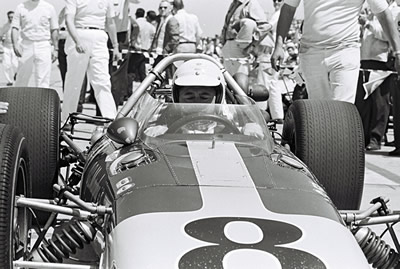 Sold new to Lindsey Hopkins for Roger McCluskey to drive in 1968 as the #8 G. C. Murphy entry. McCluskey also drove Hopkins' older 1967 Eagle during the season and the '68 car was mainly used for road courses. McCluskey moved to AJ Foyt's team for 1969 and the activities of the Eagle for most of that season are unknown. It was raced by Wally Dallenbach as Hopkins' #22 Sprite entry at the Riverside 300 in December 1969, but was not retained as part of the Hopkins stable after that. John Mahler (Bettendorf, IA) acquired the car, and it was his #100 Eagle-Chev in 1970 and early 1971. He retained it for 1972, racing it at Trenton in April and it was taken by Mahler to the 1972 Indy 500 as a backup. It was later the #34 rear-engined car used by Mahler in a Sprint Car race at Winchester Speedway (Indiana) in July 1973, and was raced by Gary Bettenhausen at Winchester in October 1973. Its next owner was Tom Brewer (Roanoke, IN) during whose ownership it is said to have raced at Winchester and Salem (Indiana). Later from Brewer to Chuck Haines (St Louis, MO) some time before 1998, but it is possible the car went via Robert Ames (Tigard, OR). Restored for Chuck by Walter Goodwin and appeared at the 1998 Goodwood Festival of Speed. Appeared at the Amelia Island Concours in March 2016. Still for sale with Haines in September 2021.
Driven by: Roger McCluskey, Wally Dallenbach, John Mahler and Gary Bettenhausen. First race: Indianapolis Motor Speedway (R5), 30 May 1968. Total of 22 recorded races.
Chuck Haines (USA) 2021
Eagle 68
403
Jerry Grant drove for Tom Friedkin (Houston, TX) at Indy from 1967 to 1969, getting new Eagles in 1967 and 1968. Having driven for Marvin Webster for much of 1969, Grant returned to the 1968 ex-Friedkin Eagle for 1970, when he qualified it at Indy in Nelson Iron Works colours. He was back at Indy with the car in 1971, when it was the #78 Farrell's Ice Cream car that Sam Posey qualified but was later bumped. It was used by Jerry Grant a few times later in 1971, including at the USAC Road Racing event at Seattle. It then joined Marv Webster's stable and was still with him in 1973, awaiting a rebuild. Subsequent history unknown, but according to Chris Wilke, scion of the Leader Cards family, this was chassis 403 and has now been restored as Bobby Unser's Indy 500 winner and is the car on display in the Unser Racing Museum (Albuquerque, NM). The car still carries its original '403' chassis plate. This may be the yellow 1968 Indy Eagle that Joe Baird (Shelbyville, Indiana) acquired from Bob LaWarre in Florida as part of a package of cars in the 1990s. Baird sold the Eagle to Al Unser. Still in the museum in October 2020.
Driven by: Jerry Grant and Sam Posey. First race: Indianapolis Motor Speedway (R5), 30 May 1968. Total of 12 recorded races.
Unser Racing Museum (USA) 2020
Eagle 68
404
Dan Gurney's #48 Olsonite entry at the 1968 Indy 500 was a new 1968 Eagle fitted with the Gurney Weslake Ford 303 ci stock block V8 engine. This car was highly successful on road courses later in the year, Gurney winning at IRP, twice at Mosport and at Riverside. The car was sold to Marshall Robbins of Jim Robbins Co. for 1969 and crew chief Jim Spangler fitted a Ford turbo for Lee Roy Yarbrough to drive at the Indy 500. Robbins and Spangler brought the car back to the Speedway for 1970 for Yarbrough to drive. It was last seen with the Robbins team at Ontario in 1970. This was later identified by Carl Hungness as the car raced by Mike Mosley at the 1972 Indy 500, but when the car moved from Robbins to the AJ Watson/Leader Card team is unclear. Mosley crashed this car at the 1972 Indy 500, and was again injured. Photographs of the car at this race show several diagonal rows of rivets at the back of the tub on the left, indicating a major repair. This pattern of rivets then identifies the car in pictures at Ontario in 1972, at Ontario in 1973, and in the present day. After the 1972 Indy 500, Rick Muther used the team's other 1968 Eagle until Mosley again returned from his injuries in September, and this ex-Robbins car was ready for him to drive at the Ontario 500. One or other of the team's 1968 Eagles was raced by Mosley again at Trenton in early 1973, by Johnny Parsons Jr at Milwaukee and by Tom Sneva at Ontario, and as this can be identified as the ex-Robbins car in the latter race, it is assumed the same car was used in the other races. Retained by the Wilke family. The car has been fully restored to its 1972 livery and ran at the Speedway in June 2015. Still with Chris Wilke in June 2021.
Driven by: Dan Gurney, Lee Roy Yarbrough, Mike Mosley, Johnny Parsons Jr and Tom Sneva. First race: Indianapolis Motor Speedway (R5), 30 May 1968. Total of 15 recorded races.
Wilke family (USA) 2021
Eagle 68
405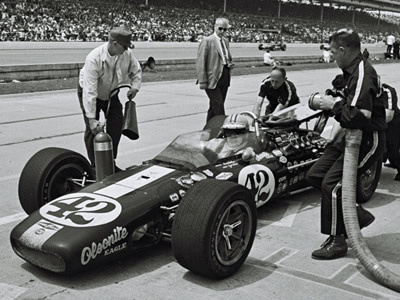 The #42 AAR entry for Denny Hulme at the 1968 Indy 500 with Olsonite backing and fitted with a 255ci Ford V8. Sold after Indy to Gordy Johncock's Gilmore-backed team and raced at the Mosport Park race in mid-June but crashed and "extensively damaged". It was reported that Johncock returned to Eagle for two new cars but it would appear that the original car was repaired. Used alongside Johncock's two or three Gerhardts in 1968, 1969 and 1970, winning road course events at Continental Divide and Brainerd in 1969. Last seen in Johncock's hands at IRP in July 1970. This car then went to Ray W Smith (Eaton, OH), who fitted it with a 206 ci turbocharged Chevrolet engine and entered it as the #70 Smith Speed Shop Special for Tom Bigelow (Whitewater, Wisc.) to drive at Indy in 1972, but Bigelow did not complete his rookie test. It was at Michigan in July, but Bill Puterbaugh did not qualify. Smith returned to sprint racing, and the Eagle is then unknown for some years until it was located and purchased by Roger Rager (Mound, MN), who had heard about changes to stock block rules for the 1979 Indy 500, and thought it could be competitive. He fitted a 355 ci Chevrolet engine and impressed many by getting the car over 181 mph during practice, but did not make a qualifying attempt. Later in the season he raced the car at Milwaukee in June, TWS in July, and Milwaukee again in August. Subsequent history unknown.
Driven by: Dan Gurney, Denis Hulme, Gordon Johncock, Tom Bigelow, Bill Puterbaugh and Roger Rager. First race: Indianapolis Motor Speedway (R5), 30 May 1968. Total of 21 recorded races.
Unknown
Eagle 68
406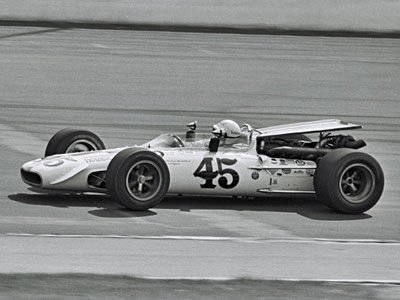 Roger Penske bought a road-racing version of the 1968 Indy Eagle and Mark Donohue raced it at Mosport and Riverside that season with a Chevrolet V8. It went to Weinberger Homes for 1969 and was driven at Indy by Ronnie Bucknum. It was then Arnie Knepper's car in 1971/72 and then became the famed LaWarre Precision Eagle entered by Robert W. LaWarre Sr (Titusville, FL) for Larry Rice and John Hubbard in 1974 and 1975. It was then retired but remained in LaWarre's ownership until his death in April 1997. It was bought by Joe Pirrotta (Palm City, FL) in 1999. The Eagle was fully restored to Penske livery and appeared at the Amelia Island Concours d'Elegance in 2005. It was advertised by Kim Baker's Vintage Race Car Sales (Middlefield, MA) in December 2017.
Driven by: Mark Donohue, Ronnie Bucknum, Todd Gibson, Larry Dickson, Arnie Knepper, Larry Rice, John Hubbard and Tony Bettenhausen II. First race: Mosport Park (R7), 15 Jun 1968. Total of 24 recorded races.
Joe Pirrotta (USA) 2017
Eagle 68
408
This is now known to be a second car delivered to Tom Friedkin, but its exact usage has not yet been determined.
Unknown
1968 Eagles delivered after the Indy 500
Chassis numbers are now known for all five of the 1968 Eagles that appeared at the Indy 500 and for three cars that were delivered later: 406 to Roger Penske, 407 to Leader Card Racers and 408 to Tom Friedkin. It is likely that the brand new car that Bobby Unser wrecked in a testing accident at Riverside in December 1968 was chassis 407. As that monocoque remains unrepaired to this day, the car that later appeared in the Leader Card Racers stable and was identified only as a car used by Bobby Unser "on the USAC trail", is likely to have been chassis 407 rebuilt on a new monocoque.
Chassis
History
Current owner
Eagle 68
'the Leader Card car'
Sold new to the Leader Card team and prepared by Jud Phillips and Tom 'Red' Herrmann for Bobby Unser to race in 1968 as the #3 Rislone entry. He won the Indy 500, but just two weeks later "wiped out" his 500 winner in an accident on only the third lap at Mosport Park. Unser used his two 1967 Eagles after that, and also in early 1969 until his new Lola T152 was ready. After the Lola was badly damaged at Milwaukee in June, Unser appeared in a 1968 Eagle at Continental Divide in July and at other road course events later in the season. At Riverside on 5 December 1969 his car was described as "the actual Indy winner". This car was transferred to the AJ Watson half of the Leader Card operation and was raced by Mike Mosley at the Indy 500 and at Ontario in 1970 as the #9 G. C. Murphy entry. For 1971, Watson acquired a second '68 Eagle, but Mosley wrecked this at the Indy 500. George Snider drove the original ex-Unser car at the Indy 500, and also drove it for the team later in the season, while Mosley was recovering from his accident. Photographs show that this was the car used by Mosley in the first two races of 1972, but the team had also bought the ex-Dan Gurney '68 Eagle from the Jim Robbins team, and it was that car that Mosley raced in the Indy 500. After his crash in the Indy 500, Mosley was again out of racing for some months, and Rick Muther drove the team's original ex-Unser car in four races in the summer of 1972. Mosley returned again in time for the Ontario 500, at which he raced his repaired Indy 500 mount. Photographs show that the ex-Robbins car was used at Ontario in 1972, and at Ontario in 1973, so it is assumed here that it was also used in the intervening races. The history of the ex-Unser car is therefore unknown after the Milwaukee Mile in August 1972. By May 1973, Bobby Unser's 1968 Indy 500 winning car was on display in the Indianapolis Speedway Museum, and has remained on display ever since. Whether this is the car used by Leader Card Racers up to 1972 or a rebuild of one of the earlier monocoques is not yet known. Still in the museum in September 2021.
Driven by: Bobby Unser, Mike Mosley, George Snider and Rick Muther. First race: Indianapolis Motor Speedway (R5), 30 May 1968. Total of 25 recorded races.
Indianapolis Motor Speedway Museum (USA) 2021
Eagle 68
'the Riverside test car'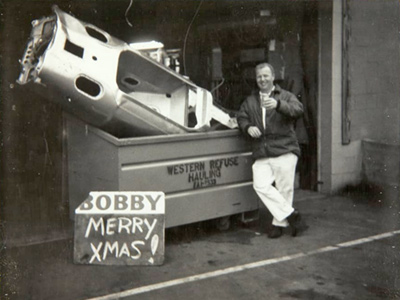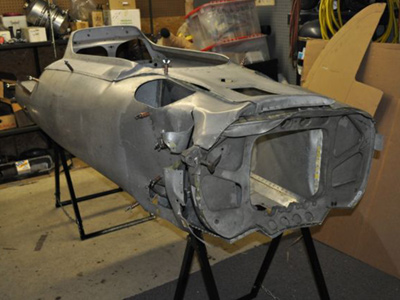 In December 1968, Bobby Unser tested Leader Card Racers' newly-completed 1968 Eagle at Riverside, but a hub broke and he crashed heavily, seriously damaging the monocoque. Team member 'Lil Red' Tom Herrmann then posed with the monocoque in a dumpster, and it was assumed that the tub had been scrapped, until it was observed that the damage seen in the dumpster picture was an exact match for that on a 1968 Eagle monocoque owned by Rick & Jacques Dresang of Kettle Moraine Preservation & Restoration. Their tub had been very intriguing as it showed signs of damage but no signs of ever having been painted. According to Jacques' research, the Riverside tub remained with the Wilke family until 1973, when it was acquired by Tom Beauchamp, a former fabricator at AAR. It sat in the rafters of Beauchamp's shop for many years, being noted by Philippe de Lespinay when he was working on his Cooper T54 in the shop in 1990/1991. It was subsequently owned by Tom Beauchamp Jr, and was sold by him to Jim Larkin (Colorado Springs, CO), presumably at the same time Larkin bought Beauchamp Jr's F5000 Eagle some time before 2005. Larkin sold it to Bryan Jedinak (Cleveland, OH) in February 2011, and it was sold to the Dresangs in December 2014.
Driven by: Bobby Unser. First appearance: Riverside, 12 Dec 1968.
Rick and Alison Dresang (USA) 2021
Leader Card Racers' "trail" car
Figuring out all the 1968 Eagles owned by the Leader Card Racers operation has been a major puzzle, and it's not over yet. To recap, we know they bought one of the first group of cars (chassis 402) and that Bobby Unser used that car to win the Indy 500 before rolling it into a ball at Mosport Park two weeks later. A new car was delivered by AAR and was first tested by Unser at Riverside in December, where he crashed it. This was either chassis 402 rebuilt after Mosport or the team's brand new chassis 407. One of Unser's crew posed with that monocoque in a dumpster but the damage was not so great that it would actually have been scrapped, and sure enough that monocoque exists today still with that damage unrepaired. Unser then used a 1968 Eagle at road races in 1969, which could be either 402 or 407; we simply don't know at this stage.
By 1970, both of these Leader Card cars, chassis 402 and chassis 407, were in use in different parts of the Leader Card team, the "Indy winner" run by AJ Watson for Mike Mosley, and a car described as only having been used "on the USAC trail" run by Jud Phillips for Bobby Unser. We can be confident from those descriptions that Watson had chassis 402 and Unser had chassis 407. Work continues to study photographs of these cars and figure out where "the trail car" (407) first appeared.
The issue doesn't get any simpler later. For 1971, "the trail car" (407) followed the Indy 500 winner from the Jud Phillips operation to the AJ Watson operation, only to be comprehensively destroyed at that year's Indy 500. Watson then acquired the ex-Dan Gurney 1968 Eagle (chassis 404) from the Jim Robbins team, and Mosley crashed that one at the 1972 Indy 500. That car was repaired and remained with the Watson team until new 1972 Eagles were acquired to replace it. During this period from 1970 to 1973, it is possible to confidently distinguish Watson's cars using detailed photographs.
If you have any information that might help us with this puzzle, please email Allen at allen@oldracingcars.com.
Chassis
History
Current owner
Eagle 68
'the Bobby Unser trail car'
Bobby Unser drove a 1968 Eagle for the Jud Phillips side of the Leader Card team in 1968 and 1969, and had major accidents at Mosport Park in June 1968 and in testing at Riverside in December 1968. Either this car, repaired, or a new car was then raced by Unser on road courses in 1969. In 1970, Mike Mosley drove a car for the AJ Watson side of the Leader Card operation that was identified as the 1968 Unser car, but whether that was the same car as the one Unser had driven in 1969 is unclear, but it assumed here for now that it was. Unser then drove a 1968 Eagle at Continental Divide and Indianapolis Raceway Park in 1970, which has to be a different car to the Mosley car. Its origins are not yet resolved. This was almost certainly the car driven by Steve Krisiloff at Ontario in September 1970 and by Jim McElreath in November. This car was also transferred to the AJ Watson operation and was raced by Mike Mosley at the Indy 500 in 1971 when it was identified in Carl Hungness's Yearbook as a car that had not previously raced at the Indy 500 but had been used "on the trail" by Unser. This car was comprehensively destroyed during the race when Mosley crashed into the outside wall and cannoned across into three retired cars parked against the inside wall. Mosley was hospitalised with a broken leg and elbow as well as serious burns.
Driven by: Bobby Unser, Steve Krisiloff, Jim McElreath and Mike Mosley. First race: Continental Divide (R7), 28 Jun 1970. Total of 4 recorded races.
Destroyed 1971
Acknowledgements
I am hugely grateful to Michael Ferner, Simmo Iskül and our good friend 'Matt' for the heroic job they have done untangling the layers of misinformation that have built up around these cars, and successfully separating the Watson-built cars and the 1967 Eagles so we could finally see the full picture of the 1968 Eagles. Thanks also to John Zimmermann for providing details of chassis numbers from AAR archives; to Bryan Jedinak, Steve Zautke and Tom Schultz for their help; to Chris Wilke for information about the car that stayed with the Wilke family and information on the cars in the Unser and IMS museums; to Justin Gurney for information about AAR's car; to Jacques Dresang for information on his monocoque; and to Glenn Snyder, Jim Gorman, Paul Castagnoli, Patrick Heaney, Steve Noffke, Ian Blackwell and Jaci Starkey for the use of their photographs.
These histories last updated on .