Eagle 1969 Indy car-by-car histories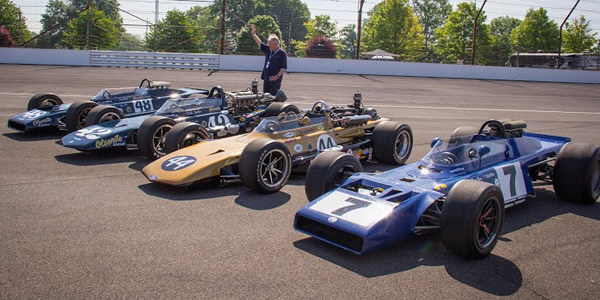 The 1969 Eagle was a completely new design, from young designer Tony Southgate. It used the wedge profile popularised by the Lotus 56, together with Brabham-style suspension. Although very effective on road courses, the design generated too much drag to be competitive on ovals.
Tony Southgate had learnt his trade at Lola, where he had worked on the T70 sports cars, and had then spent a year at Brabham before joining AAR late in 1967. As was so common with Indy car teams at that time, the basic layout of the car was based on existing successful designs, the wedge shape being based on the Lotus 56 and the Brabham-style outboard front suspension was the same as that used on the successful Hawk and Mongoose cars. The car was called the Eagle Santa Ana, named after AAR's home town. The first car was not ready until late April, leaving very little time to develop such a radically new design, and the team struggled for straight line speed during the month of practice at Indianapolis. Eagle tried a variety of nose designs, eventually settling on something marginally quicker than 1968. With the car close to being sorted, all three ran very well in the race, with Eagles running 2-3-4-5 at one point. Dan Gurney's own car, with AAR's own 318 ci stock block Ford V8 engine, finished the race in second place.
Later in the season, the stock block Eagle proved very effective on road courses, with Gurney taking pole position at Continental Divide, winning at Indianapolis Raceway Park, winning again at Brainerd, and taking pole at Seattle. He started 1970 with another win, at Sears Point. AAR's two well-developed cars were then sold off but rarely raced again. All four cars came back together for the first time since 1969 for the Dan Gurney celebration at Indianapolis in 2015. The history of several cars is incomplete; if you can add anything to our understanding of these cars, please contact Allen Brown (allen@oldracingcars.com).
Chassis
History
Current owner
Eagle 69
701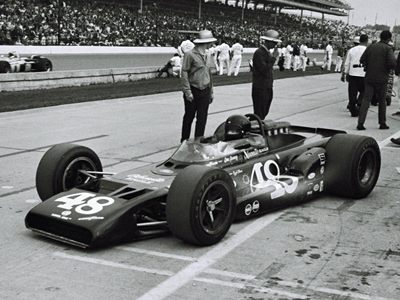 New for Dan Gurney to race at the 1969 Indianapolis 500 as the #48 Olsonite entry, fitted with a 318 ci Gurney Weslake Ford stock block V8. Finished 2nd at Indy and presumably the car in which Gurney finished 2nd at Continental Divide, 1st at Indianapolis Raceway Park, 1st and 2nd at Brainerd and 1st at Sears Point at the start of the 1970 season. Sold to Carroll Shelby to run for drag racing champion Danny Ongais at the Indy 500 in 1971, but after Ongais crashed the car at Phoenix in March, he stepped down. Jerry Grant took over the drive and qualified the car at Indy, only to be bumped from the field. Raced by Jim Malloy at two races later in 1971. Apparently not used again as the Norris Industries livery still visible on the unrestored car in Walter Goodwin's workshop in 2014. On display in the Indianapolis Motor Speedway Museum in May 2015. Still in Evernham's collection in November 2019.
Driven by: Dan Gurney, Swede Savage, Danny Ongais, Jerry Grant and Jim Malloy. First race: Indianapolis Motor Speedway (R3), 30 May 1969. Total of 14 recorded races.
Ray Evernham (USA) 2019
Eagle 69
702
Built for 1969 as the #7 backup but only run briefly in practice at the Indy 500 and then not used again. Stayed at AAR until late 1973 or early 1974 when sold to Bob Allen (Ripon, CA) who had wrecked his 1968 F5000 Eagle at Laguna Seca in October 1973. Rebuilt for Formula A with a Chevy V8 and raced in a SCCA National at Laguna Seca in June 1974 and at a National at Portland, which he won. In practice for a race at Sears Point in early September Allen crashed again. The car was later damaged more severely when "being driven down a road in rural Manteca CA"! Allen replaced it with a 1974 F5000 Eagle for the 1975 season, and the Indy Eagle was sold to Ross Hansel (San Jose, CA) who rebuilt it, with Allen's help, over the 1974/5 off season. Debuted by Hansel in a San Francisco Region Solo One event at Laguna Seca in May 1975. Raced by Hansel to sixth in the Sears Point SCCA National in April 1976 and then advertised by Hansel 19 Jun 1976 "Eagle Formula 'A', one race on complete rebuild … concours condition, ready to race". Hansel's son Doug recalls that it was sold to Phil Rendahl (Redding, CA), who ran it in SCCA National later that season. Rendahl raced the car in SFR Formula A in 1978, finishing second in two Regionals at Sears Point in April and May 1978, but then he crashed it at Laguna Seca in June 1978.
Then unknown until sold by Robert Jordan of Investment Motor Auto Inc (Chicago, IL) to Bob Pond (Palm Springs, CA) in August 1990. Rebuilt with a 320ci Ford V8 and raced at the Palm Springs Road Races later in 1990 by Robs Lamplough. Raced again by Lamplough at the same event in 1991 and then retired to Pond's museum at his estate in South Palm Springs. Pond died in 2007 and the car was offered for sale by RM Auctions that year but did not sell. It was offered again in August 2014 and was sold for $104,500. In 2015, the new owner was revealed to be Phil Gumpert (Noblesville, IN). All four 1969 cars appeared together at the Speedway in May 2015. Appeared at the Historic Indycar Exhibitions in 2016 and 2019.
Driven by: Bob Allen, Ross Hansel and Phillip Rendahl. First race: Laguna Seca, 30 Jun 1974. Total of 12 recorded races.
Phil Gumpert (USA) 2019
Eagle 69
703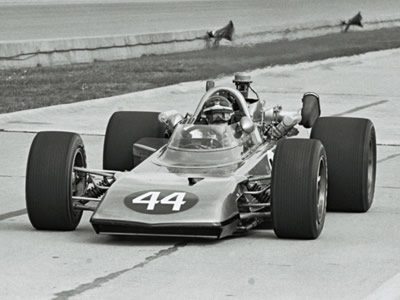 New to stock car racing expert Henry "Smokey" Yunick (Daytona Beach, FL) and entered in the 1969 Indy 500 for Joe Leonard to drive as the #44 City of Daytona Beach Spl. Yunick did not enter the car in any further races and its history is unknown until it was advertised by Chuck Haines (St. Louis, MO) in February 2008. The car had received "complete, ground up restoration by A.J. Watson" and was in Leonard's gold #44 livery. It appeared at the Goodwood Festival of Speed in July 2008. All four 1969 cars appeared together at the Speedway in May 2015. Still on Chuck Haines website in June 2015.
Driven by: Joe Leonard. First race: Indianapolis Motor Speedway (R3), 30 May 1969. Only one recorded race.
Chuck Haines (USA) 2015
Eagle 69
704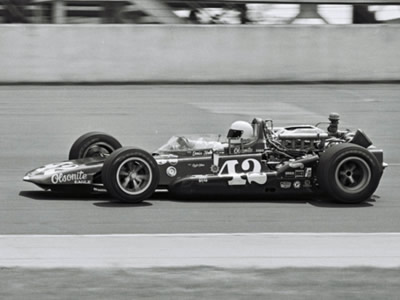 New for Denny Hulme to drive at the 1969 Indy 500 as the #42 Olsonite factory entry. Hulme ran second behind Mario Andretti for a while, before his clutch let go. Hulme was only entered for Indy but this is probably the car raced four times later in the season by Swede Savage, its original 159ci Ford quad cam turbo V8 having been replaced by one of the team's 318 ci Gurney Weslake Ford stock block V8s. Identified by a Laycock card as the Eagle-Ford of Bud Morley (Denver, CO) at the Speedway in 1970. Morley did not start after failing to complete his Drivers Test. Then unknown until 1980 when it was raced by Dean Vetrock (Racine, WI) in CART events with a 355 ci Chevrolet V8. Sold by Vetrock to Chuck Haines (St Louis, MO) in the fall of 1981 and later restored for him by Walter Goodwin. At the Goodwood Festival of Speed in June 2006 completely restored to Hulme's dark blue #44 livery. Bought late 2007/early 2008 by Doug Magnon and put on display in the Riverside International Automotive Museum (RIAM), also having occasional outings at historic events. After Magnon's death in February 2015 the car remained in RIAM until sold by RM Sotheby's at Monterey in August 2016 to Mike Moss (Ottsville, PA).
Driven by: Denis Hulme, Swede Savage, Bud Morley, Dee Jones and Dean Vetrock. First race: Indianapolis Motor Speedway (R3), 30 May 1969. Total of 7 recorded races.
Mike Moss (USA) 2017
These histories last updated on .