Eagle 1969 Indy car-by-car histories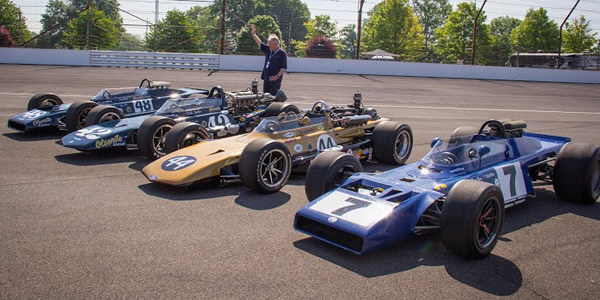 The 1969 Eagle was a completely new design, from young designer Tony Southgate. It used the wedge profile popularised by the Lotus 56, together with Brabham-style suspension. Although very effective on road courses, the design generated too much drag to be competitive on ovals.
Tony Southgate had learnt his trade at Lola, where he had worked on the T70 sports cars, and had then spent a year at Brabham before joining AAR late in 1967. As was so common with Indy car teams at that time, the basic layout of the car was based on existing successful designs, the wedge shape being based on the Lotus 56 and the Brabham-style outboard front suspension was the same as that used on the successful Hawk and Mongoose cars. The car was called the Eagle Santa Ana, named after AAR's home town. The first car was not ready until late April, leaving very little time to develop such a radically new design, and the team struggled for straight line speed during the month of practice at Indianapolis. Eagle tried a variety of nose designs, eventually settling on something marginally quicker than 1968. With the car close to being sorted, all three ran very well in the race, with Eagles running 2-3-4-5 at one point. Dan Gurney's own car, with AAR's own 318 ci stock block Ford V8 engine, finished the race in second place.
Later in the season, the stock block Eagle proved very effective on road courses, with Gurney taking pole position at Continental Divide, winning at Indianapolis Raceway Park, winning again at Brainerd, and taking pole at Seattle. He started 1970 with another win, at Sears Point. AAR's two well-developed cars were then sold off but rarely raced again. All four cars came back together for the first time since 1969 for the Dan Gurney celebration at Indianapolis in 2015. The history of several cars is incomplete; if you can add anything to our understanding of these cars, please contact Allen Brown (allen@oldracingcars.com).
Chassis
History
Current owner
Later appearances of 1969 Indy Eagles
The 1969 Eagles were regarded as a complete flop, even though Dan Gurney used one to win on the road courses at Indianapolis Raceway Park, Brainerd and Sears Point, and only the two works cars were raced again after that year's Indy 500. The ex-Gurney chassis 701 went to Carroll Shelby for 1970 and raced a few times in 1970 and 1971, and the ex-Hulme chassis 704 was used by Bud Morley a couple of times. Either the unraced spare car 702 or the ex-Hulme 704 went to Charley Hamill for 1971 but it would appear that whichever car he had returned to AAR.
Chassis
History
Current owner
In December 1970, successful powerboat racer Charley Hamill (North Hollywood, CA) bought an Eagle Indy car from Dan Gurney. Hamill described it as the "twin" of the car Gurney raced in the Seattle USAC race in 1969, so it was presumably a 1969 Indy Eagle. After testing the car at Willow Springs, Hamill left it gathering dust until August when he recruited former Honda F1 driver Ronnie Bucknum to race it in the Seafair 200 USAC Road Racing Championship event at Seattle. Bucknum had to haul the car to Seattle himself and despite recruiting Jerry Ruth to crew the car, could not get it ready for qualifying. He was allowed to start the second heat but retired after a single lap. Nothing more was heard of the car.
Driven by: Ronnie Bucknum. First race: Seattle, 7 Aug 1971. Only one recorded race.
Unknown
1969 Indy Eagles in Formula 5000
Chassis 702 was eventually sold to Formula A racer Bob Allen and was used briefly in SCCA Nationals, and chassis 704 also appeared in Formula 5000, but Chuck Bartlebaugh failed to start its only known appearance in that specification, before ending its frontline career as a starter in the notorious June 1981 Pocono 500, a race held by USAC during the CART/USAC schism which attracted such a poor field that almost anything USAC could find in running condition was allowed a start.
Acknowledgements
My thanks to Gerr Measures and Simmo Iskül for their help with these histories. Thanks also to owners Chuck Bartlebaugh, Dean Vetrock, Chuck Haines, Doug Magnon and Mike Moss.
These histories last updated on .