Eagle 1973 Indy car-by-car histories
The 1972 and 1973 model Eagle Indy cars are often confused. AAR continued to produce 1972 model cars for customers in early 1973, but also built four cars to a revised 1973 specification for their own in-house team.
Given the speed of Bobby Unser in the 1972 Eagle, AAR were able to sell a huge number of customer versions, including to major teams such as Leader Card, Patrick Racing, Lindsey Hopkins, and Jerry O'Connell's Sugaripe Prune. 17 of the 33 starters at the 1973 Indy 500 were 1972-series Eagles. For AAR's own team, the company produced an evolved version with chassis numbers starting 7301, but the differences between the 1972 and 1973 models can be hard to spot. The easiest to see are that the cooling vent was further up the front of the cockpit and that the rollhoop leans back slightly. The tub is deeper behind the driver, and is also wider, although the width is difficult to see in photographs. Fuel ports are not helpful for distinguishing these cars, as both the 1972 and 1973 cars had two fuel ports on the side, but one of these was covered on some - but not all - cars after USAC reduced fuel tank capacity to 40 gallons in mid-1973.
The first 1973 car was tested by Bobby Unser at the start of the year but destroyed in an accident at Ontario Motor Speedway in March. A second car was quickly built up, and this became Unser's regular early-season car, and then his short track car later in the year. A third car, 7303, was built for Jerry Grant to drive at the Indy 500, but this car was then sold off to regular customer Patrick Racing for Gordy Johncock to drive. The fourth car, 7304, became Unser's long-track car for Pocono, Michigan and Ontario. Two further cars were built later in the season for customers Fletcher Racing and Patrick Racing, the latter being built for a Ford V8 engine. Unser was again among the quickest drivers but only won once, at Milwaukee in June. Johncock won two races in his ex-Grant car, plus the Indy 500 in his older 1972 car, while teammate Wally Dallenbach won three races in his 1972 car.
At the end of the 1973 season, AAR was left with only 7302 and 7304, the cars Bobby Unser had raced through the season. Both these were sold off to Vel's Parnelli Jones, whose lead driver Al Unser had insisted the team move from their own Maurice Philippe-designed cars to customer Eagles. They were due to be quickly followed by new 1974 Eagles, but Joe Leonard to suffer a career-ending accident in one of these cars at the California 500 at Ontario in March 1974.
Chassis
History
Current owner
Eagle 73
7301
The prototype 1973 Eagle was destroyed by Bobby Unser in a testing accident at Ontario Motor Speedway in March 1973 in what Competition Press & Autoweek described as "a grinding and fiery crash".
Driven by: Bobby Unser. First appearance: Ontario Motor Speedway, 21 Mar 1973.
Destroyed 1973
Eagle 73
7302
After Bobby Unser destroyed the prototype '73 Eagle while testing at Ontario, AAR had just five days to build up a new car in time for the first race, at Texas World Speedway. This car must have been chassis 7302, and it is presumably the car he raced at Trenton two weeks later (although this may have been the team's backup '72 car). AAR had two '73 cars ready for the Indy 500 and if Jerry Grant's car has been correctly identified as 7303, Unser must have been again racing chassis 7302. AAR built another car, 7304, during the summer months, and exactly how 7302 was used that season is not yet known. Presumed for now to have become Unser's short track car so it would be the one wrecked at Phoenix in November.
The unrepaired chassis then sat on pallets at AAR until the autumn of 1975 when it was bought by Joe Hunt (Torrance, CA) and repaired, to replace the team's antique Gerhardt. The Eagle first appeared in Hunt's colours at Phoenix at the end of 1975, where John Martin drove it, then at Indy in 1976, with Rick Muther in the seat. After the 1976 Indy 500 the car was driven by Gary Bettenhausen, Bob Harkey and Phil Krueger up to 1979. It was then rebuilt with 355 ci Chevrolet V8 for 1981 but was crashed heavily at the 1981 Indy 500.
Apparently repaired and reappeared in August 1981 entered by Joe Hunt Magneto as the #89 for Phil Krueger. Raced again by Krueger in early 1982 and presumably the #89 car raced later in the season by Dick Ferguson and Jerry Sneva. Then unknown until acquired by Jack Danko (Laurel Run, PA) in January 2004, having previously been owned by Jim Cosner. Danko rebuilt the car to be used in Pensylvania hillclimbs by his son Darryl Danko, starting at the Giants Despair Hillclimb in July 2005, an event he later won in 2011. It is reported that this car carries the chassis plate 7302. In August 2014, he set fastest time at the Polish Mountain Hill Climb near Flintstone, PA.
Driven by: Bobby Unser, John Martin, Rick Muther, Gary Bettenhausen, Bob Harkey, Phil Krueger, Dick Ferguson and Jerry Sneva. First race: Texas World Speedway (R1), 7 Apr 1973. Total of 20 recorded races.
Darryl Danko (USA) 2014
Eagle 73
7303
New for Jerry Grant to race at the 1973 Indy 500 as the #48 Olsonite Eagle. As only two 1973 cars were ready, and as 7301 had been destroyed in testing, this must be either 7302 or 7303. Grant was not entered at the Pocono 500 and some time that summer, this car was sold to Patrick Racing. It was raced by Gordy Johncock at Ontario and at later races. Raced by teammate Wally Dallenbach in the early races of 1974, then brought to the Indy 500 to replace a '74 car damaged by Johncock in practice. Raced by Johncock at Indy and at Milwaukee in June, and believed to have been his short track car for the rest of the year. Then to Lee Elkins and entered as the #83 McNamara Eagle for Bill Puterbaugh at Indy and at Pocono in 1975, qualifying for both. Retained for the 500-mile races 1976, when Puterbaugh qualified for the Indy 500 and Ontario, and also in 1977 when, now as the #16 entry, he again qualified for the Indy 500. Immediately after qualifying, the car was acquired by George Walther who wanted to put son Skip into it but after an uproar, Puterbaugh drove it in the race. Then from Walther to Bob Olmstead who fitted a Volker V12 engine for Indy 1978 but did not get the car on track. The car was stored until after Olmstead's death, and was sold to Bill Simpson in the early 1990s. It was restored as a show car for Simpson by Wayne Leary and put on display in North Carolina to represent the Eagle that Simpson had raced at Indy. Sold around 2013 to Jeff Urwin (New York, NY). In February 2019, this car was at Paintergeek Paintworks in Indianapolis, IN, being stripped of the Bill Simpson Nikon #38 livery to be returned to its original 1973 livery.
Driven by: Jerry Grant, Gordon Johncock, Wally Dallenbach, Bill Puterbaugh and Ed Finley. First race: Indianapolis Motor Speedway (R4), 30 May 1973. Total of 21 recorded races.
Jeff Urwin (USA) 2013
Eagle 73
7304
After the 1973 Indy 500, AAR built another '73 Eagle for Bobby Unser to use. The car Jerry Grant had raced at the Indy 500 was sold to Patrick Racing, leaving Unser with 7302 and the new 7304. Exactly how these cars were used in 1973 is unknown but, for now, it is assumed that 7304 was his new long track car and 7302 became his short track car. Photographs will show whether this is correct. This car was believed to have been acquired by VPJ, and to have been the Eagle raced by Joe Leonard at Ontario in March 1974, where Leonard crashed heavily during the race and suffered serious leg injuries, ending his career. However, photographs appear to show that Leonard drove a 1974 Eagle at Ontario, so the subsequent history of 7304 is unknown.
Driven by: Bobby Unser. First race: Pocono International Raceway (R6), 1 Jul 1973. Total of 6 recorded races.
Unknown
Eagle 73
7305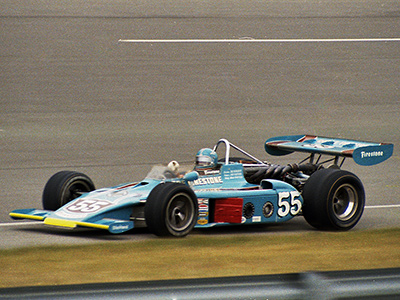 Bob Fletcher team had owned a pair of 1972 Eagles but after Art Pollard's fatal accident at Indy in 1973, Fletcher acquired a new 1973 car which was entered as the #55 Cobre Firestone entry for Lee Kunzman from Ontario in August onwards. Used for the rest of 1973 but then crashed heavily in testing at Ontario in December when Kunzman hit the wall and needed to be taken to hospital. The 1973 Eagle was not seen in Fletcher stable after this and is presumed to have been destroyed.
Driven by: Lee Kunzman. First race: Ontario Motor Speedway (R10), 26 Aug 1973. Total of 6 recorded races.
Wrecked 1973
Eagle 73
7306
Patrick Racing acquired a new 1973 Eagle after the 1973 Indy 500, probably either chassis 7305 or 7306. It was fitted with a Ford V8 engine and used in practice at Ontario by Graham McRae as the #60 entry, but failed to qualify. Raced by Dick Simon at two later races that season. It may have been Steve Krisiloff's intended #60 Patrick entry at Indy in 1974, identified by Hungness as an Eagle "of 1973 vintage", but the car Krisiloff actually qualified was an older 1972 car. The 1973 car finally reappeared when raced by Krisiloff at Pocono and a few races later in the 1974 season, by which time it had a turbo Offy engine. Sold by Patrick Racing's chief crew George Bignotti to Fred W. Carrillo (San Juan Capistrano, CA) and entered as the #73 Spirit of Orange County entry for Jerry Grant at Ontario at the start of 1975. This became Carillo's AMC-engined car in late 1975 and early 1976, driven again by Grant, before Carillo acquired a newer Eagle. In 1977, this car was rebuilt to Offy specification and sold to Jim McElreath for son James to drive as the #26 McElreath Racing entry in 1977. Then for Jim McElreath in 1978. In 1979, McElreath acquired a second Eagle, apparently the ex-O'Connell 1974 car, which was numbered as the #23 with the older car continuing as #26. The older car continued in use until 1981. In 2017, it was reported that this was chassis 7306, and had remained at Jim McElreath's home in Texas from 1983 until his death in 2017. It was then owned by Angus Russell (Ormond Beach, FL).
Driven by: Graham McRae, Dick Simon, Steve Krisiloff, Jerry Grant, Jim McElreath, James McElreath, Tony Bettenhausen II and Richard Hubbard. First race: Texas World Speedway (R15), 6 Oct 1973. Total of 29 recorded races.
Angus Russell (USA) 2017
The mystery cars
As the differences between the 1972, 1973, and 1974 Eagles are quite subtle, it had proved very difficult to spot the way the surviving 1973 Eagles were used after 1973. One such mystery is the Fletcher team's Leary-modified 1973 Eagle used by Bobby Unser at Milwaukee in 1976. As the team's original 1973 car is believed to have been wiped out in a test at the end of 1973, it's hard to see what this could have been.
Chassis
History
Current owner
Eagle 73
'Bobby Unser's Milwaukee 1976 car'
In 1976, Bobby Unser moved to Bob Fletcher's Cobre Tire team, where he had the choice of two 1974 Eagles, one standard and one heavily modified by ex-AAR mechanic Wayne Leary. At Milwaukee in June, photographs show that Unser drove a third Eagle, this being a 1973 Eagle that had been modified in the same way as the 1974 Leary-Eagle, with radiators moved from behind the front wheels to just ahead of the rear wheels. After using the modified 1974 car one more time at Pocono, the team withdrew, and when they returned in August, they focused on the standard 1974 Eagle, so Milwaukee was the only appearance of the 1973 car.
Driven by: Bobby Unser. First race: Milwaukee Mile (R4), 13 Jun 1976. Only one recorded race.
Unknown
Assumptions
These histories fit together deceptively easily, so it is worth reviewing the assumptions that have been made. Firstly, the car tested and wrecked is assumed to be 7301. The replacement for Unser to drive at the first race is assumed to be 7302, which makes Jerry Grant's car at the Indy 500 7303. The ex-Patrick car owned by Bill Simpson was identified during restoration as 7303, so that fits. Photographs show that Bobby Unser had a second car available to him from Pocono onwards, as there are minor distinguishing features, so his newer car is assumed to be 7304. That leaves the two customer cars which were presumably 7305 and 7306. As the car owned by Jim McElreath has been reported to be 7306, the Fletcher car is assumed to be 7305. New evidence may show that one of these assumptions is wrong, but for now, the histories seem to work.
The two ex-Unser cars, 7302 and 7304, were reported by Gordon Kirby in his Autosport report of the 1974 California 500 to have gone to VPJ for 1974. Because of that report, it was assumed that 7304 was the car that Leonard crashed at Ontario in 1974. However, photographs appear to show that VPJ had 1974 Eagles for Joe Leonard and Al Unser, not the 1973 cars that Kirby reported. Kirby didn't tend to make mistakes, so this is puzzing.
Please contact Allen Brown (allen@oldracingcars.com) if you can add anything to our understanding of these cars.
These histories last updated on .