Eagle 1977 Indy history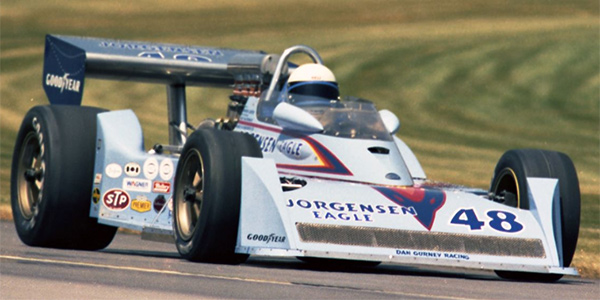 Dan Gurney's design team produced a radically new Indy car for 1977, much smaller and with an offset cockpit. Despite some early promise, the car never worked properly and Eagle moved to a Lightning-inspired design for 1978.
Since Bobby Unser had left the cash-strapped AAR team after the 1975 season, new driver Duane "Pancho" Carter only had the two ex-Unser 1974 Eagles for the 1976 season. New rules for the 1976 season allowed fuel to be carried in two 20-gallon tanks on either side of the car, instead of having it all on the left side of the car as had been the rule since 1973, and this had allowed ex-Eagle designer Roman Slobodynskyj to produce a very slender car for the Lindsey Hopkins team. Dan Gurney and his design team of John Ward, Gary Wheeler and Ron Hopkins were impressed by the Lightning's performance at the 1976 California GP and decided to follow a similar line of thought, producing a car that was much shorter - by 15 in - and slimmer - by 6 in or 9 in depending on the report - but with the cockpit offset significantly to the left, allowing the gearbox, oil cooler and fuel cells to be on the right side. AAR continued to use the turbo Offy engine, believing it would be more reliable than the Cosworth DFX. The car was referred to as the "sixth generation" when it was announced in late February 1977. Initial testing was disappointing, with the car 5 mph off the expected pace, and even Gurney got back into the seat to identify the problem.
The new car showed promise at Ontario, finishing third, and Carter set the fifth fastest time in the early stages of Indy qualifying, but was unable to improve and qualified in the middle of the third row. An engine failure put him out of the race, and that was followed by lacklustre performances at Milwaukee, Pocono and Michigan. As Carter would later put it, the car "started out the year with a lot of promise but it never got any better". Third place at TWS was the season's best but Carter's contract with AAR was not renewed for 1978, amid rumours that Bobby Unser would be returning to the team, bringing with him chief mechanic Wayne Leary and wealthy backer Teddy Yip. Carter drove the 1977 Eagle once more at Ontario in September and then AAR packed it away to prepare for the 1978 season. It remained in storage, in highly original condition, for over 40 years.
If you have anything to add, please email Allen at allen@oldracingcars.com.
Chassis
History
Current owner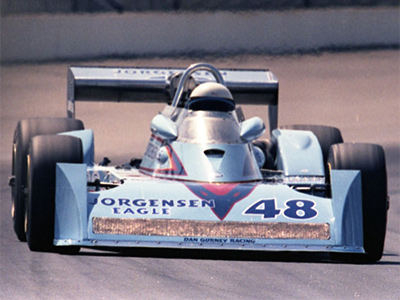 AAR's new offset chassis 1977 Eagle was driven by Duane 'Pancho' Carter as the #48 Jorgensen Steel entry that season. It soon became clear that its turbo Offy engine was no competition for the Cosworth DFX engines in the McLarens and Parnellis, and the Eagle was abandoned after the California 500. AAR used a Lightning-DFX for the first few races of 1978 before a new 1978 Eagle was completed. The 1977 car was then retained by Gurney as part of AAR's collection of racing cars and remained on display at the AAR premises in Santa Ana. By 2014 it had been restored with a genuine 19-degree AAR engine located by Eagle owner Philippe de Lespinay. In early November 2021 it passed into the care of Kettle Moraine Preservation & Restoration.
Driven by: Duane "Pancho" Carter. First race: Ontario Motor Speedway (R1), 6 Mar 1977. Total of 9 recorded races.
Rick and Alison Dresang (USA) 2021
Acknowledgements
As this car was a one-off and stayed with AAR until 2021, it has been one of the simpler tasks. Thanks to Jacques Dresang for keeping me up to date on its rare movements.
If you have anything to add, please email Allen at allen@oldracingcars.com.
These histories last updated on .