Forsgrini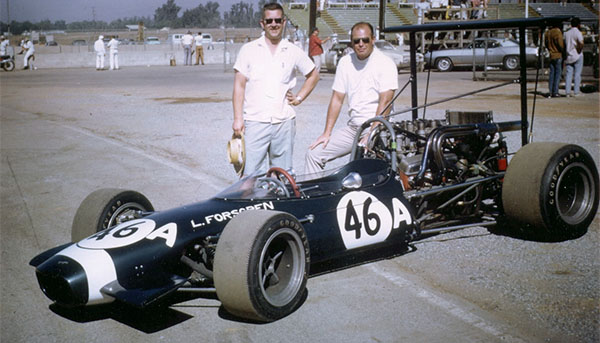 Lyle Forsgren got the racing bug early, racing a MG TD while still at college and then building go-karts in 1958 after starting work at Boeing. After racing a Fiat Abarth Zagato, Lyle and younger brother Dale built the Forsgrini Mk 1 in 1960. It competed in SCCA H Modified class, at the smaller end of what soon became the sports racing categories.
The H-Mod led to a larger G-Mod and then, with the help of friend and engine builder Al Oppie, a F-Mod with a 1500cc Alfa engine. In 1968, Lyle left Boeing to build cars full time, a range that included the first single-seat Forsgrini, the Mk 10 Formula C car. Mike Campbell was very successful in the FC and towards the end of that season, Lyle fitted a 5-litre Chev to a Mk 10 chassis to create his first Formula A.
In 1969, a Mk 11 Formula A car was joined by the Mk 12 Formula Ford which was based on the Formula C Mk 10 and was advertised at $3,500 complete. A Formula B/C car was also advertised but does not appear to have been allocated a model number.
A Mk 14 followed in 1970 and raced in the Tasman series in Campbell's hands before a season in the US but Forsgren then decided it was time to move on and went to work for Mercury Marine in Oshkosh, WA.
Forsgrini Mk 10D
The prototype Formula A Forsgrini was completed in September 1968 and given a brief shake down at a Seattle SCCA Regional on 6 Oct. It made its Pro debut at Laguna Seca on 12 Oct where Compettion Press & Autoweek described it as the "Forsgrini M10D". At his first Formula A race, Lyle qualified the brand new car an impressive ninth, ahead of six Formula A cars. Among the US-built cars, he was behind the Eagle, McKee, Spectre and Caldwell but ahead of the LeGrand and Vulcan. He finished five laps down in 12th place but this was fifth among the surviving Formula As, so a very creditable performance.
Forsgrini Mk 11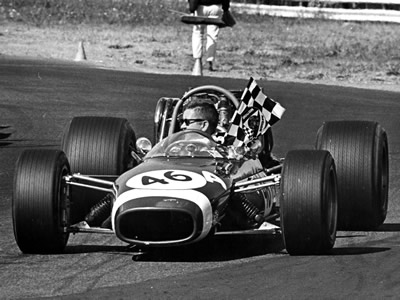 The M10D was replaced by a custom-built Mk 11 for 1969 which was advertised at $6,500 less engine and gearbox.
Specifications
| | |
| --- | --- |
| Overall length: | 148 in |
| Wheelbase: | 96 in |
| Front track: | 60½ in |
| Rear track: | 58 in |
| Weight: | 1350 lbs (with Chev engine) |
Lyle's car was ready for the first round of the SCCA series, at Riverside on 20 April. The car also appeared in SCCA Nationals during the season, winning at Portland on 14 Sep and retiring at Riverside on 28 Sep. Lyle was entered for the Runoffs at Daytona but but he does not appear to have taken part.
Forsgrini Mk 14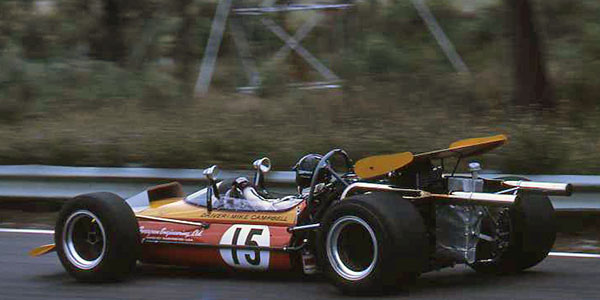 A new Mk 14 was built at the end of 1969 and taken to New Zealand for the start of the 1970 Tasman series, fitted with a Ford Boss engine. Mike Campbell, who had already had success with a Forsgrini Formula C, drove the Mk 14 in seven races in New Zealand and Australia, his best result being an impressive sixth place at Wigram. However, the car suffered overheating and oil pick up issues, as well as significant handling shortcomings.
After that, Forsgren returned in a car at the opening round of the US series at Riverside in April, and at five further races during 1970. His car was referred to as a Mk 14B at least once and a Mk 14 at least once, so is likely to be the same car that Campbell drove 'down under'. It is not clear whether the Ford Boss engine had been replaced by a Chevrolet.
The Harry Swanson car
There is one mystery Forsgrini, the yellow #10 car raced by Harry Swanson (Auburn, WA). Swanson kept a detailed race diary, but unfortunately it does not always mention what car he was driving. He appears to have started the season with the Formula A car, retiring from two races at Seattle on 17-18 May 1969. He then raced it at Westwood on 31 May-1 June, at Kent 14-15 June, Seattle 5-6 July, Seattle 17 Aug, Seattle 6-7 September, and Delta Park 13-14 September. His races in 1970 were at Westwood 31 May, Seattle 6-7 June, Deer Park 5 September, and Westwood 9-10 October. However, the last of these may be in the H Production "Alpha" that he raced in 1971. These races overlapped with Forsgren racing both the 1969 Mk 11 and the 1970 Mk 14, so Swanson must have had either the late-1968 car or a newly-built customer car. He did appear later on in the Formula A car, for example at Deer Park 4 September 1971. Harry and his wife Karlene retained the car. Harry died in February 2004, but Karlene still had the car in her barn in 2018 together with - mysteriously! - a second Formula A Forsgrini.
Sources

Sources include Vintage American Road Racing Cars 1950-1970 by Harold Pace and Mark Brinker (Motorbooks 2004) pp 76-77, Vintage Motorsport Sep/Oct 1993 p26 and Competition Press & Autoweek 15 Oct 1968 and 19 Apr 1969.
Please email Allen if you can add anything. My thanks to Lyle Forsgren and Jerry Entin for their help with progress so far. These histories last updated on 7 December, 2018 .