Harris RH5 history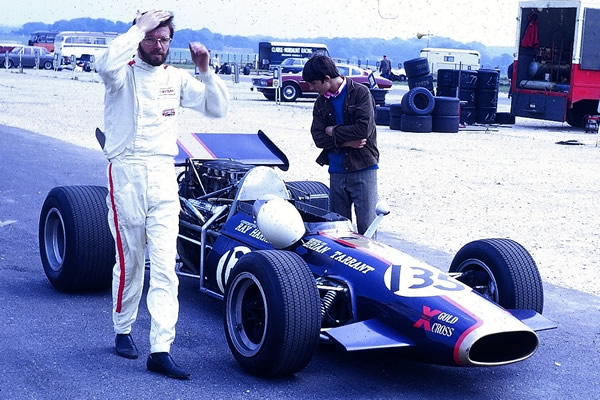 One of the many short-lived and uncompetitive designs to appear in the early years of Formula 5000 was the Harris RH5, built by Ray Harris from Portsmouth in Hampshire, and driven by Brian Tarrant.
The Harris was a very conventional car of its era, its shape and aerodynamics being similar to the Lola T142, and had outboard wishbone suspension familiar from any late-1960s Brabham. As was then standard, the Harris was fitted with a 5-litre Chevrolet engine and a Hewland LG600 gearbox. On its first appearance, it headed a group of specials on the back of the grid, including the Dulon LD8, a converted Cooper T86, and a very tired McLaren M3A. Tarrant raced the car more usually in libre from then on, but rejoined the F5000 series for two more races later in the year. It was never quite the slowest, but always a long way behind the quickest cars. Harris, a heating and ventilation engineer during the working week. Tarrant also drove Harris's 4.6-litre Chevrolet-powered Austin A40 Special Saloon, and was tragically killed in it at Thruxton the following June.
If you can help fill any gaps on the Harris, please email Allen at allen@oldracingcars.com. My thanks to Keith Lewcock, Jeremy Jackson and current owner Mark Bird for the use of their photographs.
Chassis
History
Current owner
Entered in the British F5000 series for amateur driver Brian Tarrant (Waterlooville, Hampshire), racing three times. Also used in libre racing in 1970, winning a 750 MC race at Silverstone in July. The car was advertised in December 1970, and did not reappear in 1971.
In July 1971, just after Tarrant's death, the Harris was purchased by hillclimber Malcolm Dungworth. He managed a "convincing BTD" on his first outing at the car at Topcliffe in July 1971. In 1972, Dungworth ran the car extensively, netting a class win in April 1972, taking BTD at Topcliffe again in late April, an outing at Harewood in May, 8th BTD in the RAC Hill Climb at Barbon Manor in May and later a 6th BTD at Harewood in September. In 1973, John Briggs (Blackburn) bought the Harris and ran it at Longridge in April 1973 and is listed at Harewood 24 Jun 1973 with the Harris equipped with a 5000cc Traco Chevrolet. He is also noted in the Harris-Traco winning a sprint at Woodvale, near Southport, on Whit Sunday 1974 and the Isle of Man sprint in September that year. Sightings of the car then became rarer as Briggs concentrated on more minor events, and his final known victory was in a sprint in April 1975.
The car then disappeared from view until acquired by Will Tomkins (Peterborough) and Geoff Pyett (Peterborough) of Badsaddle Stables, and restored by Simon Hadfield (Shepshed, Leicestershire) for historic racing. Then bought by Malcolm Carter (Sapey Common, Herefordshire) and raced by him in historics from 1992 to 2000. It was sold by Martin Cowell to Mark Bird (Northampton) in 2005. Still with Bird in February 2017.
Driven by: Brian Tarrant, Malcolm Dungworth, John Briggs and Malcolm Carter. First race: Castle Combe (UK R7), 9 May 1970. Total of 21 recorded races.
Mark Bird (UK) 2017
These histories last updated on .