Hodges Formula A history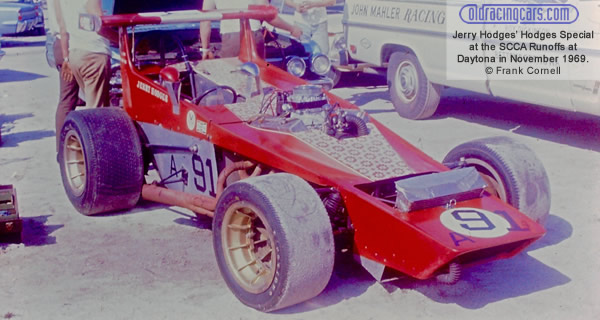 Jerry Hodges constructed a Hodges Special for Formula A in 1969 based on an earlier sports racing car built by Dick Durant. The car did just enough to qualify for the SCCA Runoffs in 1969.
The story of the Hodges Special starts with the Durant Special, built for the 1964 season by Dick Durant, an engineer at McDonnell Aircraft in St Louis. Durant had previously built a sports racing car out of a 51 Ford ladder chassis fitted with a Pontiac engine and called The Red Warrior, but for 1964 he used his engineering training to design a space frame chassis, and fitted a new 327 ci Chevrolet V8 engine. The car was inspired by the new Bill Thomas Cheetah sports racers, but the rear suspension was based on what Durant had seen of the Lotus 19, created using driveline parts from the new Corvette Sting Ray. Triumph TR3 disc brakes were used, and a Halibrand transaxle was combined wth pre-war Ford parts from a junkyard. As Durant believed all the cool sports car were English, he made the Durant Special right-hand drive. The bodywork was from one of Jim Broadwell's Jabro sports car designs. A body was acquired from a "Mk 1", orginally intended for a much narrower H Modified class car, and was then cut down the middle to add in about a foot of width. The end result was a very impressive car which immediately proved to be the quickest in the C Modified class in Midwest Division. Durant won the big bore feature race at Ponca City in July 1965, and took a class win at Wichita in August. He easily won the 1965 Midwest CM title, and even drove the car in the Road America 500 mile race in September, qualifying impressively in 14th place out of 56 runners, and attracting the attention of Ford's engineers who were present with Essex Wire's new GT40. He also qualified on the front row at the SCCA Runoffs, in between the two new McLaren M1As of Ralph Salyer and Joe Starkey, and led until a fuel injection cable snapped with just over a lap to go. Durant drove this car again in 1966, when he finished fourth in MiDiv C Modified, and 1967, when he was second in the division in what was now called C Sports Racing, and finished fifth at the Runoffs. By this time the rear-engined cars had completely taken over, and the Durant Special was sold to Jerry Hodges, a 24-year-old native of St Louis, who raced it in 1968 in the same class, although the class had now been renamed again to A Sports Racing. The highlight of his season was a class win at Lake Garnett in July.
Jerry Hodges was a mechanical engineering graduate from the University of Missouri, and for 1969 decided to turn the Durant Special into a Formula A car, keeping the Chevrolet V8 engine, and changing the closed-wheel body into a wedge-shaped open-wheel configuration. This was only the second season since the SCCA changed the capacity to 5000cc, and the number of cars competing in MiDiv was still very small. Those that did turn up were not especially reliable, so it was not difficult to score points in Formula A at this time.
Chassis
History
Current owner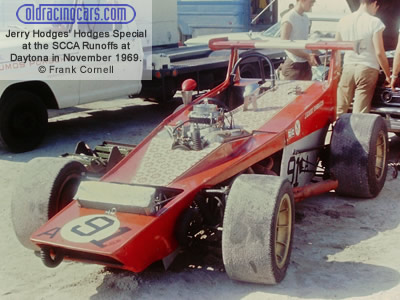 Jerry Hodges (Overland, MO) raced a Hodges Special in Midwest Division Formula A in 1970. He retired from the Lake Garnett Grand Prix, a Kansas City Region SCCA National, in July 1969, and from the Indianapolis Region SCCA National at Indianapolis Raceway Park in early October, but then won his class in an SCCA National at War Bonnet a week later. The nine points from this win were enough to give him a three-way tie for the championship, with Frank Egger's Lotus 38 and Jack Eiteljorg's Eisert. Hodges attended the Road Race of Champions at Daytona in November with the car, but again retired. Hodges recalls that he later had a towing accident with the car, after which he salvaged what he could and the remainder of the car went to the scrapyard.
Driven by: Jerry Hodges. First race: Lake Garnett (R4), 27 Jul 1969. Total of 4 recorded races.
Scrapped
For 1970, Hodges teamed up with Bob Williams to form Hodges Racing Team of St Louis, and acquired the ex-Joe Leonard McKee Mk 10 for Hodges to race in Can-Am in 1970. Hodges moved to Santa Ana, CA that year as he set out to become a professional racer. His 1970 season was pretty dreadful, failing to qualify at Mid-Ohio and also missing the start at Road Atlanta and Laguna Seca at the end of the season, and his results were limited in 1971 and 1972 as well. However, he continued in the sport, designing and engineering cars for a wide range of categories, most recently Formula 1000, and by 2020 had clocked up 16 championships and 93 race wins.
Dick Durant swapped the Durant Special for a Chevrolet Corvette Sting Ray in 1968 and won the A Production category that year. He acquired a Lola T163 for 1970, and raced that in Can-Am for four seasons, after which he joined Warren Burmester's team to race his McLaren M8C in 1974, the final year of Can-Am.
Acknowledgements
Vintage American Road Racing Cars 1950-1970 by Harold W. Pace and Mark R. Brinker has a short section on the Durant Specials, but refers to the 1965 car as being Devin-bodied, which is wrong according to Durant's own account. The Corvette Forum had a thread about Durant when he died in 2013, which quoted Durant saying that he sold the Durant Special "to a guy in St. Charles called Jerry Hodges who hacked around on it and turned it into a FA car". He added that "years later another guy described some stuff he saw in a junkyard that sounded a lot like the decaying remains of this machine". Durant wrote a series of very entertaining articles about his racing career which were available on landiss.com, and can still he found on archive.org: Part 1, Part 2, Part 3 and Part 4. I am very grateful to Frank Cornell, whose pictures are essential to understanding this entirely unique Formula A.
Thanks also to Jerry Hodges who commented on Facebook in January 2021 that "I had a towing accident with the car. I stripped what I could salvage off of it. The rest of it did end up in a junkyard."
These histories last updated on .