KayTee Formula A history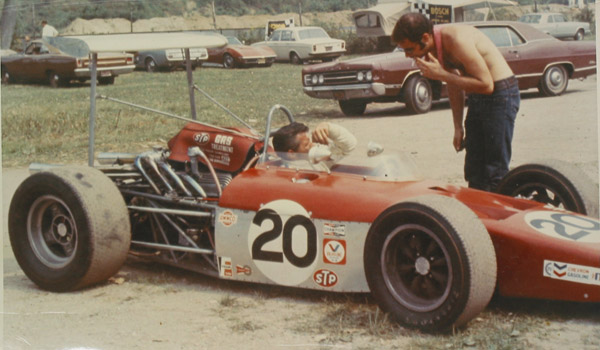 Art Kijek raced his home-built Formula A across North America in 1969, from Minnesota to Florida. Unfortunately for the small team, it was destroyed in a fire at the end of the season.
Born in 1930 and just 5' 7" tall, Arthur H. Kijek started out as a jockey in his teens before being called up to the US Marine Corp for four years. He returned to horse racing, but retired aged 28 and turned his attention to motor racing. He raced with the Sports Car Owners and Drivers Association (SCODA), a short-lived competitor to the SCCA in the New York/New Jersey area, and Kijek's Chevrolet-powered Healey proved competitive against future Indy racers Al Loquasto and Steve Krisiloff in the series between 1965 and 1967. In 1968, he acquired a Genie Mk 8 sports racing car, a design that had been very successful in USRRC racing in 1963 and 1964, and ran this car in USRRC, Can-Am and SCCA 'A Modified' as the "K-T Special" using a Ford V8 engine. Kay-Tee Cars of Oakdale, New York, was a consortium led by Kijek's father-in-law Harold Temple, and his brother Ed Kijek, and with their financial support, Art rebuilt the car for the 1969 season to meet the new Formula A rules. The tubular spaceframe chassis was retained but the sports car body replaced with a slimmer wedge body. Kijek built a 289 ci Ford V8 engine for the car.
His first major race in the car was the Road America 500 at Elkhart Lake in July 1969. Kijek qualified 27th of the 29 cars that set a time, 17% slower than Peter Gethin's pole position, but in amongst the slower Lolas and converted Indy cars. He retired after 20 of the 75 laps. At Brainerd the following month, Kijek was only 27th out of 28 and lasted 32 laps before retiring, which put him in the prize money, winning $50 for his weekend's work. Mosport Park was next, and Kijek was again slowest but one, splitting the two locally-built Chinooks at the back of the grid, and this time he finished the race, six laps down in 13th place and ahead of another one-off special, Tony Simms' Kiki. Lime Rock was next, a track Kijek would have been more familiar with, and he qualified the KayTee 15th out of 20. He was classified as 11th finisher but was nine laps behind, suggesting he wasn't running at the finish. One report of the race says that Kijek went off the circuit at speed, and this may be the accident that Kijek later referred to in a newspaper interview, the KayTee going over a bank and landing upside-down. It was evidently repairable. At Mont-Tremblant a week later, Kijek was back to being the penultimate qualifier, but being at the back of the grid kept him out of the way of the opening lap crash, and he was able to continue to the finish in tenth place in the thinned-out field, pocketing $400 in prize money. The Thompson Grand Prix in September attracted a smaller field, and Kijek was slowest of all, behind all the mass-produced cars, but also behind Eno de Pasquale's EDP, which was also built from parts of a Genie Mk 8, Rex Ramsey's one-off LeGrand Mk 11, Steve Durst's locally-built Vulcan and Dick DeJarld's McKee Mk 12. Kijek was again classified as a finisher, but was a long way behind the other runners.
The final race of 1969 was the L&M championship race at Sebring International Raceway a few days after Christmas. Kijek was again one of the slowest, 25th of the 28 runners, and retired early from both heats, with an oil leak in Heat 1 and engine failure in Heat 2. The car was later destroyed in a fire at Kijek's workshop after gas fumes were ignited by an electrical heater. That brought an end to Kijek's motor racing career, but he took up marathon running and later bicycle racing.
Acknowledgements
Thanks to F5000 author Wolfgang Klopfer and to his contact Ron Childress for talking to Art Kijek and getting the facts of the cars construction and of its fate. An interview with Kijek in the Fort Lauderdale News 25 May 1980 also provided useful background. Thanks also to Stuart Beringer for the photograph used here.