Kitchiner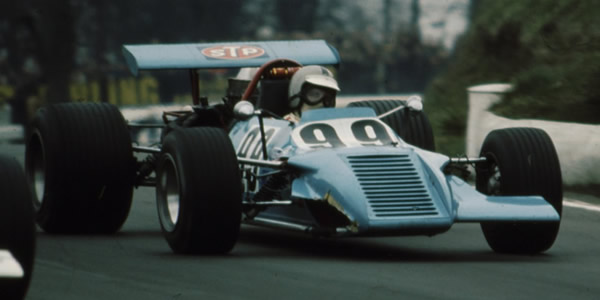 Tony Kitchiner was workshop manager at the Chequered Flag racing team in railway arches at Stamford Brook, Chiswick, in London, until Graham Warner pulled 'The Flag' out of racing at the end of 1968. Kitchiner took over the premises, and his Kitchiner Race Developments designed and built a Formula 3 car for French driver Albert Badan. After a spate of engine failures, Kitchiner rebuilt this car in mid-1969 into Formula 5000 specification, where it was driven by Ian Ashley.
For 1970, two new F3 cars were built, plus a new F5000 car, the K3A, which was to be driven by Gordon Spice. Spice and Kitchiner bought a Ford Mustang Boss engine from the US, but could never get it to run properly, so the car spent most of 1970 with a JW Automotive 4.7-litre in the back instead. This car was sold to Rob Taylor, a Formula Ford driver, in August 1970, and Kitchiner started work on a new K3B for 1971, to be fitted with a Rover V8. The K3B project never came to fruition, nor did a Rolls-Royce-engined K8 for 1982, and instead Kitchiner modified Spice's McLaren M10B for the 1972 season. After a couple of seasons with the Kitchmac, Kitchiner acquired a pair of McLaren M19s for 1974, and the line of Kitchiner cars had come to an end.
All and any help would be gratefully received. Please email Allen at allen@oldracingcars.com if you can add anything.
| Type | Years | Number built | Notes |
| --- | --- | --- | --- |
| Kitchiner K2 | 1969 | 1 | Formula 3. The car was rebuilt in mid-1969 into the "K3" Formula 5000 car for Ian Ashley to drive, then converted back to F3 briefly, before being used in libre racing during 1970. It was sold to Gordon Brookes in 1971 or 1972, fitted with a Rover V8 engine, and was used at Gurston Down from 1972 to 1974. |
| Kitchiner K2A | 1970 | 2 | Formula 3. Two sold, to Albert Badan and Jean-Pierre Alié, for Formula 3 racing in France. Badan later used his car in hillclimbs with Rover and Oldsmobile powerplants, and Alié's was sold to Patrick Sumner and converted into the "K4B" Formula Atlantic car. Both these cars have been for sale in 2017 or 2018. |
| Kitchiner K3A | 1970 | 1 | Formula 5000. Raced by Gordon Spice in 1970 with a 4.7-litre Ford V8, then by Rob Taylor in 1971, and later by Brian Rideout in libre in 1973. |
| Kitchiner K3B | 1971 | 1 | Formula 5000, but not raced. This car was advertised by Kitchiner in November 1970, in Autosport's Single-Seater Guide, when it was described as a rolling chassis with Hewland DG300 gearbox, and was intended for the Rover V8 engine. According to an Autosport feature in early 1971 the car had a longer monocoque and inboard rear brakes, but by then it was planned to used a newer FG400 box. The car was photographed under construction, but nothing more was heard of it. |
These histories last updated on 26 December, 2018 .