Gardos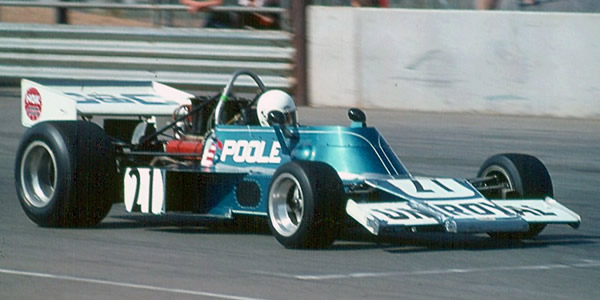 Towards the end of 1971, Don O'Sullivan and his mechanic Jamie Gard ran a McLaren M18 in occasional Australian Gold Star events. The pair skipped the Tasman series and returned to Gold Star racing later in 1972 with the M18 now upgraded to M22 specification and with Howie Sangster taking over the driving from O'Sullivan. The team then again skipped the Tasman series and did not turn out for the mid-1973 Gold Star races. By the time they returned, they had acquired the ex-Redman/Hobbs M18/M22. The older ex-O'Sullivan McLaren M18 now became redundant.
Gard built O'Sullivan a sports car using various left-over McLaren components and this was the first "Gardos". He then set about creating a Gardos F5000 car and it appears that this latest creation consumed much of the McLaren M18.
Gardos OR2
At the 1974 Adelaide Tasman race, only three months after the 1973 AGP, Autosport commented:
"Western Australian Don O'Sullivan had entered the all new McLaren M18-based Gardos OR2 for Howie Sangster to drive. O'Sullivan's mechanic Jaime Guard built the monocoque chassis and used the McLaren suspension bits. The Gardos is powered by a Repco Holden engine" (Autosport 7 Mar 1974 p12).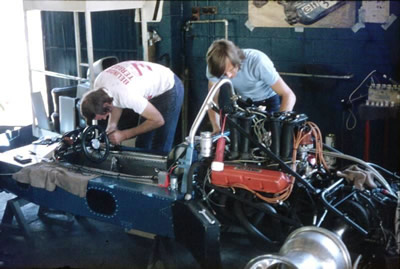 Despite using much M18 componentry, the Gardos had revised geometry compared to the McLaren and used rear radiators. The bulkheads came from the M18 so we can be very confident that the O'Sullivan M18 no longer exists.
The Gardos only raced once in 1974, at the Adelaide Tasman race in February where Sangster qualified tenth of 14, a highly respectable position as he was just 1.6 seconds slower than Max Stewart's 49.7s pole position time. In the race, Sangster finished, but well off the pace. The car did not appear in the Gold Star events that season, nor did it appear in the 1975 Tasman series.
The car then sat for some time dismantled in an Adelaide garage before being sold to David Craig of C & C Autos in Adelaide. After other parts were located in Perth, it took two Elfin mechanics about a month to reasemble the car and then Jamie Gard helped set up the car for testing. After skipping Oran Park, the team arrived early to Adelaide for testing but got the car going surprisingly well with Keith Poole at the wheel. He was seventh at Adelaide, a remarkably competitive outing, retired at Sandown Park and qualified at the back at Surfers (the race was washed out). He also drove the car in the Australian Hill Climb Championship at Collinggrove, finishing second overall to Paul England.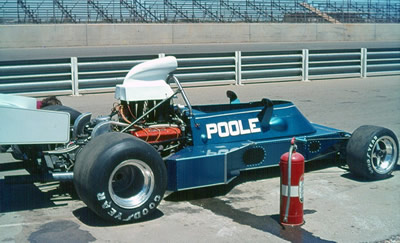 For the 1977 Australian Internationals, the car was leased to 27-year-old South Australian Chris Milton. Later in 1977, Milton acquired a Lola T330.
Craig then sold the Gardos to Barry Singleton, who had it rebuilt by Barry Lock following fire damage that had occurred at C&C. It was remodelled by Lock more than once during Singleton's ownership, eventually having ground-effect sidepods fitted. Singleton raced the Gardos at Surfers Paradise during the 1979 Rothmans International series and then crashed it at Oran Park. He was then sixth at the Australian Grand Prix at Wanneroo Park in March. This car next appeared in June 1980 (a DNS at Lakeside) and he was an early retirement from the November 1980 Australian GP. He put in one last appearance in Sep 1981 at Sandown Park but finished last. Singleton then sold the Gardos to Bob Minogue, who sold it on Brian Sampson. Sampson preferred to race his Formula Pacific Cheetah, and the Gardos remained unraced until it was sold in the late-1980s to Peter Roach (Melbourne), previously the owner of a Matich A50. Roach sold it in 1992 to Graham McMinn, who had the chassis rebuilt by Brian Shead before selling the car to Max Warwick in 1997. In 2001, it was sold to Chris Watson (Glenfield, NZ). By August 2002, the tub had been restored, body panels and engine were nearly finished and just the gearbox still to go. By September 2004, work was still continuing on the gearbox.
The car was reported to be running in June 2009 and was expected to run in the 2009/2010 Tasman Revival series. However, work continued and it was not until December 2012 that it was ready to face a photographer. It was then expected to appear at the January 2013 NZ Festival of Motorsport. It ran some demonstration laps at some point, possibly when it appeared at Hampton Downs in July 2015, and was advertised for sale in August 2015. Finally, in January 2016, Watson ran the car during practice at Hampton Downs.
Sources
I am grateful to Jamie Gard, Don O'Sullivan, David Craig, Chris Watson, Wolfgang Klopfer, Duncan Fox, Aaron Lewis, Ray Bell, Kym Pedler and Graham McMinn for their help with the history of this car. Two articles were consulted by by Wolfgang Klopfer: Racing Car News June 1974 and the 1976 Surfers Paradise program.
All and any help would be gratefully received. Please e-mail Allen at allen@oldracingcars.com if you can add anything.
These histories last updated on 18 November, 2018.