Spectre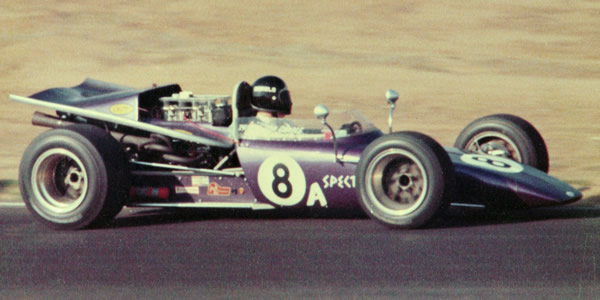 Designed and built by Ken Holden's Spectre Racing Enterprises (Belmont, CA), the 1968 Spectre HR1 was a spaceframe chassis with a fashionable wedge-shaped body. Suspension uprights and brakes were from a McLaren but the rest of the car was fabricated by Holden, an experienced Sprint Car builder. It was fitted with a Ryan Faulkner Chevrolet 305 ci V8 and a ZF gearbox. The car's biggest single advantage was that it was driven by up-and-coming saloon car racer Ron Grable, then making a name for himself with a Dodge Dart in SCCA 'A' Sedan racing.
The success of the Spectre has often been overstated and it is important to put it in perspective. In 1968, Formula A was competed at professional level, in the Continental Championship, and at amateur level in SCCA Nationals. The Spectre only appeared twice at Pro races and was not particularly competitive against the Eagles, Lolas and McKees. Within the SCCA Northern Division it was much more successful, winning its class at Cotati Raceway on 7 July 1968, at Portland on 8 September and at Cotati again on 22 September. But Grable faced virtually no competition in his class: the only other Formula A cars based in the Division were Pierre Phillips' Lola T140 and Walt Mathewson's antique Cooper T51-Ferrari, and at no point that year did more than one Formula A finish a race. At The Pacific National Championship Sports Car Road Races at Cotati's Golden Gate Race Circuit on 22 September, not a single Formula A appeared on the entry list, meaning even Grable himself must have been a late entry. The comment by Vintage Racecar in September 2007 that the Spectre "dominated West Coast Formula A races" is far from correct: it never competed again the LeGrands and WREs in Southern Pacific and was not a contender against Pro competition.
Where the car did succeed, and impressively so, was in two higher-profile races at the end of the year. At the SCCA Runoffs at Riverside in late November, the culmination of the SCCA amateur season, no Eagles were present, but Grable was competing against the Lola T140 of Jerry Hansen and the McKee of Kurt Reinold as well as several more Lola T140s and the works LeGrand. Hansen led, as expected, but Grable stayed right on his tail until Hansen made an uncharacteristic mistake, spun, and handed the lead to the Spectre. A spirited comeback from Hansen ended in a second spin and Grable held the lead to the end. As SCCA National Champion, Holden was invited to take the Spectre to New Zealand for a one-off race showcasing Formula A cars. Promoter Feo Stanton brought over four cars for the Monaco International Trophy at Bay Park on 28 December: the Spectre, Phillips' Lola T140 from the same SCCA Division, the works Le Grand from Southern Pacific Division, and Stew McMillen's Eisert, a converted Indy car from the Midwest. Grable took pole and led the opening laps but McMillen swept past on lap 5 and held on until crashing horribly on lap 18. Then Leo Geoghegan forced his way past Grable into the lead but his 2.5-litre Lotus 39-Repco suffered a broken oil line and Grable was able to slow down and win with plenty in hand.
On its return to America, Tony Settember raced the car once in 1969 but it was no longer competitive and was sold to Walter F. Hanssen (San Mateo, CA) who used it to win a Southern Division National at Riverside on 28 Sep 1969. Hanssen advertised the car in August 1970 ands then it vanishes, next appearing when advertised as a rolling chassis by Richard Goldie (San Mateo, CA) in January 1972 and then by Bruce Smith (Bakerfield, CA) in July 1974. Nothing more was heard of it until the mid-1990s, when it was acquired by an owner in Phoenix, who was unable to recall who he bought it from. In June 2006, it was undergoing restoration.
In April 1969, Holden announced that a Spectre HR2 was on the drawing board but nothing was seen of it.
Sources include former crew member Tom Ratzlaff, and Competition Press & Autoweek 10 May 1969. These histories last updated on 13 March, 2021 .
All and any help would be gratefully received. Please e-mail Allen at allen@oldracingcars.com if you can add anything.