Vulcan Formula A car-by-car histories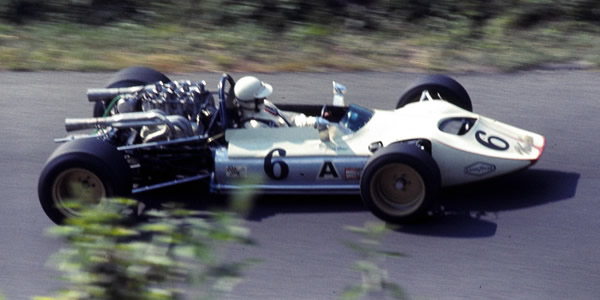 The Vulcan Formula A was built by Kent Carliss of Philadelphia and was financed by Steve Durst, who drove it with considerable success at SCCA Divisional level.
Kent Carliss and his partner Albert Schall had been active in SCCA racing for some years, constructing their own Carliss & Schall Special for C Modified racing in 1965, and then running a Plymouth Barracuda in Trans-Am racing over the next two seasons. Schall shared the driving of the Plymouth with 27-year-old Steve Durst, and for 1968, Durst agreed to finance the construction of a car for the forthcoming 5000cc Formula A class. The car was designed by Carliss's father Oswald S Carliss, chief engineer at Eaton Yale & Towne, Inc, famed for its locks and forklift trucks, and built by Carliss Jr and Schall. Carliss senior designed a simple but strong spaceframe chassis fitted with a ZF 5-speed gearbox, and Durst bought a Traco Chevrolet V8 running on 48mm Weber downdrafts from Roger Penske to power it. Durst and the Vulcan proved very effective in Northeast Division, where there were rarely more than a few Formula A cars entered. At Road America in July, Durst qualified 10th, behind the two McKees, but on a par with the LeGrand and Eisert entries. Although Steve Durst and George Alderman both recall that just two cars were built, there is some suggestion that a third existed by 1970.
One of the Vulcans is reported to have ended its life when it was used by Peko "Pete" Pekov, owner of Shore Auto Repair in Asbury Park, NJ, to create a sports car for SCCA A Sports racing in 1973. Pekov told the local press he built the car "from scratch" using aluminium sheeting and "scrap from other cars". The car was entered as a Ferrari and was fitted with a 4.4-litre Ferrari 365 engine. He scored four points in Northeast Division ASR in 1973, then six points in 1974, but the car was "totalled" in 1975.
If anyone has seen articles or even brief news reports on the Vulcan, or can help in any other way, please email Allen at allen@oldracingcars.com.
Chassis
History
Current owner
New for Steve Durst (Elkins Park, PA) for the 1968 SCCA Formula A season. First appeared at the Cumberland SCCA National entered as the "Scimitar". Raced in six races of the 1968 Pro series, with a best finish of fifth at Elkhart Lake in July. Durst won NEDiv Formula A in 1969 with 45 points, implying five straight wins, and qualified for the ARRC at Riverside in November but retired. Retained for 1969 and again used in both SCCA Nationals (wins at Virginia International Raceway 27 April, Thompson 8 June and Portland 12 October) and also in the Pro series. Again qualified for the ARRC in November but crashed.
Sold to Tom Wood (Xenia, Ohio): fitted with Plymouth V8, painted red and used in two Pro Formula A races in 1970 and 1971. It has been suggested that Wood used the car in SCCA Nationals, but Wood did not score points in FA in either Central or Northeast Divisions in 1970 or 1971. His only known appearances in 1970 are in two Pro races in September: at Lime Rock (alongside Stockton's car), and at Mid-Ohio. Wood reappeared with the car (now with a Chev engine) at the Elkhart Lake Pro race in July 1971, where he retired. Last seen when advertised by Wood in September 1971. Subsequent history unknown.
Driven by: Steve Durst and Tom Wood. First race: War Bonnet (US R2), 16 Jun 1968. Total of 24 recorded races.
Unknown
George Alderman (Newark, DE) US 1968: only single Pro race at R6 Lime Rock (#24) 2 Sep 1968. To George Garrett (Philadelphia, PA) SCCA Nationals 1969 (only two known races: won at Marlboro 13 April 1969 and retired at Virginia International Raceway (#10) 27 April 1969). Bought from Garrett by Dick Stockton (Willow Grove, PA), who won an SCCA National in the car at Bryar Raceway on 6 September 1970 and retired at the Lime Rock Pro race the next day. He also raced it at the Cumberland National in May 1971 and a Mid-Ohio National in October 1971.
Advertised from Stockton Automotive Service Feb 1972 and presumably the car entered by Stockton for Jerry Truitt (#60) at Watkins Glen 18 Jun 1972. Subsequent history unknown but geography would suggest this was the car that went to Peko Pekov (Lakewood, NJ) for 1973 and was used to create his ASR sports racing car .
Driven by: George Alderman, George Garrett, Dick Stockton and Jerry Truitt. First race: Lime Rock (US R6), 2 Sep 1968. Total of 7 recorded races.
Unknown
Bill Seeley (Yellow Springs, OH) US 1970 (one race only: R7 Elkhart Lake 18 Jul 1970), SCCA Nationals 1970 (two known races: class wins at Mid Ohio 26 Jul and 13 Sep). During this time in late 1970, three drivers appeared in Vulcans, Seeley, Tom Wood and Dick Stockton, so either a third Vulcan had been built, or two of the drivers were sharing a car. As Seeley lived just 14 miles from Wood, but over 400 miles from the other Vulcan in Pennsylvania, it most likely that this was Wood's car. Seeley's car was given as a Vulcan-Chevrolet in his September Mid-Ohio clas win, but Seeley was at the time a salesman for a Plymouth dealer in Xenia, Ohio, Wood's home town.
Driven by: Bill Seeley. First race: Road America (US R7), 18 Jul 1970. Total of 3 recorded races.
Unknown
Acknowledgements
My thanks to Wolfgang Klopfer for his help originally constructing these histories, to Steve Durst for his recollections of the car, to Sophia Underwood Carliss for supplying information from her father Kent, to "Tom K" for information on Pekov, to Jeff Savage for the use of photographs taken by his father at Lime Rock in September 1968, and to Greg Rickes, Harry E. Hurst and Dick Stockton for their photographs. Other pictures can be found on the VIR web site's revew of the April 1969 SCCA National and on the Autocourse.ca site's Mont-Tremblant 1969 photos page.
These histories last updated on .