Ferrari 312/66 car-by-car histories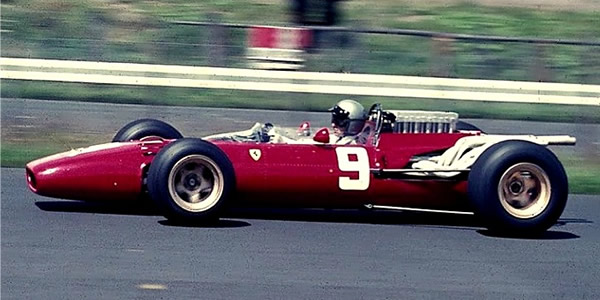 Ferrari's first 3-litre F1 used the same 'aero' hybrid monocoque structure as the 1512, and was fitted with a V12 engine based on the 3.3-litre 275P sports car engine.
With a claimed 360 bhp - although it was probably well below that in reality - the Ferrari was the dominant car at the start of the season with John Surtees winning in Siracusa and at the Belgian GP, but Il Grande John fell out with Ferrari team manager Eugenio Dragoni and left mid-season with the World Championship an open goal. Lorenzo Bandini and Mike Parkes continued as team drivers, with Ludovico Scarfiotto taking Bandini's place for the Italian Grand Prix at Monza where he and Parkes finished 1-2. The three cars, 010, 011 and 012, remained in service in early 1967, and Mike Parkes won the International Trophy in the specially lengthened 012, before conspiring with Scarfiotto in a dead heat to share victory at Siracusa in May. Before a lengthened 312/67 could be completely for Parkes, he was injured in an accident in 012 at Spa-Francorchamps.
Of the two remaining cars, 011 went to Pininfarina in 1968 and used for build their Sigma concept F1 car. That still remains with Pininfarina and is often exhibited. The other survivor was 010 which was sold to French industrialist Marcel Arnold, who backed Jean-Pierre Jarier in the early part of his career. It was sold to Ferrari collector Albert Obrist in 1989, whose whole collection was acquired by F1 supremo Bernie Ecclestone in 1996. Ecclestone sold on most of Obrist's sports cars, but retained his F1 cars, including 010. Ecclestone's collection is rarely seen, but 010 was seen in an exhibition at the Bahrain Grand Prix in April 2009.
Please contact Allen Brown (allen@oldracingcars.com) if you can add anything to our understanding of these cars.
These histories last updated on .