Ferrari 312/68 car-by-car histories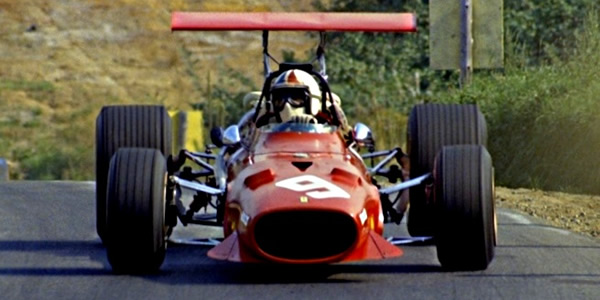 For 1968, Ferrari produced a new, slightly sleeker model, with the engine mounted lower in the chassis. The new car also had a revised four-valve V12 engine.
Jacky Ickx joined Chris Amon for 1968 in what was now a two-car team. The cars were very quick but Chris Amon was unlucky - the basis of his enduring reputation. He took three successive pole positions, in Spain, Belgium and the Netherlands, and led the first two of these comfortably until mechanical failures put him out. At Zandvoort, it was rain that defeated the Ferrari, but the same conditions at the French GP, Ickx the rain meister won comfortably. Amon's best result was second place at the British GP, and Ickx backed that up with three more podium finishes.
Only three new cars were built for 1968, 0009, 0011 and 0015, but two 1967 cars, 0003 and 0007, were updated to the latest specification and used as spare cars. Amon destroyed 0011 in practice at Monza, and Ickx wrote off 0015 at the Canadian GP, sustaining a broken leg. The chassis from this latter car was allegedly "given by Enzo Ferrari to the Ferrari driving school", and therefore survived. In the mid-1990s in joined a Ferrari collection in Italy, when the existence of this car first became widely known. An engine and gearbox were located, and it was rebuilt by an English Ferrari specialist in the late 1990s. The one car that remained complete was the French GP winner, and this went to French Ferrari importer Charles Pozzi at first, later moving via Pierre Bardinon to become part of Jack Setton's wonderful collection in the late 1980s. It is now in Florida, where it is part of John Schumann's collection.
Please contact Allen Brown (allen@oldracingcars.com) if you can add anything to our understanding of these cars.
These histories last updated on .