Ferrari 312/69 car-by-car histories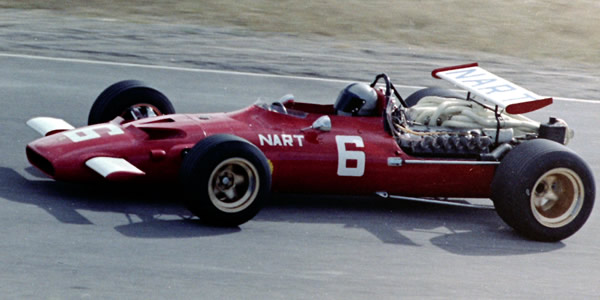 The 1969 model Ferrari 312 had only minor changes from the 1968 car. A new engine was produced, with exhausts on the outside, but this was soon abandoned.
Jacky Ickx had moved to Brabham, and Ferrari decided to field just one entry for Chris Amon, who had new 1969 cars 0017 and 0019 to choose between. The first of the 1969 cars was raced by the Kiwi at the 1969 South African GP, but it was mistaken for a 1968 model by Motor Sport, as it was travelling on 0009's carnet. A new nose was the only clue that it was new. The revised 1969 engine had the gas flow reversed, with exhausts on the outside of the vee. A new car was now needed, and much of Ferrari's focus was on the new 312B design, which was tested but proved to be fragile and did not race. Without the 312B, Amon declined to race the 312/69 any longer, and Pedro Rodriguez was brought in for the final races of the season. For those races, a revised engine was produced with the exhaust returned to the centre of the vee, as on the 1968 engines.
Both cars survived the season and were sold to private collectors, 0017 spending many years in Beppe Lucchini's collection, and 0019 being a long-term resident of Pierre Bardinon's magnificent collection at Mas du Clos. In 1990, 0017 was sold to the first of a number of American owners, the most recent of whom damaged it at Monterey in 2015 when a wheel broke. Bardinon died in August 2012, and in 2016, the New York Times reported that his family were in dispute with the French tax authorities over the value of the collection. Whether the 312/69 is still in the Bardinon collection is currently unclear, with one report saying it was still there in early 2016, but another suggesting it had been sold some years ago. In February 2017, both 312/69s were seen together at Retromobile, 0019 still with the original side-exhaust engine, and 0017 with the end-of-season centre-exhaust unit.
Car
Total
Race
Starts
Grand
Prix
Starts
Grand
Prix
Wins
First Race
Present Location
8
7
South African Grand Prix
(1 Mar 1969)
Germany 2022
3
3
Monaco Grand Prix
(18 May 1969)
Unknown owner 2017
As with many Ferraris, news of changes of ownership can take some time to filter through. We welcome all updates, and are happy to keep ownership details confidential if requested. Where actual Ferrari owners' names are shown, it is typically because they have already been made public or because the owner has indicated their consent.
Please contact Allen Brown (allen@oldracingcars.com) if you can add anything to our understanding of these cars.
These histories last updated on .