Ferrari 312B car-by-car histories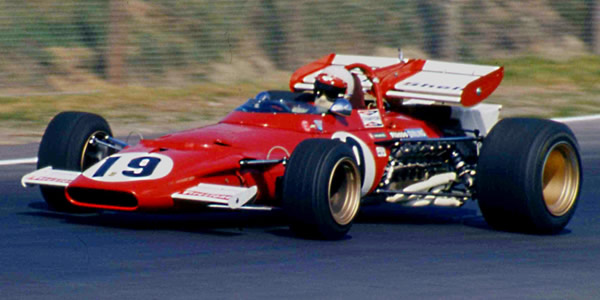 Ferrari introduced a new 'Boxer' flat-12 engine for 1970, and built a new car for it, the Ferrari 312B. Jacky Ickx, Clay Regazzoni and Mario Andretti won five GPs out of six from the 1970 Austrian GP onwards.
The first 312B was seen testing in September 1969, but Chris Amon was not given the chance to race it in the Italian GP, and after it broke in three successive tests at Modena, the Kiwi decided to leave Ferrari for March. Jacky Ickx returned to Ferrari from Brabham for 1970, and gave the 312B its race debut at the 1970 South African GP, qualifying fifth but retiring with an oil leak. Two cars were initially built for Ickx, then a third in which Clay Regazzoni and Ignazio Giunti alternated, and then a fourth so that three entries could be run. The car was quick but unreliable in the early part of the season, and the 312B's first race finish came in Belgium, where Giunti finished fourth. At the next race, at Zandvoort at the start of June, Ickx led until passed by Jochen Rindt's Lotus 72. The Belgian finished third after a pitstop, and set fastest lap, with Regazzoni fourth in the sister car on his GP debut. Ickx then took pole position at the French GP, and led until the flat-12s valve gear broke, led again at the British GP until the differential failed, then took another pole position in Germany, swapping the lead with Rindt in an epic battle won by the Lotus driver by a fraction of a second. At the Austrian GP, Rindt took pole but Regazzoni, Ickx and Giunti lined up the Ferraris second, third and fifth on the grid. Regazzoni stormed into the lead at the start, then allowed Ickx through and took up station between his team leader and the Lotus 72. The Ferrari duo were unchallenged thereafter, and Giunti threatened to make it a 1-2-3 for a while until a tyre came apart.
At the Italian GP, after Rindt's tragic death in a practice accident, Ickx took pole but retired with a broken clutch, leaving Regazzoni to take victory after breaking free of Jackie Stewart's chasing March 701. The domination of the 312B thereafter resulted in two more 1-2 victories for Ickx and Regazzoni, in Canada and in Mexico, either side of a US GP where Ickx had taken pole and set fastest lap.
With the sad death of the very promising Giunti in an accident while he was leading a sports car race in a Ferrari 312PB, the third seat in the F1 team for 1971 was taken by Mario Andretti, a successful USAC racer who had so far shown limited promise in Formula 1. The 312Bs were retained for the opening race, and Regazzoni led until Denny Hulme took over in the very impressive new McLaren M19A, only for a bolt to drop out of the suspension, allowing Andretti to take a surprise victory. The American showed it was no fluke by winning the Questor GP, a non-championship event, and Ickx also won the International Trophy at Silverstone before the 312Bs were retired.
All four 312Bs survived and were sold to private owners, but it should be noted that 002 was actually the second car to bear that number, replacing the original 002 that was burnt out in Ickx' accident in Spain. So 312B/004 was the fifth 312B chassis to be built. Jacky Ickx acquired chassis 001, the car in which he had won three GPs in 1970, for his own private collection and retained it until selling it to collector Pierre Bardinon in the early 1980s. Bardinon died in 2012, but insiders say that his 312B was still in the family collection in late 2018. Chassis 002 was acquired by another Ferrari driver, Peter Schetty, who soon sold it on, and it was acquired by the Schlumpf brothers in the early 1970s. It remains in the magnificent Schlumpf Collection at Mulhouse, in France. The other two 312Bs, chassis 003 and 004, became swapped at some point in their lives, and were sold by Ferrari with the wrong identities. Chassis 003 - but with the identity of 004 - was sold to American Ferrari dealer NART owner Luigi Chinetti. Many owners later, it is now in Italy but has been heavily restored so that it can be used in historic racing. The final car, chassis 312B/004 but with the identity of 003, was sold to Tom Wheatcroft for his Donington Museum where it was very carefully preserved until sold to a private collection after Wheatcroft's death. Despite very compelling evidence from chassis stampings and rivet patterns that 003 and 004 are the wrong way round, Ferrari Classiche are not swayed, and continue to maintain that the cars are as they were sold.
For an interesting view of the 312B from Chris Amon's perpective, see Life Is All About Timing? Chris Amon and the Ferrari 312B... on Mark Bisset's excellent primotipo.com.
Please contact Allen Brown (allen@oldracingcars.com) if you can add anything to our understanding of these cars.
These histories last updated on .