Ferrari 312T car-by-car histories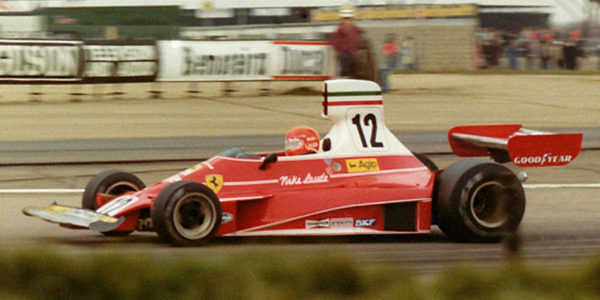 The 1975 Ferrari 312T earned Ferrari the constructors' world title after 11 years and gave Niki Lauda the first of his three drivers' titles.
The 1974 season had seen a return to competitiveness in Formula 1 for Ferrari as both of the team's new drivers Niki Lauda and Clay Regazzoni had won races in the Ferrari 312B3. Designer Mauro Forghieri started work early on the 1975 car and was aiming for the lowest possible polar moment, making the car highly responsive at best but twitchy at worst. To this end, Ferrari developed a transverse-mounted gearbox positioned in front of the rear-axle line, and the new model was named the 312T, for trasversale. Its chassis was slimmer than the 312B3 at the front, the completely redesigned front suspension incorporating a magnesium casing for the spring/damper units. Brakes were outboard at the front, contained within the wheel, and inboard at the rear where the conventional suspension arrangement comprised single top links, upper radius arms and lower wishbones. The main radiators were located just behind the front wheels with smaller oil radiators just ahead of the rear wheels.
Testing at Fiorana and Vallelunga in November and December 1974 did not go well at first, as Lauda took time to come to terms with the new car, and 312B3s were used in the South American GPs at the start of 1975. Once the new model was sorted, it debuted at the South African GP and Lauda won in Monaco, Belgium, Sweden and France to open up a 22-point championship lead. Regazzoni won at Monza as Lauda and Ferrari clinched their respective championships, and Lauda then won three more Grand Prix and 'Regga' won at Long Beach in 1976 before the 312T gave way to the 312T2.
Car
Total
Race
Starts
Grand
Prix
Starts
Grand
Prix
Wins
First Race
Present Location
2
2
South African Grand Prix
(1 Mar 1975)
Giancarlo Casoli (Italy) 2016
Ferrari 312T/019
(no races recorded)
Written off, Vallelunga test session 1974
7
5
South African Grand Prix
(1 Mar 1975)
'Mr John of B' (Jean Guittard) (France) 2017
8
7
International Trophy
(13 Apr 1975)
Tom Hartley Jr (UK) 2019
9
9
Monaco Grand Prix
(11 May 1975)
Tom Hartley Jr (UK) 2020
7
7
French Grand Prix
(6 Jul 1975)
Private Collection 2020
The fate of chassis 019 remains something of a puzzle. Some sources say it was not built, but it would be the only number Ferrari had skipped apart from 13 and 17, which are considered unlucky numbers in England and Italy respectively. Several reliable sources say that it was destroyed in a testing accident but no press report can be found describing such an accident.
The 312T was the most desirable of the 1970s F1 Ferraris for collectors and Lauda's regular chassis 023, which had taken him to six Grand Prix victories, was sold to favoured collector Pierre Bardinon before being sold by him to another of the great collectors, Jack Setton. Meanwhile, chassis 018 went to a Dutch importer Frits Kroymans, 021 to NART boss Luigi Chinetti, 022 to English collector Mike Vernon, and 024 to American collector Harley Cluxton. These five cars change hands rarely, and usually in private sales for huge amounts of money. OldRacingCars.com tends to find out a little after the event.
These histories last updated on .