Finley 1973 Indy history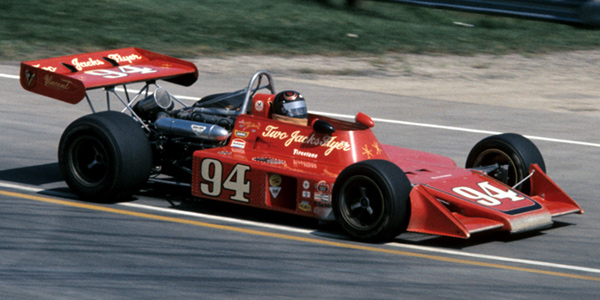 Bill Finley built a new Indy car for the Tassi Vatis team in 1973, copying the layout of the 1972 Eagle. Nicknamed the "Fleagle", the car was used for three seasons, finishing as high as tenth a couple of times, before being replaced with a genuine Eagle.
The Tassi Vatis team had used some very antiquated machinery up to the end of 1972, including a 1966 Eagle and a car that had started life as a 1964 Huffaker but had been rebuilt so many times it was now named after the team's chief mechanic Bill Finley. Over the winter of 1972-73, Finley and his two assistants Howie Ferland and John Barnes built a completely new car in the garage behind Finley's house in Patricia Street, Indianapolis, based on the layout of the new 1972 Eagle with which Bobby Unser had proved so fast the preceding season. The new car was nicknamed a Fleagle, a combination of Finley and Eagle but a name then familiar from the Fleegle character in NBC's popular Saturday morning Banana Splits TV show. Finley did not give chassis numbers to his cars but did give them names, and this one was called "Leroy". It was fitted with a turbo Offy engine and raced as #94 throughout its career.
The car was ready for the start of practice at the Indianapolis Motor Speedway in May 1973 but almost immediately was making strange noises from its engine, and then the team's two engines took it in turns to break as the car's qualifying chance came and went. Parsons got the car into the race at Pocono, but moved to the Leader Card team later in the season and was replaced in the Fleagle by John Hubbard for a few races, and then by Bentley Warren. Warren kept the drive for the early part of 1974, but could not get the car up to speed at the Indy 500 and moved across to Grant King's team to try to qualify their backup car. Parsons then returned to the Vatis team for the final day of qualifying and put the car on the tenth row. Unfortunately, he retired early with a broken turbocharger. Tassi Vatis finally bought a more up-to-date car for 1975, acquiring a two-year-old Eagle, and the Fleagle was only used a few more times. At the 1975 Indy 500 is was allocated to the talented Mike Hiss, who qualified on the back row of the grid but was again out early.
If you can add to our understanding of this car or have photographs that we can use, please email Allen at allen@oldracingcars.com.
Chassis
History
Current owner
New for Johnny Parsons Jr at the 1973 Indy 500 as the Tassis Vatis's #94 Two Jacks Flyer entry. The car blew too many engines and no attempt was made to qualify. Raced by Parsons, John Hubbard and Bentley Warren later in 1973, always wearing #94. Retained for 1974 and driven by Warren, Parsons and Hubbard during the season, Parsons qualifying it for the Indy 500 as the Vatis Special. Retained again for 1975 and raced by Parsons in the early part of the season, then qualified by Mike Hiss for the Indy 500 as the Vatis Enterprises #94 Ayr-Way/WNAP car. Vatis acquired a 1972/73 Eagle in time for the 1975 Indy 500, and acquired a second one for 1976, so the "Fleagle" was not seen again. The car is believed to have been at McIntire Chevrolet for some years, but its movements are then unknown until Mike Guffey (Hartford City, Indiana) bought it from a car dealership and eventually sold it to Rich Morrison (Salina, KS). Morrison sold it to Toney Edwards (Greenwood, Indiana) in 2013. It was restored by Peter Jamie to its 1975 livery. Still with Toney in October 2021.
Driven by: Johnny Parsons Jr, John Hubbard, Bentley Warren, Mike Hiss and Lee Kunzman. First race: Pocono International Raceway (R6), 1 Jul 1973. Total of 20 recorded races.
Toney Edwards (USA) 2021
Acknowledgements
Thanks to Rich Morrison, Toney Edwards, Peter Jamie, Bill Wiswedel and Mike Guffey for information on this car, and to Michael Ferner, Simmo Iskül and 'gbl' for helping to figure out its race history.
If you can add to our understanding of this car or have photographs that we can use, please email Allen at allen@oldracingcars.com.
These histories last updated on .