Fittipaldi F5A car-by-car histories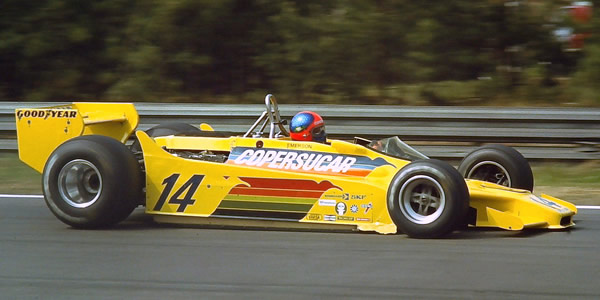 The disappointing F5 design was completely reworked for 1978 as the Fittipaldi F5A. The car was the most competitive of all the team's designs, finishing seventh in the 1978 Constructors Cup.
Ralph Bellamy had joined the Fittipaldi team from Lotus to head up the design side, but the revamped F5A was the work of Giacomo Caliri and Luigi Marmiroli at Fly Studio in Italy. The new car had wide flat sidepods reminiscent of a Lotus 78, and rocker arm front suspension. An oil radiator was located in the nose, and the water radiators were in the sidepods, again similar to a Lotus 78. The first car was built using one of the F5 monocoques, but the subsequent cars were all new. When the car first appeared, it had no wing profiles in the sidepods, but Caliri recalls that these were added after the first three races, resulting in the F5A being a semi-wing car.
Other changes to the team after the disappointment of 1977 included the arrival of Peter McIntosh, previously secretary of FOCA, who replaced Jo Ramirez as team manager. The season started strongly when Emerson Fittipaldi qualified seventh fastest for his home GP in Brazil and finished in an excellent second place. He also took fastest lap and finished second at the non-championship International Trophy in March, but that rain-affected race saw over half the field spin off the track. After suffering handling problems over the next few months, the team had the F5A working well by the British GP, and Emerson qualified in the top ten four times, including two third-row starts, and finished in the points four times in five races, including two excellent fourth places finishes in Germany and Austria. Revised aerodynamics and new rear suspension were the biggest contributors to the car's progress, but it remained significantly overweight. After Bellamy's long-awaited new Fittipaldi F6 proved a complete flop, the team had to retain the F5As for much of 1979, but they were no longer competitive.
Before Fittipaldi realised the problem they had with the F6, two F5As were sold to RAM Racing to be used in the British F1 series. Guy Edwards even received a third F5A later in the season as a spare car, while Emerson had to soldier on with the original F5A/1 until the F6A was ready. Two of the RAM cars then went to Colin Bennett's team for Val Musetti to drive, and Bennett extensively modified one of them with ground-effect sidepods as the 'Bennepaldi'. Both were eventually rebuilt for historic racing, while Emerson's faithful prototype has been hung on the wall in a German museum. The fourth F5A, the unnumbered car built for Guy Edwards as a spare car, remains an unresolved puzzle.
Please contact Allen Brown (allen@oldracingcars.com) if you can add anything to our understanding of these cars.
These histories last updated on .