Fittipaldi F9 history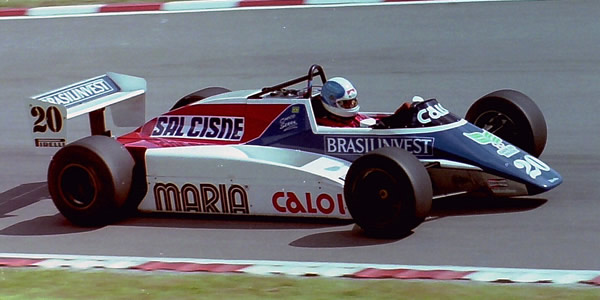 The final Fittipaldi F1 car was the F9, introduced in mid-1982. Although a clear advance over the F8, it was insufficient progress for the struggling team, and Fittipaldi closed its doors at the end of the year.
With the loss of Postlethwaite to Ferrari, the F8's replacement was designed by Richard Divila and Tim Wright. The monocoque was similar to that of the F7 and F8, but more rigid, largely because it was built from one-inch thick honeycomb, instead of the previous three-quarter-inch, but also because it was designed for Brabham-copy pullrod front suspension, instead of the bulky rocker arms of its predecessor. It had a long spacer in front of the gearbox, pushing the fuel tank and driver further forward. Rear suspension was also copied from the Brabham BT49.
The car first appeared at the British GP in 1982 where it was finished off in the Brands Hatch paddock. Chico Serra gave the new car its first laps during practice, but returned to his regular F8D after a spin. Teething problems with the F9 prevented him qualifying for the French GP, but he did qualify on the back row of the grid in Germany, finishing the race 11th and last. He improved to 20th on the grid in Austria, despite fuel problems, and again finished, this time seventh, but the final runner. He spun away his chances of qualifying at the Swiss GP, but qualified in the last place on the grid at Monza, despite clutch problems during practice. The F9 again finished the race, and this time finished with one car behind it, 11th of the 12 finishers. The final race of the season was at Caesars Palace in Las Vegas, where Serra had several spins and finished bottom of the time sheets, well away from qualification.
Car
Total
Race
Starts
Grand
Prix
Starts
Grand
Prix
Wins
First Race
Present Location
3
3
German Grand Prix
(8 Aug 1982)
Private Collection (US) 2022
In November 1982, Fittipaldi Automotive was put into liquidation and ADA Engineering stepped in to buy the entire stock, consisting of one F6A, the two ex-Wolf F7s and the three remaining 1982 cars. The F9 proved difficult to sell but eventually passed to a well-known dealer in 1987, who advertised it for another two years before it was sold to the US. It was restored and raced at Sears Point in June 1993, but was then put away. It was sold to a private collection in 2003.
Please contact Allen Brown (allen@oldracingcars.com) if you can add anything to our understanding of these cars.
These histories last updated on .