Gerhardt 1964 Indy history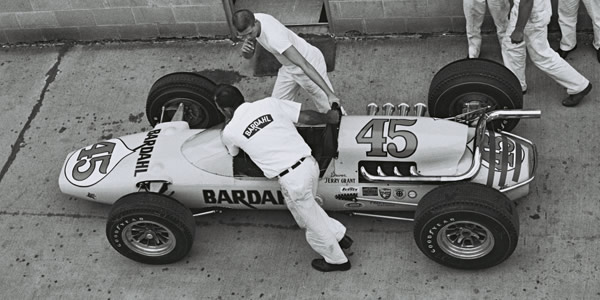 The first Gerhardt Indy car was a monocoque described as a "lookalike" of the successful Lotus Indy car design, and built for 1964 by Fred DeOrian at Fred Gerhardt's Commercial Truck Body Factory in Fresno, CA.
With its very small profile, inboard front suspension and monocoque construction, Fred Gerhardt's first design was a technical success. The car appeared as tiny as the Lotus 29 and 34 but driver Jerry Grant had a much more upright driving position and towered out of the cockpit. Like some of the rear-engined lost causes from 1964, the Agajanian's Troutman-Barnes, Gordon Van Liew's Edmunds-built car, Racing Associates' unnamed #10 car and Yunick's bizarre Hurst Floor Shifter, the Gerhardt did not make the race but Fred Gerhardt clearly had the right idea as he received orders for new cars for the 1965 season.
If you can add anything to these histories, please contact Allen Brown (allen@oldracingcars.com).
Chassis
History
Current owner
Gerhardt 64
'the Jerry Grant car'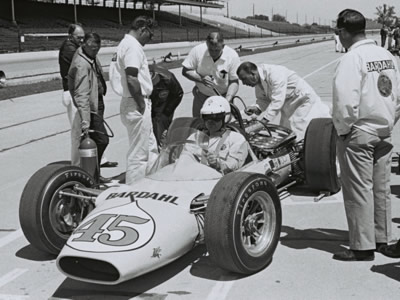 The 1964 Gerhardt was entered at the 1964 Indy 500 for Jerry Grant with Bardahl backing but did not qualify. It appeared three more times in 1964 after the 500 entered by Nick Fulbright and Harry Lane but only started once, at Phoenix in November with Chuck Rodee driving. Fulbright entered it at Indy in 1965 as the #47 WIFE Radio Good Guy Spl and Bill Cheesbourg qualified it in 33rd position, much to the team's delight. It continued at a few more races later in 1965 and newspaper reports suggest the car was present in 1966. In March 1967 it was reported that Fulbright still had the car but had bought a 1966 car from Bob Wilke as he did not believe the 1964 car's Offy engine would be able to qualify. Unknown after March 1967.
Driven by: Jerry Grant, Bob Christie, Chuck Rodee and Bill Cheesbourg. First race: Phoenix International Raceway (R13), 22 Nov 1964. Total of 4 recorded races.
Unknown
These histories last updated on .