Gerhardt 1965 Indy car-by-car histories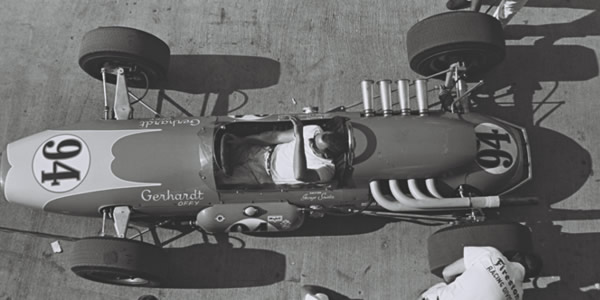 Fred Gerhardt built three new cars for the 1965 season, described as being "built along the lines of the Lotus racers used in Europe". Veteran entrants Ernie Ruiz and Pete Salemi bought customer cars.
The 1965 car was a significant evolution of the 1964 car and retained its inboard front suspension and monocoque construction. All three cars qualified comfortably for the Indy 500, Pete Salemi's being rewarded with GC Murphy sponsorship when it qualified mid-grid and the Murphy-backed Watson failed to make the show. The Gerhardt "house car" also qualified in mid-grid, the Ruiz car was also easily in and even the revamped 1964 car squeezed in at the back. Only Lotus and Huffaker had more cars on the grid in a resounding success for the Fresno firm.
At least one of the cars, possibly two, were destroyed in severe accidents but the Ruiz car appears to have escaped this fate and was still intact at Indianapolis in 1971.
If you can add anything to these histories, please contact Allen Brown (allen@oldracingcars.com).
Chassis
History
Current owner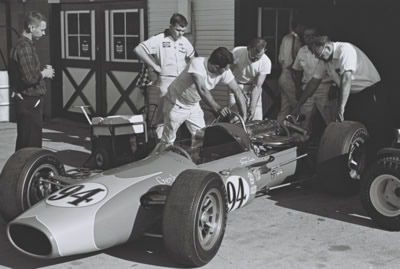 Fred Gerhardt's #94 "house" car at the 1965 Indy 500 was driven by George Snider but re-emerged later in the season for Micky Rupp. In August 1965, it was sold (Wallen p320) to Weinberger Homes for Gordon Johncock to replace the team's wrecked roadster. The car had #78 crudely painted on it and won first time out at Milwaukee on 22 August. It is presumably then the #94 car that Johncock drives twice more that season and then in the opening two races of the 1966 season. The #94 with Offy 252 is then seen as a Fred Gerhardt entry at the 1966 Indy 500 with Mel Kenyon at the wheel, the car having presumably returned to Gerhardt in return for a new car for Johncock. Crew member Dennis Johansen confirms that it was the same #94 Gerhardt-Offy that was then raced by Kenyon and Milwaukee in June and by midget racer Tommy Copp, another Fresnan, at Atlanta three weeks later. Copp hit the wall on lap 1 and the car burst into flames. Copp was very badly burnt on his face and hands and Johansen recalls that the car was "trashed". Parts of this car may have survived and been used in the construction of later cars.
Driven by: George Snider, Mickey Rupp, Gordon Johncock, Mel Kenyon and Tommy Copp. First race: Indianapolis Motor Speedway (R3), 31 May 1965. Total of 10 recorded races.
Destroyed 1966
Ernest L. Ruiz (Modesto, CA) bought a new Gerhardt for 1965 and ran it as the #65 Travelon Trailer car. It was fitted with a 252 ci Offenhauser engine and Ernie Ruiz continued to run it in this form until 1971, although it may well have acquired a turbocharger by the end of this period. Dennis Johansen recalls the car being very heavily damaged at Phoenix in March 1970 when Johnny Anderson triggered a six-car accident while trying to avoid a spinning Nick Dioguardi. However, the car seen in pictures on track at the Speedway in the 1971 Hungness Yearbook appears to be a pre-66 car, so it must have survived. Unknown after Indianapolis May 1971 until June 2015, when a car restored in the #65 Travelon Trailer livery was on display at Brands Hatch's American SpeedFest III. This car then run by Robin Ward at the Goodwood Festival of Speed a month later. In February 2023, this car was owned by Tony O'Neill (Piltdown, East Sussex).
Driven by: Mike McGreevy, Ronnie Duman, Bob Tattersall, Dick Atkins, Bob Wente, George Benson, Bob Christie, Chuck Hulse, Bruce Jacobi, Dave Strickland, Johnny Anderson, Carl Williams, Arnie Knepper and Jigger Sirois. First race: Indianapolis Motor Speedway (R3), 31 May 1965. Total of 13 recorded races.
Tony O'Neill (UK) 2023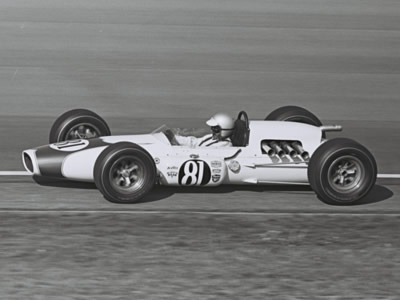 Veteran car owner Pete Salemi (Cleveland, Ohio) bought a new Gerhardt for 1965 and ran it with backing from the G. C. Murphy store chain. With Andy Dunlop as chief crew, Salemi's car ran as #81 in 1965, and again in 1966 when it was entered by Salemi's Central Excavating. The Central Excavating team had a supercharged Offy for 1967, indicating they had a new car. Pictures of the team's car during the 1967 and 1968 seasons show a 1967 Gerhardt, so the older 1965 Gerhardt may have been sold off after the 1966 season, or perhaps after the 1967 season.
Driven by: Mickey Rupp, Gordon Johncock, Ronnie Duman, Bob Harkey and Arnie Knepper. First race: Indianapolis Motor Speedway (R3), 31 May 1965. Total of 11 recorded races.
Unknown
The mystery cars
As only three 1965 cars were built, tracking them should be straightforward. However, the Central Excavating team had at least two cars, more likely three, and it is possible they sold their 1965 car at the end of the 1966 season, or some time during 1967. This would fit with the appearance of a car owned by Earl 'Dusty' Smith in 1968 that looked very much like a 1965 Gerhardt.
Chassis
History
Current owner
Bruce Jacobi became something of a specialist in ageing Gerhardts and one of his contributions to the list of non-starters was the #101 Gerhardt-Offy of Earl Smith. After a miserable season in 1968, it appeared a couple more times in 1969, with Smith himself at the wheel on the last occasion. It was usually listed as having a normally aspirated Offy, suggesting a 1965 Gerhardt, and photographs support that identification. Nothing more known.
Driven by: Bruce Jacobi, Bud Morley, Earl 'Dusty' Smith and Earl Dykes. First race: Hanford Motor Speedway (R1), 17 Mar 1968. Total of 7 recorded races.
Unknown
These histories last updated on .