Gerhardt 1966 Indy car-by-car histories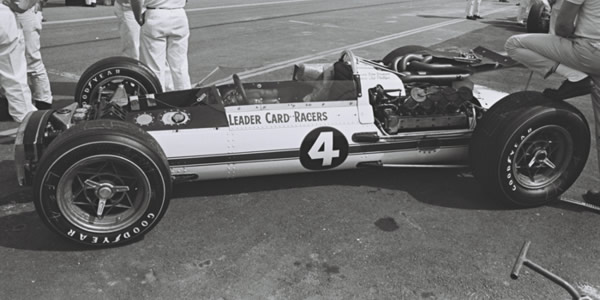 Thanks to some timely publicity from Parnelli Jones breaking the one-mile closed track record during tyre testing, Fred Gerhardt received ten orders for his 1966 design. Gordie Johncock took two second places during the season in the Weinberger Homes car.
1966 was the year that the supercharged Offenhauser became available and Drake Offenhauser claimed 550 bhp for the 168 ci Offy compared with 515 bhp for the Ford V8, but the engine would not fit into many of the older cars. Fred Gerhardt had close connections with Offenhauser and had already completed a prototype of his 1966 car which made it the obvious choice for testing. The prototype had first appeared in November 1965 when Jim Hurtubise raced it at Phoenix as the #46 car. Competition Press described it then as a "Gerhardt-chassied Ford" but whether it actually was a Ford is unclear as there had been talk of the Mecom team running the first supercharged Offy at PIR in a new Gerhardt chassis and further talk of a short-stroke 255 ci Offy having tested at the same track in the weeks prior to the race. Parnelli Jones made headlines at the end of January when he took the prototype 1966 Gerhardt fitted with the new supercharged engine to a new lap record at Phoenix of 122.574 mph during a Firestone test and his performance led to a stampede of orders for the 1966 Gerhardt. Fred reported that ten more cars were to be built for Indy in 1966, five with Offys and five with Fords. The chassis cost $15,000 plus either $17,000 for the new Offy or $25,000 for the Ford. The Jim Rathman "Astronauts" car was innovating further with an Airesearch turbocharger on its Offy instead of a Roots supercharger. All engine options were mated to a two-speed Halibrand transaxle.
Simmo Iskül's analysis of these cars shows three distinct models, 'Type A' with Dzus-fastened sides which included the two 'house cars', 'Type B' also with Dzus fasteners but all in a single straight line, and 'Type C' with rivetted sides. The four Type A cars were the two 'house' cars driven by Hurtubise and Kenyon, the Lindsey Hopkins car and the "Astronauts" car. The three 'Type B' cars were the Myron Caves car, the Sid Weinberger car and the second Walther car. The five 'Type C' cars were the Federal Engineering car, both the Leader Card cars, the first Walther car and the Bob Hurt car.
As best we can tell, 12 or 13 1966 Gerhardts were built. If you can add anything to these histories, please contact Allen Brown (allen@oldracingcars.com).
Chassis
History
Current owner
Later histories
Almost all the 1966 cars can be tracked into 1967, the single exception being the #56 Jim Hurtubise car. Of the others, the #46 prototype continued to Indy '67 at least; Walther's first car had been written off; Myron Caves' car was retained for early 1967 at least and probably longer; the #4 Leader Cars car can be traced all the way to 1972; the Lindsey Hopkins car was still in use in late 1968; the Bob Hurt car is more of a puzzle but appears to carry on through 1967; the Federal Engineering car continued to November 1968; the Weinberger car was last seen when wrecked at IRP in July 1967; Jim Rathman's car was last seen at Indy in 1967; the second Walther was last seen in June 1968; and the #91 Leader Card car can be confidently traced to late in the 1967 season. So it would appear that of all the new Gerhardts that appear at Indy in 1967, only one can possibly be a 1966 car.
However, the only unexplained 1967 car that appears to have been a 1966 chassis was Kenny Brenn's car which is said to have been unraced prior to Brenn getting it.
Chassis
History
Current owner
ARDC midget owner Ken Brenn Sr (Warren, NJ) ran a #57 Gerhardt for Bob Harkey in 1967 (also driven by Lothar Motschenbacher at Phoenix) and then ran a #88 Gerhardt in 1968 for a variety of drivers. According to Gary Mondschein, these were two different cars, the first being a '66 car and the second a '67 car, and Brenn told him both cars came from Goodyear and were unraced. Simmo Iskül's analysis supports them being two different cars, but shows that both were 1966 Gerhardts. Brenn's 1967 car went to Bulldog Stables for 1968 and would be the #36 Gerhardt-Chev run on the USAC trail in 1968 and the #68 in 1969 for drivers such as Gene Bergin, Bob Harkey and Denny Zimmerman. It was joined by a Gerhardt-Offy towards the end of 1968 and the team ran both cars a few times early in 1969. The ex-Brenn #68 then reappears as Jerry Karl's Trackstar Helmet entry (photos in the Hungness yearbook 1969 p41 and 1970 p103 show the car almost unchanged) becoming his #52 entry in 1970 and presumably his #102 Winters Transmission entry in 1971. It was then sold to Geoff Bodine who added a roll-cage and set it up as a Super-Modified and raced it at Oswego Speedway (near Syracuse, NY) in 1972, taking a fourth place finish in a race on 3 June 1972. The car was later in the collection of Bob McConnell (Urbana, OH), still unrestored in Bodine's colours. Sold to Gary Mondschein in 2011 and was being restored in 2014 by Walt Goodwin. The car appeared, fully restored, at the Indy 500 vintage meeting in 2015. Appeared at the Historic Indycar Exhibitions in 2016 and 2019. In February 2023, this car was owned by Tony O'Neill (Piltdown, East Sussex).
Driven by: Lothar Motschenbacher, Bob Harkey, Gene Bergin, Bruce Jacobi, Denny Zimmerman, Jim McGuire, Bruce Walkup, Jerry Karl and Juan Carlos Salatino. First race: Phoenix International Raceway (R1), 9 Apr 1967. Total of 29 recorded races.
Tony O'Neill (UK) 2023
Having run a 1966 Gerhardt in 1967, Ken Brenn (Warren, NJ) acquired a replacement Gerhardt with 255ci Ford V8 engine for the 1968 season, and ran it for Bob Harkey at the Indy 500 as the #88 entry, where he was bumped. This car has been described as a 1967 Gerhardt, but Simmo Iskül's analysis shows it was built to a 1966 pattern and The Indy Star called it a 1966 car in 1970. It was driven later in the 1968 season by Bruce Walkup. It was then sold to Mike Krisiloff's American Racing Associates (Lake Hiawatha, NJ) and run for his son Steve Krisiloff backed by VTM Finishing. The Gerhardt ran as #112 in 1969 and #92 in 1970. At Indy in 1970, Hungness notes that it has an underpowered non-turbo Ford, given as a 225 ci in press reports. It last appeared at Michigan International Speedway in July 1970, after which it was reported that it had been stolen from the Holiday Inn at New Stanton, PA, while on its way back to New Jersey. Subsequent history unknown but reported to have been parted out.
Driven by: Bob Harkey, Rollie Beale, Bruce Walkup, Karl Busson and Steve Krisiloff. First race: Langhorne International Motor Speedway (R9), 23 Jun 1968. Total of 18 recorded races.
Unknown
Mystery cars
Chassis
History
Current owner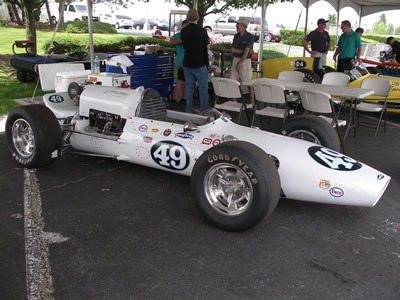 Unknown until acquired from Rex Broker (Wichita, KS) by Todd Krahl (Salinas, KS). Rex had bought the car in pieces and had restored it with an Offy engine. Bought by Krahl around 1999 and used in vintage racing. Sold in 2015 to Mike Moss (Ottsville, PA). Appeared at the Historic Indycar Exhibition in May 2016. Still owned by Moss in January 2018.
Mike Moss (USA) 2018
In December 1988, Geoff Ironside (Ware, Hertfordshire) bought a Gerhardt Indy car at a Christies auction. It was described as being "chassis no 002" and was thought to be the Weinberger Homes Special. Fred Gerhardt later told Ironside that the car "was built for the 1966 Indy [500]". The car was sold via Chris Alford to Jon Ferris, and spent some time on display at the Brooklands Museum. It was auctioned by Bonhams in 2007, when it was described as a 1965 car, and had a Ford engine. It was acquired at the auction by colector Mark J Smith (Lynchburg, Virginia) and moved back to the US. Smith died in November 2021. The car was offered for sale at the Gooding & Co auction in April 2023 as part of the Mark J. Smith Estate Sale. According to the published auction catalogue, Smith determined that it debuted at Phoenix in November 1965, making it the 'prototype' 1966 car, and continued in use into 1968, when it was raced by Gary Bettenhausen and Art Pollard. However, this information was withdrawn before the sale. The car was sold for $140,000, well above its estimate.
Mark J. Smith Estate (USA) 2023
Acknowledgements
Given how little was known of the histories of individual Gerhardt cars when this research project began in 2009, the progress made is remarkable. Much of the early work was conducted by Michael Ferner and Allen Brown, but credit for the recent discoveries must go to Simmo Iskül, through his forensic analysis of the cars using old photographs.
These histories last updated on .