Gerhardt 1967 Indy car-by-car histories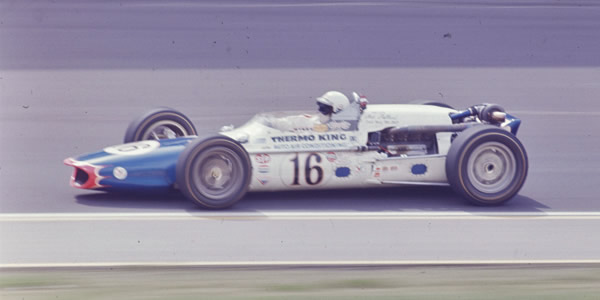 After the success of the 1966 cars, Gerhardt built a run of cars for 1967 featuring a full monocoque along Lotus 38 lines, replacing the bathtub monocoque of the earlier cars.
The 1967 Gerhardt was an evolution of the 1966 car, moving in the direction of the full "up-and-over" monocoque design used by Len Terry on his 1965 Lotus 38 design and then on his 1966 Eagle, so on most of the 1967 Gerhardts, the top section was a single piece reaching from the front suspension to behind the driver, rivetted in place. However, on one of the first cars to appear, a #16 Gerhardt house car to be raced by Art Pollard, this panel was split in two at the front of the cockpit and both parts were secured with Dzus fasteners, the only 1967 Gerhardt built in this way. This is referred to as 'Type A' below. The other 1967 Gerhardt to appear at the start of the season, for Gordon Johncock (#3 Gilmore), also had the panel split but the forward part was rivetted and only the cockpit sides held on with Dzus fasteners, called 'Type B' here. The car built for Wally Weir (#32 Cleaver-Brooks) followed the same fabrication as Johncock's car, and a third car was built to this pattern for the Federal Engineering team.
The rest of the 1967 production run all had one-piece rivetted top sections, called 'Type C' here. These were the cars for Caves Buick (#85 for Bill Cheesbourg and Al Miller), George Harm (#66 for Johnny Boyd), Federal Engineering (#10 for Bud Tingelstad) and Pete Salemi's Central Excavating team (#73 for Don Thomas); two cars for Racing Associates (#39 and #89); and also the #15 Gerhardt house car for Mel Kenyon, a second #16 Gerhardt house car for Pollard, a second #3 Gilmore car for Johncock, and finally a third #16 Gerhardt house car for Pollard after one of his cars was sold to Weinberger Homes and the other was destroyed in testing. Nine of these were ready for the Indy 500, making a total of 12 1967 Gerhardts built at that point. No press report has been found that itemised new Gerhardts for 1967 but later media said that 11 were built for the 1967 Indy 500. All of these 1967 cars, regardless of the style of their top bodywork, can be distinguished from 1966 Gerhardts by the number of fuel cell access panels visible on the side of the car. All 1966 cars had just one panel, on the engine pontoon, while all the 1967 cars had a second panel further forward, roughly level with the driver's seat.
Some issues are still being resolved. The #38 Federal Engineering car that Sonny Ates drove in practice at the Indy 500 looks like a '67 car even though it would make more sense for it to be the team's old 1966 car. Finally, Gordon Van Liew's #23 Vita-Fresh Orange Juice car for Ronnie Bucknum appears to have the shape of a 1967 car, but is otherwise 1966-style in construction, suggesting it was modified to match the outline of the 1967 cars.
Photographs are the best way to progress our knowledge, so if you have any pictures of these cars, or can add anything to our knowledge, please contact Allen Brown (allen@oldracingcars.com).
Chassis
History
Current owner
1968
Several of the 1967 Gerhardts go missing by the end of the year: George Harm's Ford V8 car with its enlarged cockpit for Johnny Boyd, and both the Herb Porter/Racing Associates Offy-powered cars. Also, we do not know how Gordon Johncock's two Ford-engined cars were used in 1968. One of these, apparently the later one, remained with Johncock for the first few races of the season, but he then acquired two new 1968 Gerhardts, and the old 1967 cars may well have been sold. One is said to have gone to Myron Caves' team, which is plausible, but it must have been rebuilt for an Offy turbo installation. The Caves team did acquire a second 1967 Gerhardt for 1968, but photographs suggest that it was one of the Herb Porter/Racing Associates cars. The Gerhardt team retained one 1967 Gerhardt for use on road courses, but its identity is not yet resolved.
One other unexplained Gerhardt that appeared in 1968, a new car for Ken Brenn's team, has now been identified as a 1966 car.
Chassis
History
Current owner
During the 1968 season, the Gerhardt team used a separate car for road courses. Photographs indicate this was a 1967 Gerhardt, and a former Offy car. However, few photographs have been found of this car so far, and it is possible the team started the season using an older 1966 car for this purpose. The team's road course car would have been raced as the #11 Thermo King Auto Air Conditioning entry by Art Pollard at Stardust International in March, and then by Gary Bettenhausen at Mosport Park in June, at Continental Divide in July, at Indianapolis Raceway Park two weeks later, at Mont-Tremblant in August, and at Riverside in December. Nothing more is known about this car.
Driven by: Art Pollard and Gary Bettenhausen. First race: Stardust International (R2), 31 Mar 1968. Total of 9 recorded races.
Unknown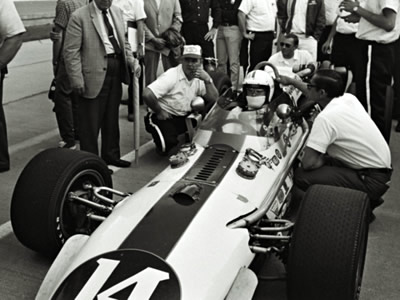 The Caves Buick team acquired a backup car in time for the 1968 Indy 500 that was described as a "twin" to their 1967 car. After Bob Hurt crashed the primary car during practice, it is assumed that Sammy Sessions drove this "twin" thereafter as the #14 Caves Buick entry. In 1969, Jigger Sirois took over the Caves drive and his car was described as a 1967 Gerhardt and also as "last year's car" at the start of the season, but his car had outboard springs at the Indy 500, a 1968/69 modification, whereas both cars at the 1968 Indy 500 had had inboard springs. Sirois was called off by Caves during his qualifying run when he would, with hindsight, have taken pole. Bob Harkey and Jim McElreath took over the drive later in 1969. At Trenton in July 1969, the team had a brand new Gerhardt wedge which implies the early 1969 car was their 1968 car carried over. A photo of the #14 car at Indy in 1969 (Hungness p37) matches the team's backup #53 car at Indy in 1970. The car was last seen at Langhorne in June 1970 when it was very badly damaged by fire after it was crashed by Sammy Sessions. Caves, who was then very unwell, said he doubted he'd repair it as it was "getting too bruised to be competitive".
Driven by: Sammy Sessions, Jigger Sirois, Bob Harkey, Jim McElreath and Arnie Knepper. First race: Milwaukee Mile (R6), 9 Jun 1968. Total of 19 recorded races.
Wrecked 1970
1969 and 1970
Another Gerhardt appeared later in 1969, for Max Dudley, and evidence currently suggests that it was built new for him. In 1970, another Gerhardt was built up for Darrell Dockery by his crew chief Larry Burton, using an unfinished monocoque acquired from Fred Gerhardt. Both were previously thought to be built on 1968 Gerhardts but photographs of both these cars show that they did not have the circular access panel on the side of the tub roughly level with the drivers' knees, and should therefore be regarded as 1967 'Type C' Gerhardts.
Chassis
History
Current owner
Max Dudley (Auburn, WA) raced a Chevrolet-powered Gerhardt in Indy racing from 1969 to 1971, and then reappeared briefly in 1974. The car replaced a 1965 Halibrand Shrike that Dudley had raced in 1968 and early 1969, and which he sold to Bob Cavanaugh. Cavanagh's recollection is that the Gerhardt was new. (Curiously, Dudley was reported by Autoweek to be running the Halibrand Shrike at the Seattle USAC Road Racing Championship race in Sep 1971.) The only other time he appeared was at Trenton in early 1974 with a Gerhardt-Chev again. The Gerhardt was then unknown until seen fully restored at the 2009 Seattle Historic Races when it was said to be a 1968 Gerhardt. Also at the Classic Car Races at Sears Point in June 2011. Believed to be the car owned by William Watkins. At the Victory Lane Historic Champ/Indy Car Showcase in June 2012.
Driven by: Max Dudley. First race: Continental Divide (R7), 6 Jul 1969. Total of 16 recorded races.
Unknown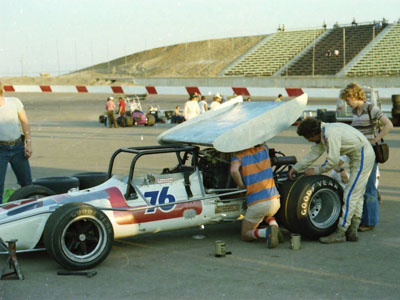 Acquired from Fred Gerhardt by Darrell Dockery (Phoenix, AZ) as an unfinished monocoque, and built up by Dockery's chief mechanic Larry Burton at the Gerhardt race shop in Fresno, CA, using parts that were "lying around". Burton recalled that the tub had been intended for a turbo Offy engine, so Burton modified it to fit a Chevrolet V8 engine. However, photographs of the car in later life indicate that it was intended for a Ford engine, and is similar in construction to a 1967 Gerhardt. Like the 1969 Gerhardts, it had outboard front suspension. Dockery appeared in the #62 Gerhardt-Chev on a number of occasions in 1970, generally failing to qualify or going out with an oil leak. The 1970 Indy 500 entry list gives the engine as a 312 ci V8, but Burton recalls fitting a Ford quad cam engine during practice. The car was put to one side until 1976, when it was acquired by veteran supermodified driver Lloyd Beard (Los Banos, CA), a distant cousin of Dockery, and his sponsor Dave Buchanen. He first raced the Gerhardt in May 1976 in Open Competition racing at Clovis Speedway in northern California. Despite the car's unreliability, Beard led an Open Competition race at San Jose Speedway in August 1977, and led again at San Jose two weeks later. Beard was killed in a sprint car accident at Calistoga on 27 October 1979, and the Gerhardt was sold off to Bob Beck. Subsequent history unknown.
Driven by: Darrell Dockery and Lloyd Beard. First race: Phoenix International Raceway (R1), 28 Mar 1970. Total of 14 recorded races.
Unknown
Acknowledgements
Given how little was known of the histories of individual Gerhardt cars when this research project began in 2009, the progress made is remarkable. Much of the early work was conducted by Michael Ferner and Allen Brown, but credit for the recent discoveries must go to Simmo Iskül, through his forensic analysis of the cars using old photographs.
These histories last updated on .