Gerhardt 1969 Indy car-by-car histories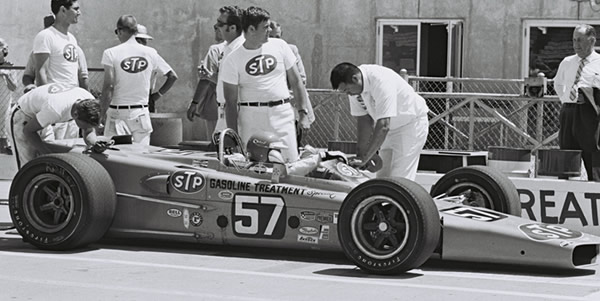 Gerhardt built four dramatically wedge-shaped cars for Grant King's STP-backed team, Gerhardt's own team, Gordon Johncock and Myron Caves' team.
This wedge design was very similar in layout and appearance to the Lotus 56, the 1968 car that was then the height of fashion and already been copied by both Granatelli and the Vel's Parnelli team, and had inspired the new Mongoose, the new Eisert and even to some extent the new Eagle. The 1969 wedge Gerhardt was narrower than the Lotus and had outboard front suspension, like the recent "1968½" Gerhardts, instead of the inboard springs of the Lotus, but otherwise followed its very square cross-section and straight wedge shape. The first two cars to be delivered were Gerhardt's own house car, and Grant King's STP-backed version. A third car appeared still disassembled for Gordon Johncock at the Indy 500 but this was returned, and Myron Caves' car was already in progress but was not completed until July. The Gerhardt house car ran with an exaggerated long pointed nose but this was tempered in later seasons.
If you can add anything to these histories, please contact Allen Brown (allen@oldracingcars.com).
Chassis
History
Current owner
Gerhardt 69
'the Art Pollard/STP car'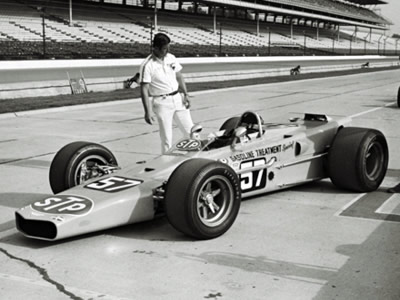 A Gerhardt wedge built for Grant King's STP-backed team for the 1969 season and raced by Art Pollard at the start of the season as the #20 STP Oil Treatment entry. Became the #57 at the Indy 500 where it was raced by Carl Williams. Won at Milwaukee in June in Pollard's hands. Fitted with a Plymouth stock block engine for road races and won again at Dover Downs in August. Retained for 1970 as part of Pollard's team and raced by Pollard as the #10 at Phoenix and by Greg Weld as the #93 at the Indy 500. Sold by Pollard later in the year to Roy 'Shorty' Emrich (Manchester, PA) who fitted a Chevrolet engine and ran it for local sprint car star Bobby Allen at Phoenix in November 1970. Emrich also ran the car a few times in 1971, and it appeared at Trenton in April 1972 for Dick Tobias, but failed to start . Later restored by Bill Smith and reunited with the Plymouth engine in the late 1980s when Smith persuaded Vince Granatelli to part with it. Was on display at the Eddie Evans Car Museum (Bedford, Indiana) around 2000. On display at the Museum of American Speed in Lincoln, NE in 2012. Still in the Museum of American Speed in September 2018.
Driven by: Art Pollard, Carl Williams, Greg Weld, Bobby Allen, Dee Jones, Dick Tobias and Jerry Karl. First race: Phoenix International Raceway (R1), 30 Mar 1969. Total of 19 recorded races.
Smith Collection Museum of American Speed (USA) 2018
Gerhardt 69
'the first Gerhardt house car'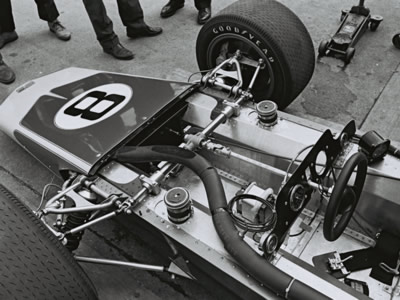 A new wedge design built for Don Gerhardt as the #8 Thermo King 'house car' for Gary Bettenhausen in 1969. Bettenhausen qualified it for the Indy 500, but retired early. At Milwaukee for the Rex Mays Classic ten days later, Bettenhausen had a "massive accident" in this new car, and overturned several times. He then used his older 1968 car at the next couple of races, until that was also wrecked. It is assumed that the car he drove at Milwaukee in August was a new wedge car, and that this first wedge car was effectively destroyed in the June accident.
Driven by: Gary Bettenhausen. First race: Indianapolis Motor Speedway (R3), 30 May 1969. Total of 2 recorded races.
Wrecked 1969
Gerhardt 69
'the Gordy Johncock car'
Gordon Johncock bought one of the new wedge Gerhardts for 1969 but it arrived too late to be completed for practice at the Indy 500. It remained in pieces in Johncock's Garage 47 during practice, while Johncock focused on his two older Gerhardts in the next door garages. He commented to the Indy Star reporter Joe Hamelin on 22 May that he hadn't paid for it yet and intended to send it back. Subsequent history unknown, but it is quite plausible that this car returned to Fred Gerhardt and was the car raced by Gary Bettenhausen from August onwards, after the team's first car was wrecked at Milwaukee in June.
Driven by: Gordon Johncock. First appearance: Indianapolis Motor Speedway (R3), 30 May 1969.
Unknown
Gerhardt 69
'the Myron Caves car'
New wedge Gerhardt for Myron Caves team for 1969. Although announced in February 1969, the Caves Buick wedge was not expected to race until the Indy 500 and the team's older car was used by Jigger Sirois in the early-1969 races. The car actually missed the Indy 500 as it was still being put together in chief mechanic Bob Higman's garage in Romney, Indiana, and it first raced by Jim McElreath as the #14 Quaker State Spl at Trenton in July 1969. It was then the #74 Gerhardt driven by McElreath, Arnie Knepper and Sam Sessions in 1970. McElreath could not qualify the car at the 500 that year, where photographs show a very exaggerated wedge shape. Caves had heart surgery in June 1970 and his team disappeared until Ontario 1971 where the car was entered as the #37 Caves Buick with Bruce Walkup in the seat. Lee Kunzman qualified this car for the 1972 Indy 500, and it was raced later in the season by McElreath, Johnny Parsons Jr and Greg Weld. The Caves Buick team was wound up at the end of 1972, and the subsequent history of their wedge Gerhardt is unknown.
Driven by: Jim McElreath, Arnie Knepper, Sammy Sessions, Bruce Walkup, Lee Kunzman, Greg Weld and Johnny Parsons Jr. First race: Trenton Speedway (R9), 20 Jul 1969. Total of 17 recorded races.
Unknown
Gerhardt 69
'the second Gerhardt house car'
After the Gerhardt team's first '69 car was wrecked at Milwaukee in June, a new (or extensively rebuilt) car was built to the same design in time for Gary Bettenhausen to race at Milwaukee in August. It is assumed that he drove this car at all races later that season except Riverside, and photographs suggest that this was the car Bettenhausen raced at Phoenix in March 1970. Two new 1970 cars were produced in time for the Indy 500, but the distinctive 1969 car was seen again at Langhorne in June, at Michigan in July, where Bettenhausen won, and at Milwaukee in August. Where else it was used is still being actively researched.
Driven by: Gary Bettenhausen, Billy Vukovich and Merle Bettenhausen. First race: Milwaukee Mile (R12), 17 Aug 1969. Total of 9 recorded races.
Unknown
Gerhardt 69
'the Gerhardt team road racer'
After losing two cars in accidents in June and July 1969, the Gerhardt team appears to have built two new cars later that season. This car, the second of those, is believed to be a road racing car raced by Gary Bettenhausen at Riverside in early December with a Chevrolet engine. This would then be the car used by Bettenhausen at Sears Point in April 1970. Speculatively, it would be the car raced at IRP in July, although Bettenhausen's car at that race was said to have a turbo Offy engine. Finally, photographs suggest it was the #45 backup car seen at Ontario in September 1970. Subsequent history unknown, but as this car was set up for road circuits and had fittings for a Chevrolet engine, it may be the car that Bruce Crower used for the Dodge Hemi project in 1973, or could have become Bob Krajcirik's Formula A car in 1975.
Driven by: Gary Bettenhausen and Billy Vukovich. First race: Sears Point (R2), 5 Apr 1970. Total of 2 recorded races.
Unknown
The Gerhardt team 1970 to 1972
Gerhardt built a pair of new cars for 1970, but retained the 1969 cars that Bettenhausen had raced at the end of the season and used four cars that year. No new cars were built for 1971, leaving Bettenhausen with the same pair of 1970 cars. Bettenhausen then moved to Penske for 1972, and Gerhardt abandoned car construction, putting in an order for a new Eagle, but that car was destroyed in new driver Jim Malloy's fatal accident at Indy that May. Two more Eagles were ordered, and replacement driver Johnny Rutherford used the old Gerhardt wedges until the Eagles were ready. He wrecked one of the 1970 cars in a big accident at Milwaukee in June 1972, then used the sister car for a few more races.
The Gerhardt-Dodge Hemi
In 1971 and 1972, Bruce Crower, well known for his camshafts, tried to introduce new stock-block engines into Indy racing. After toying with the idea of a Porsche 917 engine, he settled on two projects using turbocharged engines. A Chevrolet project using a 1967 Eagle is described elsewhere, and for 1973, Crower also had a project to develop a hemi-head twin-turbocharged 209 ci Dodge V8 engine, which had been installed in a heavily modified 1969 Gerhardt. Despite the best effort of Crower's crew chief Bob Bubenik and crewman Curt Waters, the car could not be debugged in time for driver Jigger Sirois to complete his refresher test at the 1973 Indy 500. The car was not seen again.
Chassis
History
Current owner
Gerhardt 69
'the Bruce Crower car'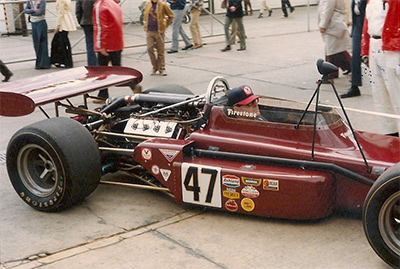 Bruce Crower (Chula Vista, CA) acquired a 1969 Gerhardt that had been raced by Gary Bettenhausen in road races with a Chevrolet V8 engine to use in a Dodge Hemi engine project. The rear pontoons were removed to fit the twin-turbocharged engine, and "late-model" Eagle rear suspension was used, the 1972 and 1973 Eagle designs having replaced the pontoons of earlier models with a tubular frame around the engine. The front of the car was also reworked, and sidepods were added to contain the fuel tanks. Jigger Sirois was nominated as driver. The car only managed a couple of laps on 7 May, and was still having problems with throttle trouble two days later. Sirois had to complete his refresher test by the 16 May deadline, but was unable to get the Gerhardt-Dodge up to the required 160 mph. The Crower team then focused on the Eagle-Chevy, and although Crower said he would be taking the Gerhardt-Dodge to the next race, it was not seen again.
Driven by: Jigger Sirois. First appearance: Indianapolis Motor Speedway (R4), 30 May 1973.
Unknown
A Gerhardt in Formula A
About two years later, one of the 1969 or 1970 cars was converted to Formula A specification for Bob Krajcirik.
Chassis
History
Current owner
Gerhardt 69 or 70
'the Bob Krajcirik car'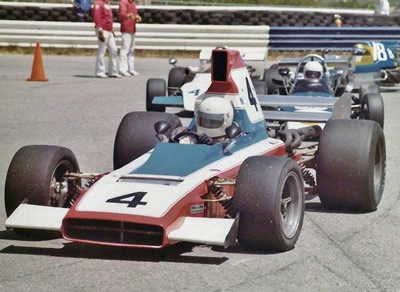 A wedge Gerhardt was converted to run in Formula A for Bob Krajcirik (Chico, CA) in 1975 or 1976, and was raced by Krajcirik in the SCCA San Francisco Region's regional races in 1976. He advertised the car in June 1977 as a "Formula A Gerhardt". The car then went to Phil Rendahl (Redding, CA) in time for the Pacific Coast Runoffs in September 1978, replacing an ex-Indy Eagle that he had crashed at Laguna Seca. He won his class in the Gerhardt at the final race of the 1978 season, but no results have yet been found for the car after 1978. It was acquired from Rendahl by Greg Lindstrom in the early 1990s. During restoration was found to have fuel bladders dated 1969, which suggests that it was the car built in mid-1969 to replace the one wrecked at Milwaukee in June. Still with Greg in June 2019.
Driven by: Bob Krajcirik and Phillip Rendahl. First race: Laguna Seca, 23 May 1976. Total of 6 recorded races.
Greg Lindstrom (USA) 2019
Acknowledgments
Given how little was known of the histories of individual Gerhardt cars when this research project began in 2009, the progress made is remarkable. Much of the early work was conducted by Michael Ferner and Allen Brown, but credit for the recent discoveries must go to Simmo Iskül, through his forensic analysis of the cars using old photographs. The story of Bruce Crower's Dodge-engined Gerhardt is from Lynn Wortman's column in The Lafayette Journal and Courier, 11 May 1973.
These histories last updated on .