Gilbert 1968 Indy car-by-car histories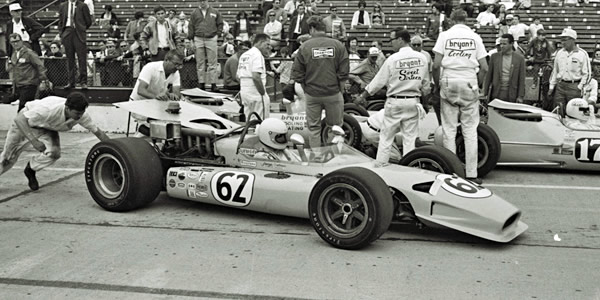 After using BRP-built cars for three seasons, George Bryant commissioned chief mechanic Howard Gilbert to build two new cars for 1968, using the plans for the Brabham BT12. George Follmer later took one of the cars to a surprise victory at Phoenix in 1969.
George Salih and Howard Gilbert were experienced Indy mechanics, having built the Belond Special with laydown Offy that won the Indy 500 in 1957 and 1958. In 1965 they went to work for mail order magnate George R. Bryant (Engelwood, NJ) who had commissioned the British Racing Partnership in England to build a pair of new cars based on their F1 car. As the F1 BRP was a copy of the Lotus 25, the resulting cars were similar in design to the Lotus 29/34 series of Indycars. After running these cars for three seasons for Bryant's stepson, Masten Gregory, and others, Gilbert built two new cars for 1968 using the alternative design then popular in Indy racing, that of the Brabham BT12. The 1964 Brabham had originally been copied at the end of that season by Client Brawner to create Mario Andretti's very successful Hawks and a further copy of the F1 sister car, the BT11, had resulted in the Mongoose cars of 1967. Gilbert managed to acquire "blueprints" for the BT12, presumably from the same source as used by Jim Hayhoe for his Cleaver-Brooks cars in 1968 and built cars to this specification which he called "Cheetahs". The first car was completed in January and Masten Gregory was nominated to drive it at the Indy 500. The car was tested by Joe Leonard and Art Pollard at Phoenix during January. The second car was entered without a driver but George Follmer was nominated for the drive in late-March after he had successfully debuted the prototype in the California 200 at Hanford Gregory and Follmer both ran in the #28 during practice at Indy until the #41 turned up and Follmer took over that newer car. Neither driver topped 160 mph, and immediately before qualifying, Gregory was replaced with Rick Muther. Follmer qualified with a speed of 158.877 mph but this was never likely to be quick enough and he was later bumped. Muther ran two laps of over 160 mph on his qualifying run but crashed on the third lap.
Not long after Indy, George Bryant died and one car went to regular driver Follmer and the other to Bill Simpson. It is currently unclear whether both were sold to Follmer by Bryant's widow and that he later sold one to Simpson, or whether Gilbert sold one to Follmer and one to Simpson. If you can add anything to these histories, please contact Allen Brown (allen@oldracingcars.com).
Chassis
History
Current owner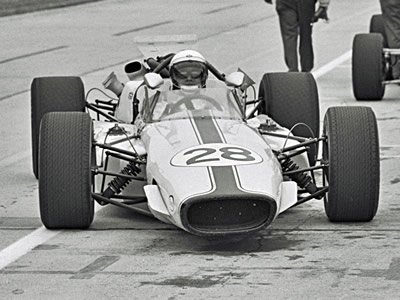 The #28 Gilbert was the first Gilbert to appear in 1968 and was raced by George Follmer in the early races of that season as George R. Bryant's #28 entry. Follmer took over the sister #41 car at the Indy 500 and the #28 was run in practice by Rick Muther but crashed. After Bryant died in June 1968, the #28 reappeared at the end of 1968 when it was raced by Bill Simpson (Los Angeles, CA) at Riverside in December as his #28 Simpson Safety Equipment entry. Retained by Simpson for the 1969 season when it was fitted with a Chevrolet engine and used in both USAC and SCCA Formula A races. Raced regularly by Simpson again in 1970 as the #28 Carborundum-Kynol car in Indy races and last seen at Milwaukee in August. Sold in mid-1970 to Chuck Elliot (Playa del Rey, CA) who prepared it for Bruce Eglinton to drive at the Riverside USAC race. The car did not appear, but Elliott later used it in local SCCA Regional Formula A races. Advertised by Charles W. Elliott (Manhattan Beach, CA) as a "Gilbert-Brabham" in December 1974. Sold to Art Evans in 1985 and raced in vintage events from 1985 to 1987 by drivers including Jack Brabham and Rodger Ward. Evans started a restoration in 2001 but that stalled until the car was bought by Tim Kuchel (Adelaide, Australia) in 2005. It was then restored by Greg Mobbs in Adelaide. Sold in September 2016 to Steve Francis (New Milford, CT) and shipped to the US. On display Historic Indycar Exhibition in 2019.
Driven by: George Follmer, Masten Gregory, Rick Muther, Bill Simpson and Chuck Elliott. First race: Hanford Motor Speedway (R1), 17 Mar 1968. Total of 22 recorded races.
Steve Francis (USA) 2016
The #41 Gilbert was first seen at the 1968 Indy 500 where it was qualified but bumped by George Follmer as George R. Bryant's #41 entry. Raced in the following races by Follmer, Rick Muther and John Cannon but Bryant died in June and the team was wound up. The #41 car was sold to Follmer (Arcadia, CA) and raced by him, still as the #41, at Riverside in December 1968. Fitted with a Chevrolet engine and raced by Follmer as the #62 through 1969, including a stunning victory in the USAC race at Phoenix in March 1969. Raced by Follmer mainly on road courses in 1969 and regularly qualifying in the top six. Sold to John Martin as a backup to his Brabham BT25 for 1971. Martin was unable to qualify it at Phoenix at the start of 1971. He raced it as either his #89 or his #92 in 1972. Advertised in 1972 and two owners or so later was acquired by Bob McConnell (Urbana, OH) and some time before 1989 was involved in a deal with John Mecom Jr (Houston, TX) where ten cars were traded for the Diet Rite Cola Spl, a 1963 Watson roadster. As a result, the Gilbert ended up with Steve Forristall (Houston, TX) in 1989 and passed via New Englander John Malher to Bob Norwood of Norwood Autocraft (Dallas, TX) but ownership then unclear until located in Texas by Pete Lewis (Santa Rosa, CA) in 2000 or 2001 and bought by him. Sold to Steve Morici of of Morici Motorsports West (Wrightwood, CA) in 2005.
Driven by: George Follmer, Rick Muther, John Cannon, Steve Diulo, John Martin and Jerry Karl. First race: Mosport Park (R7), 15 Jun 1968. Total of 19 recorded races.
Steve Morici (USA) 2015
These histories last updated on .