GRD 372 car-by-car histories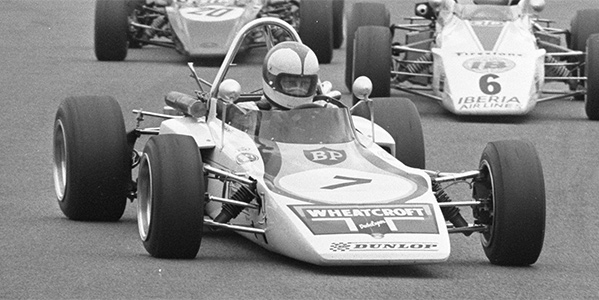 GRD's first Formula 3 car, the GRD 372, was an immediate success and won 19 F3 races during the 1972 season. Roger Williamson, Andy Sutcliffe, Tony Brise and Alan Jones all won races in GRD 372s.
GRD was born out of the ashes of Lotus Components, which Colin Chapman decided to wind up in the summer of 1971. He sacked Lotus Components boss Mike Warner, so Warner and two of his key lieutenants, Gordon Huckle and Derek Wild, formed two new companies, Group Racing Developments (GRD) and Group Racing Services (GRS). GRD would produce new cars for 1972, designed by ex-McLaren designer Jo Marquart, and GRS, headed by Huckle, would provide spares and preparation services for customers. Two other directors of GRD were John Stanton, a well-known accessory shop owner, and John Reynolds, and they combined to set up Reystan Racing as the UK concessionaire for GRD, based in Harrow. Former Lotus 69 driver Andy Sutcliffe was selected to drive the works development Formula 3 GRD 372, and GRS also ran two quasi-works entries for Pierre-François Rousselot and Neil Ginn.
The new Formula 3 car was well-received and sold strongly in Europe. Three cars were sold early in the season to Switzerland for Jo Vonlanthen, Hans-Peter Hoffman and Rolf Zumstein; two to Italy for Fernando Spreafico and Marcello Gallo; and one to Sweden for Bengt Gilhorn. The key sale for GRD after the season started was a car bought by Tom Wheatcroft for Roger Williamson to drive, replacing his March 723. Jorge Pinhol, Ian Taylor and Barrie Maskell joined the GRS line-up later in the year but despite announcing several deals, Reystan's only customer for a GRD 372 was Masami Kuwashima. More privateers joined the British F3 scene later in the season: Brabham defector Alan Jones, the Brise brothers, and Robin Smythe.
If you can add to our understanding of these cars, or have photographs that we can use, please email Allen at allen@oldracingcars.com.
Chassis
History
Current owner
Unidentified GRD 372s in 1972
Thanks to various references in publications Autosport, Motoring News, Autosprint and ONS Meitellungen, a few programme annotations, and the period observations of Adam Ferrington and Duncan Rabagliati, we have period chassis number references for 17 Formula 3 GRDs: 011 (Andy Sutcliffe), 013 (Jo Vonlanthen and Kurt Müller), 017 (Hans-Peter Hoffman), 021 (GRS/Pierre-François Rousselot), 022 (GRS/Neil Ginn), 023 (Fernando Spreafico), 024 (GRS/Jorge Pinhol), 025 (Reystan/Masami Kuwashima), 026 (Marcello Gallo), 028 (GRS/Andy Sutcliffe?), 029 (GRS/Pinhol?), 030 (GRS/Ian Taylor), 032 (GRS/Keichi Tahara), 033 (Alan Jones), 034 (Tim Brise), 035 (Tony Brise) and 036 (Robin Smythe). However, there is some uncertainty around the way 024, 028 and 029 were used.
This leaves four cars for which chassis numbers have not been determined: Roger Williamson's Wheatcroft Racing 372-Holbay, Bengt Gilhorn's 372-Holbay, a new works car built for Andy Sutcliffe, and the Swiss car of Rolf Zumstein. Williamson's car was completed in a rush, so it may have appeared out of order.
GRD numbered all its cars in a single sequence, regardless of whether they were built for Formula 2, Formula 3, Formula B or sports cars. Looking right across the 1972 production, there are only six chassis numbers whose first owners are not known or are uncertain: 015, 018, and then a group of four later cars: 027, 028, 029 and 031. It is distinctly possible that 015-F3 was Rolf Zumstein's car, as that was announced in February even though its first known race was not until Monza on 21 May. However, Zumstein could have been sharing Hoffman's 017-F3. Also, we have an indirect reference to Bengt Gilhorn's F3 car being 018-F3, which is a good fit.
We can get some clues about the group of four later cars from the first appearance dates of the cars produced around them, as 026-F3 first raced on 1 May, and 033-F3 on 15 July. Also, 032-F3 was entered for races in mid-June for Keiichi Tahara, even though he didn't arrive, after which 033-F3 arrived for Alan Jones in mid-July. One of these unknown cars would be Claude Bourgoignie's Formula 2 car in late May, and another two would be the Tom Wheatcroft 372 raced by Roger Williamson and the new works 372 raced by Andy Sutcliffe from Monaco onwards.
GRD were quick to let Autosport and Motoring News know when cars had been sold, and early tales of 372 sales included two for a new Swiss consortium called Swiss Racing Organisation. Autosport on 11 November 1971 announced SRO's order for two F2 cars for Jo Vonlanthen and Rudi Gygax, and two F3s for Roland Salomon and Bueb. However, just five weeks later this was re-announced as the Swiss International Racing Team, again with two F2s and two F3s but drivers now given as Salomon, Vonlanthen, Bueb, Herbert Muller and Jorg Dubler. Salomon's F2 car was chassis 014, and next to it in the production schedule was Vonlanthen's 372/013-F3, which was also driven in Switzerland by Kurt Müller. Rolf Zumstein had an F3 GRD in Switzerland in 1972 so the unresolved number of 015-F3 seems the best bet for his car. Then, after GRD's prototype F2 car at 016 comes another Swiss F3 car, 017, driven by Hans-Peter Hoffmann. Hoffman was announced yet again on 10 February, this time with Zumstein, suggesting the SRO/SIRT orders were reassigned to different Swiss drivers.
On 23 December, GRS-run 372s were announced for Mo Harness (using the old prototype 010), Pierre Rousselot (who drove 021-F3) and Neil Ginn (022-F3). Autosport's 27 January edition included news that Bengt Gilhorn would be racing a 372 (believed to be 018-F3) and that David McConnell, owner of 010, had ordered a second car for Formula B (019-FB). Mentioned later in the 3 February and 10 February editions were Jorge Pinhol (024-F3) and Bernard Plaisance (who did not appear). Reystan Racing was due to run Brazilian pair Ronnie Rossi and Jose Ferreira, and Japanese driver Kazu Kawajima in F3, as well as an F2 car for Ricardo Achcar (17 Feb). Neither Rossi nor Ferreira appeared in 1972, and nor did the F2 project, but Reystan did run Masami Kuwashima (025-F3). In the 20 April edition, it was announced that the two Italian cars (023-F3 and 026-F3) had been delivered to Gallo and Spreafico, and that the sale to Roger Williamson (028-F3 or 029-F3?) had been followed by a sale to Keichi Tahara (032-F3?), whose car was expected to be run by GRS from the 14 May Silverstone round onwards. In late July, Reystan announced that it had split from GRD, with Stanton also resigning his GRD directorship.
Chassis
History
Current owner
GRD 372s in 1973
Of the cars whose chassis numbers are known, only one car vanished at the end of 1972: the "development car" chassis 011. However, two more vanished in the early months of the 1973 season, both from the British racing scene: the ex-Alan Jones 033-F3 after March; and the ex-Pierre-François Rousselot 021-F3 when he upgraded to a 373 in June. We also have to take into account the three or four mystery 372s: Bengt Gilhorn's, Rolf Zumstein's (probably), Roger Williamson's and Andy Sutcliffe's. Of these three or four, only Roger Williamson's can be tracked into 1973.
That means that a total of three or four GRD 372s cannot be traced after 1972: the development 011-F3, Bengt Gilhorn's, Andy Sutcliffe's and Rolf Zumstein's if it was a separate car.
Corresponding to those are two unidentified GRD 372s in 1973. The 372 of German Sigi Hofmann was at the Nürburgring F3 race on 1 April, and German Norbert Wieland also appears to have had a GRD 372 through the 1973 season. These two cars are likely to have come from the group of three or four cars described above, as the two known Swiss cars (Vonlanthen's 013-F3 and Hoffman's 017-F3) remained in Switzerland through 1973. As Jörg Obermoser developed a close relationship with GRD during 1973, it is possible he acquired 011 and Sutcliffe's car from the factory for his customers. Gernot Lamby's F3 GRD was also reported to be a 372 on occasion, but it is far more likely that it was a new 373 as its chassis number was shown on an entry form in 1974.
A GRD 372 that had "only raced twice" was advertised from a London number in Autosport's 28 June 1973 edition. It's not immediately obvious what car this could have been. The best fit would be Tim Brise's 034-F3 if it was regarded as a new car after it was rebuilt following his accident at Brands Hatch.
Chassis
History
Current owner
Sigi Hofmann (Stuttgart, Baden-Württemberg, Germany) raced a GRD 372 in European F3 in 1973, entered by Jörg Obermoser-Eurorace GRD. Like Gernot Lamby's car, it was often referred to as a GRD 373, but was referred to at least once as a 372, indicating it was a 1972 car upgraded to 1973 specification. He appeared at least six times in German F3, and also at Misano and Zandvoort. Nothing more known.
Driven by: Sigi Hofmann. First race: Nürburgring, 1 Apr 1973. Total of 12 recorded races.
Unknown
Norbert Wieland (Neubulach, Baden-Württemberg, Germany) raced a GRD at least once during the 1973 German F3 season. He was entered by MSC (Motorsportclub) Calw e.V.im ADAC, one of ADAC's oldest clubs. Although his only known race was at Hockenheim on 15 July, he entered at least three other races, spanning from April to August, which suggests this was more than just a hire deal. The car is believed to have been a 372.
Driven by: Norbert Wieland. First race: Hockenheim, 15 Jul 1973. Only one recorded race.
Unknown
GRD 372s from 1974 onwards
Three GRD 372s were advertised in the same issue of Autosport on 21 February 1974: Roger Craven's 024-F3; Tony Brise's 035-F3; and one from Newick (East Sussex) that was damaged but repairable with a Vegantune engine and had raced only five times from new. A car was being advertised from Newark in Autosport 7 November 1974, now immaculate and completely rebuilt, still with its Vegantune engine, so either Newick or Newark was a typo.
Chassis
History
Current owner
Richard Wallinger (Hinkley, Leicestershire) raced a GRD 372 in libre racing in 1974, using 1600cc BDA engines built by John Robinson Racing Services of Northampton. It was described by Autosport as being of unknown Swedish driver ownership. He retained the car for libre in 1975. Sold in early 1976 to Adrian Russell, who used it in the Shellsport G8 series and in libre races. To Terry Fisher for Group 8 and libre in 1977. Subsequent history unknown.
Driven by: Richard Wallinger, Adrian Russell and Terry Fisher. First race: Curborough, 24 Mar 1974. Total of 20 recorded races.
Unknown
In addition to the above, unknown GRD 372s were driven by Dick Ferguson, Jim Adams, Dave Saunders, Mario Benusiglio and Maurizio Orsi.
Acknowledgements
Much of what we know about the GRD 372s stems from Adam Ferrington keeping careful notes on these cars in period, and his chassis number observations have been very valuable. Duncan Rabagliati's chassis number observations have also proved very useful. Much of the early work to marshall the facts was by Chris Townsend, and further contributions have been made by the late David McKinney, Philippe Demeyer, Alan Brown and Steve Wilkinson. Thanks also to Wolfgang Neumayer in Germany and Christoph Ditzler in Switzerland whose correspondence with Chris solved the puzzle of Vonlanthen's 013-F3. And also thanks to Keith Lewcock and David Pearson for contributing their photographs.
If you can add to our understanding of these cars, or have photographs that we can use, please email Allen at allen@oldracingcars.com.
These histories last updated on .