Hawk 1968 Indy car-by-car histories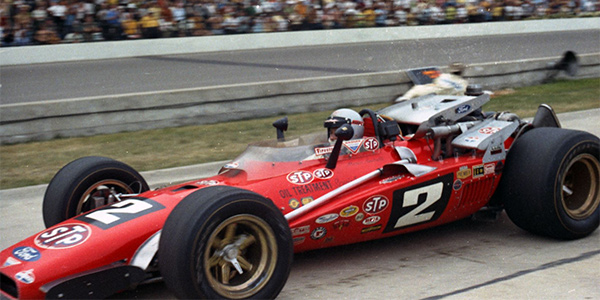 The 1968 Hawk differed from Clint Brawner's previous models, having a monocoque chassis fabricated by Eddie Kuzma. Two cars were built and Mario Andretti won the 1969 Indy 500 and the 1969 USAC title in them. They are now preserved in the Smithsonian and Indianapolis Motor Speedway Museums.
Since mid-1964, Mario Andretti had been racing for Alfred E. 'Al' Dean, under the banner of his highly-successful transportation company, Dean Van Lines Inc. Dean had employed chief mechanic Clint Brawner in 1954 and Dean Racing Enterprises had won the USAC title in 1954, 1956 and 1957 with driver Jimmy Bryan, and then added two further titles in 1965 and 1966 with Andretti. In 1967, Dean was taken ill while watching the Indy 500, and he died in December 1967, aged just 61. As per his wishes, his racing team was disbanded, and the two existing Hawk cars were sold to driver Mario Andretti, who set up his own operation, Andretti Racing Enterprises. He retained Brawner and his young protégé Jim McGee as joint crew chiefs. As well as the two existing Brabham-based spaceframe cars, two new cars were being built by Eddie Kuzma for 1968, using monocoque chassis derived from Len Terry's 1965 Lotus 38 design that had been the basis of the Coyote chassis that Kuzma had built for AJ Foyt in 1966 and 1967. However, these new cars for Andretti would retain the same Brabham suspension geometry used on earlier Brawner-Hawks, with top and bottom front wishbones and outboard coil spring/damper units, rather than the Lotus style of rocker arms and inboard springs used on the Coyotes. The new cars were often called Brawner Hawks, but more typically just Hawks.
Andretti drove the first Hawk '68 at the 1968 Indy 500, where he retired early. He then used a 1968 Hawk in the road racing events during the summer of 1968, and it is assumed that he used the second car at these races, with his Indy 500 car being used on the two oval races at Milwaukee. In September, after a series of good road racing results lifted him into USAC title contention, Andretti decided to change from the Ford V8 to the turbo Offy for oval races. The 1967 Brawner-Hawk was modified for this purpose, and a win and two more top-three finishes lifted him into a very narrow lead with just one race left, a road race at Riverside in December. A heavily revised 1968 Hawk-Ford was prepared for the final race, and Andretti led but the Ford engine failed, allowing Bobby Unser to narrowly win the title.
Andretti joined Andy Granatelli's STP team for 1969, and both 1968 Hawks were retained as part of the STP stable, with Brawner and McGee continuing to run his cars. However, Andretti crashed his new Lotus 64 during practice at the Indy 500, so the Hawk was brought out again for Andretti to qualify. He qualified second and won the race, STP's first Indy 500 win after many years of trying. Andretti continued to race the two 1968 Hawks for the rest of 1969, but his Indy 500 car was badly damaged in an accident at Dover Downs. He then used the road racing version for the rest of the season, easily winning his third USAC title.
Chassis
History
Current owner
New for Mario Andretti to drive at the 1968 Indy 500 as the #2 Overseas National Airways entry. Fitted with a turbo Ford engine, the car qualified fourth but was the first retirement. A second 1968 Hawk was built for road racing, and if that was ready in time for Mosport Park in June, then the Indy 500 car was probably only used at the Milwaukee Mile in June and in August for the rest of that season. Extensively rebuilt for 1969 with side ramps, and raced by Andretti at Phoenix, Hanford and Indianapolis at the start of the year, winning at Hanford and winning the 500. Then used at Milwaukee in June, probably at Trenton in July, probably at Milwaukee again in August, and then at Dover Downs in August. At this latter race it was crashed heavily, and although it was repaired, it does not seem to have raced again, as the road racing sister car was used for ovals as well. The Indy 500 winner was used as a show car during 1970 and remained with Andy Granatelli until STP donated it to the Smithsonian Institute in Washington DC in April 1977. It was displayed from time to time in the National Museum of American History (NMAH) and was part of an exhibit opened in April 1991 to celebrate the 80th anniversary of the Indy 500. Despite reports that it was on display up to 2011, the museum's current exhibit has been in place since 2003 so the Hawk is unlikely to have been on display at any time since then. The last photograph of the car in the NMAH is from 1992. By 1999, the car was being exhibited at the Eastern Museum of Motor Racing (York Springs, PA) but it had been returned to the Smithsonian by 2009. In 2013, Motor Trend reported that the Smithsonian owned nine post-war racing cars, all stored at the its Paul E. Garber Preservation, Restoration, and Storage Facility in Silver Hill, Maryland. Still on the Smithsonian catalogue in February 2021.
Driven by: Mario Andretti. First race: Indianapolis Motor Speedway (R5), 30 May 1968. Total of 10 recorded races.
Smithsonian Museum of American History (USA) 2021
A second 1968 Hawk built for Mario Andretti to use in road racing events in 1968. This is presumably the car used by Andretti at Mosport Park, Continental Divide, Indianapolis Raceway Park, Mont-Tremblant and Riverside during 1968. Became part of the STP team for 1969, and likely to have been Andretti's #64 backup car at the 1969 Indy 500. Probably used at Langhorne in June, then likely to be the road racing car again used at Continental Divide and Indianapolis Raceway Park. After the oval racing sister car was wrecked at Dover Downs in August, the road racing car was used on oval tracks as well, and was raced by Andretti at Brainerd, Trenton, Seattle, Phoenix and Riverside. Retained for 1970 and used by Andretti at the beginning of the season, then by Follmer at the 1970 Indy 500, although it was reported at the time to be Andretti's 1969 Indy 500 car. Later in the season, Andretti drove it at Langhorne and at Michigan, where he crashed. Repaired and raced by Andretti at Milwaukee in August, by Follmer at Ontario, then by STP's No 2 driver Steve Krisiloff at Trenton in October, at Phoenix in November, and at Trenton again in April 1971, where he crashed it. The car was repaired for exhibition purposes and was later acquired by the Indianapolis Motor Speedway Museum, where it is displayed as a replica of Andretti Indy 500 winner. Still in the IMS Museum in September 2021.
Driven by: Mario Andretti, George Follmer and Steve Krisiloff. First race: Mosport Park (R7), 15 Jun 1968. Total of 30 recorded races.
Indianapolis Motor Speedway Museum (USA) 2021
At the end of the 1969 season, Brawner and McGee parted company with Andretti to set up a new team in Phoenix, Arizona. Andretti's win at Riverside on 7 December 1969 in the Hawk '68 was the 28th for the combination of Andretti, Brawner and McGee since their first at IRP in July 1965. 1969 was Brawner's 37th season of competition and he had prepared the winner of 50 USAC national championship races in total, more than anyone else. Since Andretti's first race with them at Trenton in July 1964, the trio had won more than $750,000 in prize money, but Brawner and McGee had been unhappy with the distribution of that money since joining the STP team. Brawner and McGee would build new cars for 1970, again based on Eddie Kuzma monocoques but now called Scorpions. Despite several second places, the new operation did not win another race and folded partway through 1972. McGee, who had joined Brawner in May 1963 and become co-chief mechanic in 1967, was still only 30 and he rejoined Andretti at the Vel's Parnelli team for 1972, going on to rewrite all the records as crew chief and team manager with Penske in the 1970s and Patrick Racing in the 1980s and 1990s.
Researching the Brawner Hawks
My thanks to Simmo Iskül and our regular but anonymous colleague for their help determining the racing careers of these two cars. Because they were simply referred to as Hawks, not as 1967 Hawks or 1968 Hawks (or even as Hawk II or Hawk III, the names that later became associated with them), the best way to tell how the cars were used is to examine photographs of Andretti's car at each race. Press reports are also helpful, for example when Andretti's 1968 Pikes Peak car was said to be the 1966 Indy 500 pole position car, or when Andy Granatelli was quoted describing the early 1970 car as a replica of the 1969 Indy 500 winner. Gordon Kirby's book 'Jim McGee: Crew Chief of Champions' also gives very useful background to the Brawner-Hawk cars. Through this process, it is relatively straightforward to distinguish the 1967 spaceframe car from the two 1968 monocoque cars, but more difficult to tell how the two 1968 cars were used. As best we have been able to determine, the car crashed at Dover Downs in 1969 was not raced again, despite press reports to the contrary. However, we would welcome more information on this subject.
These histories last updated on .