Hayhoe 1968 Indy car-by-car histories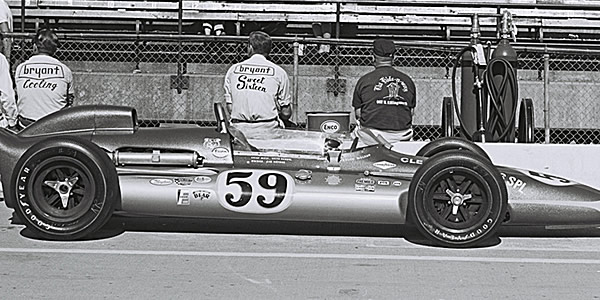 Commissioned by Jim Hayhoe and built using the plans of the Brabham BT12, the two Hayhoe cars appeared at four Indy 500s from 1968 to 1971. They were transformed into a wedge design by Jud Phillips in 1971.
Keith Randol, of Portland, Oregon, was an experienced Indycar engineer, having been chief crew on Dick Compton's 1963 Vollstedt when Art Pollard drove it at the Indy 500 in 1966. Randol would later crew for Dick Simon's Indycar team in 1970, looking after their Offy engines for some years. In 1967, he joined the team of James S Hayhoe (Vancouver, WA), described then as the northwest distributor for Piper aircraft. Hayhoe Racing Enterprises would run another second-hand Vollstedt, the 1965 car, for Don Meacham and Bruce Walkup. Hayhoe was able to procure a set of plans for the 1964 Brabham BT12, the car copied by Brawner and Moore for 1965, and Randol fabricated two new Brabham copies for 1968. These were called Hayhoes when entered for the Indy 500, where they were sponsored by Milwaukee heating company Cleaver-Brooks as the #59 and #62 entries for Bruce Walkup. Walkup concentrated on the #59 car and, as the month progressed, the #62 was allocated to Ronnie Duman. Walkup qualified but too slow, and was bumped. Duman's time was good enough, and he went on to a fine fifth place finish. Despite Walkup taking fifth place at Milwaukee a week later, the cars were rarely seen again that season.
Hayhoe withdrew from racing after the 1968 season and the two cars were sold to Bob Krohne of Krohne Grain Transport (Pittsboro, IN) to be run by Mel Kenyon's team. Sonny Ates, who was driving for Kenyon's midget racing team, was allocated to the former #59 car for the Indy 500 and qualified comfortably before retiring with a broken turbocharger. The team appeared again at Milwaukee a week later but then focused on midget racing. Ates drove Kenyon's Gerhardt at least once but used the Hayhoe once more, at Milwaukee again in August. The cars were sold again for 1970, and acquired by Jerry O'Connell (San Jose, CA) who entered them at the Indy 500 as Sugaripe Prune Specials. Ates was still the driver and the main car was still the #59, but he hit the wall during practice and the car was extensively damaged. Billy Vukovich was allocated to the #58 backup car and qualified on the back row. The car were used again at Ontario, now as the #92 and #94, and raced in two short track events at the end of the season. O'Connell reformed his team for 1971, employing the highly respected ex-Leader Card mechanic Jud Phillips as his chief crew, and the two old cars, now called Brabhams, were completely revamped with wedge bodywork for Vukovich to drive through the whole 1971 season. After a wobbly start for the new team, Vukovich impressed with a fifth place finish at the Indy 500, an even better second place behind Mark Donohue's dominant McLaren at Michigan, and two third-place finishes at Milwaukee and Phoenix. He finished third in the points table, a remarkable performance in a three-year-old car, and O'Connell celebrated by buying two brand new Eagles for 1972. The surviving Hayhoe disappeared into minor-league racing.
If you can add anything to our understanding of these cars, please contact Allen Brown (allen@oldracingcars.com).
Chassis
History
Current owner
One of two cars built by Hayhoe Racing Enterprises, this is the car entered as the #59 Cleaver Brooks Spl in 1968. Presumed for now to be the same car used as the #59 on the team's other appearances, but it is possible that the sister car (the #62 at the Indy 500) was used at some events that season. To 3-K Racing Enterprises for 1969 and entered as the #59 Krohne Grain Transport at the Indy 500, but again it is possible that the sister car (the #39 at the Indy 500) was substituted at later short track events. To Jerry O'Connell for 1970 and both cars were entered as Sugaripe Prune Spls at four races that year. Retained for 1971 when Jud Phillips joined as O'Connell's new chief mechanic and run for most of the year with this car now as the #32 Sugaripe Prune entry for Billy Vukovich. Unknown after 1971 but if this was the only survivor, it would be the car raced by Dave Bowling (San Jose, CA) in Northern Auto Racing Club (NARC) Sprint Car Racing in Northern California in 1975. It would also be the basis of his "ecology car", raced in 1977, and probably his rear-engined car in 1974. In 2008 the car was for sale with Chuck Haines (St Louis, MO), restored to its 1971 #32 livery. By 2015, it had been sold to Jim Griggs (Panama City, FL). On display at the Historic Indycar Exhibitions in 2016 and 2019.
Driven by: Ronnie Duman, Bruce Walkup, Norm Ellefson, Sonny Ates, Jigger Sirois and Billy Vukovich. First race: Indianapolis Motor Speedway (R5), 30 May 1968. Total of 18 recorded races.
Jim Griggs (USA) 2019
One of two cars built by Hayhoe Racing Enterprises, this is the #62 Cleaver Brooks car in which Bruce Walkup was bumped at the Indy 500 in 1968. This car may have been used as the #59 entry at some point during 1968 but its next definite appearance was at the 1969 Indy 500 when it was the #39 backup car for new owner 3-K Racing Enterprises but did not appear on track. In 1970, the cars had moved to Jerry O'Connell's Sugaripe Prune team and both were raced at selected events that season. Both cars were run again in 1971 and this car was the #58 Sugaripe Prune entry for Bud Tingelstad at the three 500-mile races. Crashed heavily at the Ontario 500 and reportedly destroyed.
Driven by: Bruce Walkup, Lee Roy Yarbrough, Billy Vukovich, Sonny Ates and Bud Tingelstad. First race: Indianapolis Motor Speedway (R4), 30 May 1970. Total of 8 recorded races.
Wrecked 1971
These histories last updated on .