Huffaker 1964 Indy car-by-car histories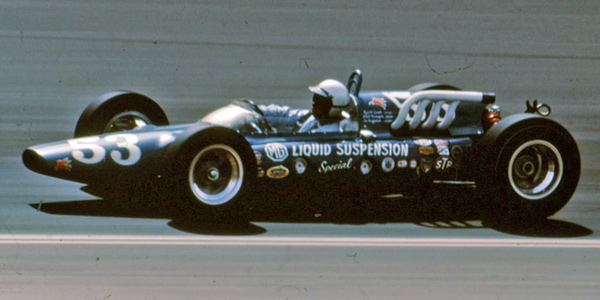 The 1964 MG Liquid Suspension Special Indy car was commissioned by Kjell Qvale, the West Coast distributor for British Motor Car Distributors, and designed by Joe Huffaker at Qvale's workshops in San Francisco. These cars are generally known as Huffakers, rather than BMCs.
Kjell Qvale had created a successful business in San Francisco importing British cars, starting with the post-war MGs and growing to include other products of the British Motor Corporation (BMC), which included Austin, Morris, MG and Austin-Healey. In 1959, Qvale opened a racing operation, BMC Competition Department, and recruited Joe Huffaker to direct its activities. Huffaker produced the highly successful BMC Mk 1 Formula Junior car for 1960, a front-engined spaceframe powered by a 980cc Austin A40 engine, and followed this in 1961 with the BMC Mk 2, powered by a much-improved 1100cc engine, but it could not compete with the Lotus 20 and the latest Cooper. Huffaker then moved to sports cars, producing a series of cars using the name Genie which were very successful in SCCA Modified class racing, culminating in the Mk 8 and Mk 10 with large V8 engines.
Qvale's interest in the Indy 500 started with the ex-Jack Brabham Cooper T54, which Qvale had acquired and fitted with an Aston Martin engine for the 1963 Indy 500, where it was driven by Mexican sports car driver Pedro Rodriguez. The car handled well, but the Aston Martin sports car engine was no match for the Offy engines used by most competitors. Qvale then set Huffaker the task of building new cars for the 1964 Indy 500. Huffaker used space frame construction and a rear-engined layout, both inspired by the Cooper, and an Offy engine, but used the Hydrolastic suspension (promoted by Qvale as "liquid suspension") that BMC had introduced on their road cars in 1962 as a way to promote the MG-badged versions of the cars in the US. AJ Foyt tested the first Indy car at Phoenix in March 1964, breaking the circuit record, but later set faster times in a front-engined car and decided to stick with established technology. Walt Hansgen, a successful west coast sports car driver, qualified the car tenth and ran as high as fourth before a long pit stop dropped him out of contention. Bob Veith qualified the second car, but Rodriguez damaged the third car during practice.
The team returned for 1965, with Hansgen and Veith joined by Jerry Grant. All three cars qualified but retired from the race. One car was then sold to Gordon Van Liew's Vita Fresh Orange Juice team for Bobby Unser to drive, and the other two went to Tassi Vatis's team. The Vatis cars ran for many years but at some point Vatis's chief mechanic Bill Finley built new cars to a similar pattern and exactly where the BMC cars end and the Finley-built cars begin is yet to be determined.
If you can add to our understanding of these cars or have photographs that we can use, please email Allen at allen@oldracingcars.com.
Chassis
History
Current owner
Walt Hansgen's Huffaker at the 1964 Indy 500 was the prototype car that AJ Foyt had crashed at Phoenix in March (Sports Car Graphic August 1964). Returned for the 1965 Indy 500 as a "new" Huffaker and raced by Bob Veith as the #54. Presumably then the #54 Huffaker raced by Bob Unser through the rest of 1965 for Gordon Van Liew's Vita Fresh Orange Juice team. At the start of 1966, Unser wrecked this car at Phoenix in March.
Driven by: Walt Hansgen, Bob Veith and Bobby Unser. First race: Indianapolis Motor Speedway (R3), 30 May 1964. Total of 12 recorded races.
Unknown
The second Kjell Qvale Huffaker at the 1964 Indy 500 for Pedro Rodriguez as the #48 MG Liquid Suspension Spl. Rodriguez crashed the car on 9 May, damaging it severely and putting himself in hospital. The car was repaired and returned to competition as Qvale's #48 Bardahl entry for Jerry Grant #48 Bardahl car at the 1965 Indy 500. He qualified in mid-grid but was an early retirement. This car was then one of two sold to Tassi Vatis but was not raced again in 1965, Vatis driver Arnie Knepper using the sister car that season. It was next seen at the 1966 Indy 500 where it was entered as Vatis team's backup #54 Valvoline entry, which journeyman Eddie Johnson qualified on the back row and took to seventh place as others retired. With lead driver Gary Congdon having wrecked his car at the Speedway, he drove this ex-Grant/Johnson car at Milwaukee, Langhorne and Atlanta while his regular car was repaired. It was then driven by Wally Dallenbach as a second Vatis at Fuji and Phoenix at the end of the 1966 season. Congdon moved to Mickey Thompson's team for 1967, so Dallenbach took over the Valvoline-sponsored Vatis Huffakers. He again drove the team's preferred primary car, and this ex-Grant/Johnson car was entered for veteran Chuck Stevenson to drive at the 1967 Indy 500, but he made no attempt to qualify. As Dallenbach damaged the primary Huffaker during the Indy 500, he drove the ex-Grant/Johnson car for the rest of the 1967 season. For the 1968 season, both cars were signficantly rebuilt and Dallenbach returned again to the team's preferred primary car, leaving this ex-Grant/Johnson car to be entered for Stevenson again at the 1968 Indy 500. After an accident quite early in the month, the veteran decided to retire from racing, and Sammy Sessions was recruited as his replacement. He qualified on the back row but kept going to finish ninth. This car was not seen again until the last few races of the season when Dallenbach raced it at Michigan and Hanford, and then Rick Muther drove it in the final race, at Riverside in December. In 1969, Vatis's chief mechanic Bill Finley again described the team's Indy 500 entries as "new Finley-built Valvoline Specials". Exactly how those 1969 cars relate to the 1964-1968 cars is still to be determined.
Driven by: Pedro Rodriguez, Jerry Grant, Eddie Johnson, Gary Congdon, Wally Dallenbach, Chuck Stevenson, Sammy Sessions and Rick Muther. First race: Indianapolis Motor Speedway (R3), 31 May 1965. Total of 23 recorded races.
Unknown
Originally built in 1964 intended for AJ Foyt but only used by Foyt in testing. Taken over by Bob Veith as the #54 for the race. Identified by Clymer as the #53 car used by Walt Hansgen in the 1965 "500". Then sold to Tassi Vatis and run as the #18 Konstant Hot Spl for Arnie Knepper through the rest of 1965. Then entered for Gary Congdon in 1966, becoming the Valvoline Special from the Indy 500 onwards. Wally Dallenbach took over the drive for 1967 and drove this car in the first three races, but an accident at the Indy 500 meant he had to drive the sister car for the rest of that season. His primary car was rebuilt in time for the 1968 season, and he drove it for the majority of that season, again as the #54 Valvoline Spl. In 1969, Vatis's chief mechanic Bill Finley again described the team's Indy 500 entries as "new Finley-built Valvoline Specials". Exactly how those 1969 cars relate to the 1964-1968 cars is still to be determined.
Driven by: AJ Foyt, Bob Veith, Walt Hansgen, Arnie Knepper, Gary Congdon and Wally Dallenbach. First race: Indianapolis Motor Speedway (R3), 30 May 1964. Total of 30 recorded races.
Unknown
Later cars
Bill Finley regularly rebuilt the Vatis team cars over the winter break and they often emerged looking very different. The 1968 cars were described by Finley as being new, as were the 1969 cars, but Carl Hungness in his 1969 Yearbook (p25) said, "the chassis was originally a Huffaker but Finley, a fine constructor in his own right, re-worked it so much that carries Bill's name". Even in 1971, Finley was using Hydrolastic suspension on his cars, which strongly suggests they were still Huffaker chassis or very close copies of them. However, at some point in this period an extra car must have been built because Jim Reynard had a 1964 Huffaker at Langhorne in June 1969 and at Trenton in July 1969. As there had only been three 1964 Huffakers originally, and the Vita Fresh car had been destroyed at Phoenix, this must have been a car that had passed through the Tassi Vatis team. The last time one of the Huffaker-based Finleys was seen was at Phoenix in November 1972, where Johnny Parsons put the car into the wall during practice.
Two 1964 Huffakers have been restored by Rich Morrison (Salina, Kansas) and Ralph Zbarsky (Vancouver, BC). A third car is reported to exist in North Carolina.
Chassis
History
Current owner
Jim Reynard (Chester, NY) appeared at a couple of east coast USAC races in 1969 with a car described as a Huffaker, and entered by Eastside Racers. He reappeared with what is assumed to be the same car in 1970 and 1971, still entered by Eastside Racers but with the car now identifed as a Finley and the car owner given as Helen Reynard. He either failed to qualify or failed to start at every race. In May 1980, the car was shown in Old Car Illustrated magazine in the collection of St Louis, MO, dentist James Giganti. The Huffaker was said to belong to Giganti's friend Bud Pessin (St Louis, MO). It was in 1969 Finley bodywork, wore Reynard's #75 and still had his name on the side. A photo caption said it had finished 9th in the 1968 Indy 500, driven by Sammy Sessions, which would identify it as the 1965 No 48 car. Some time later, Richard Morrison (Salina, Kansas) acquired a 1964 Huffaker that still had Reynard's name on the bodywork. Morrison has identified as an ex-Vatis/Finley car. This must be one of the cars raced by the Vatis/Finley team from 1965 to 1968 but exactly which one is yet to be determined. Morrison has restored the car to Walt Hansgen's blue 1964 #53 livery. On track at the Wine Country Classics in 2002. Morrison ran the car at the 2005 Goodwood Festival of Speed. On display at the Rocky Mountain Concours d'Elegance at Colorado Springs in 2008. Driven by Bobby Unser at the Goodwood Festival of Speed in July 2010. At the Art of the Car Concours Show (Kansas City, Missouri) in June 2013. On loan from Morrison to the Unser Racing Museum in November 2014. Still owned by Morrison in August 2021 when it was on display at Monterey. In April 2022, it was on display in the Indianapolis Motor Speedway Museum.
Driven by: Jim Reynard. First appearance: Langhorne International Motor Speedway (R5), 22 Jun 1969.
Richard Morrison (USA) 2021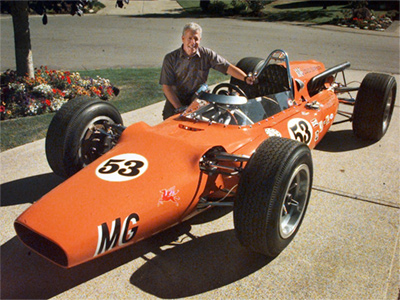 Ralph Zbarsky (Vancouver, BC) found a Huffaker spaceframe chassis in Texas in 1992 and restored the car to Walt Hansgen's orange 1965 #53 livery. The body used in the restoration was acquired from Richard Morrison, of Salina, Kansas, who took a mould from the sister car that he was restoring. The restored car was sold to Dick Baker (Toronto, Ontario), a well-known collector of BMC cars, in 2000, but Baker died in August 2001 before he could do anything with the car. In 2010 or 2011, it was bought by Phil Gumpert (Noblesville, IN) and mechanically restored by him to running condition. Gumpert had the car on display at the Indy historic meeting in May 2016. Still owned by Gumpert in August 2023.
Phil Gumpert (USA) 2023
Acknowledgements
My thanks to Simmo Iskül, 'gbl' and Michael Ferner as usual for their help on this topic, and to Richard Morrison, Ralph Zbarsky and Phil Gumpert for details of their cars.
These histories last updated on .