Kingfish 1972 Indy car-by-car histories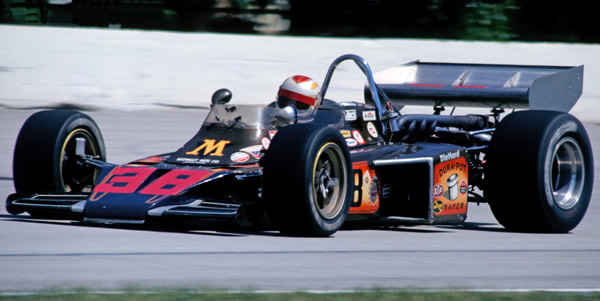 Grant King built a pair of new cars for 1972 which closely followed the design of the McLaren M16. One of the cars was destroyed in Merle Bettenhausen's accident in 1972 but the other was raced for several more years by Carl Gehlhausen's team.
STP parted company with Grant King after the 1971 season, and became Lola customers. King continued alone and built the first of his new McLaren copies in time for the Trenton race in April 1972, but veteran George Snider crashed during practice. A second car was ready for the Indy 500, where Steve Krisiloff drove it. King picked up Ayr-Way Lloyds sponsorship for the Indy 500, and Krisiloff qualified the #15 car, but debutant Merle Bettenhausen damaged the #35 during practice. Both 1972 cars were run at Michigan in July but Bettenhausen, having only his first Indycar race, was involved in a horrible accident in which his right arm was severed. Krisiloff raced the surviving 1972 car at Pocono and Ontario, but King embarked on a completely new design for 1973, and the surviving 1972 car was sold off.
If you can add anything to our understanding of these cars, please contact Allen Brown (allen@oldracingcars.com).
Chassis
History
Current owner
Built new by Grant King for the start of 1972, the #35 car was driven by George Snider at Trenton in April, but crashed in practice. It was also used by him in practice at the Indy 500, but Snider was given the chance to drive one of AJ Foyt's Coyotes so the Kingfish drive was taken over by Merle Bettenhausen, middle son of twice National Champion Tony Bettenhausen and the middle of three racing brothers. Merle quickly passed his rookie test but the very next day lost control of the Kingfish and extensively damaged on the left side and it could not be repaired in time for qualifying. Bettenhausen's next chance came at Michigan in July but on just the third lap of the race, he crashed again, hitting the outside wall. He tried to get out of the burning car while it was still moving but his right arm was trapped against the outside wall and was torn off. Bettenhausen was also badly burnt but survived and remained in the sport, becoming a key member of Bettenhausen Motorsports.
Driven by: George Snider and Merle Bettenhausen. First race: Michigan International Speedway (R5), 16 Jul 1972. Only one recorded race.
Destroyed 1972
The second new 1972 Grant King car appeared for the first time at the Indy 500 as the #15 car for Steve Krisiloff. As the other 1972 car was destroyed in Merle Bettenhausen's accident at the 1972 Michigan 200, it would be reasonable to assume this is the 1972 Kingfish acquired by Carl Gehlhausen's Mid-West Manufacturing Dura-pot team. A Racing Pictorial photograph shows that it first appeared as the team's #58 entry at Phoenix in November 1972, but driver Larry Dickson did not start. It was raced as the #58 by Dickson at the start of 1973, and was driven by Johnny Parsons Jr, Arnie Knepper, Tom Bigelow and Tom Sneva later that season. The Gehlhausen team only made a couple of appearances with the Kingfish in 1974, but made a more concerted effort in 1975, with the Kingfish now as the #38 entry, raced initially by Jerry Karl, and then by Al Loquasto, Jerry Sneva and Mike Hiss (who crashed it) in practice for the Indy 500. Spike Gehlhausen, Carl's son, was then given his first chance in the car after the 500 and kept the drive to the end of the season. The Gehlhausens then acquired a McLaren M16 as the #19 Spirit of Indiana entry, and the Kingfish acted as backup until an Eagle was acquired in mid-1977. Subsequent history unknown but at some point the car was repainted with Sta-On Glaze livery, Gehlhausen's 1979 sponsor. By 2008, it was part of a collection of unrestored Indy cars owned by Walter Medlin. Photographed in Indiana in July 2014.
Driven by: Steve Krisiloff, Larry Dickson, Arnie Knepper, Bentley Warren, Johnny Parsons Jr, Tom Bigelow, Tom Sneva, Bill Puterbaugh, Jerry Karl, Al Loquasto, Jerry Sneva, Mike Hiss, Spike Gehlhausen and John Mahler. First race: Indianapolis Motor Speedway (R3), 27 May 1972. Total of 28 recorded races.
Walter Medlin (USA) 2014
These histories last updated on .