Kingfish 1973 Indy car-by-car histories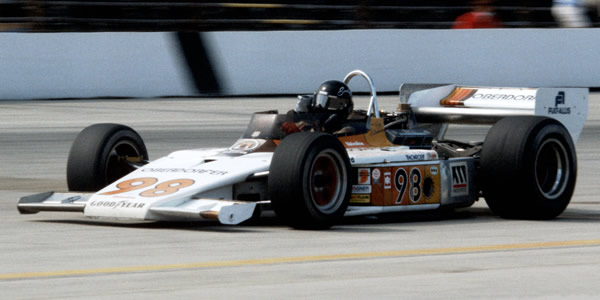 Grant King was an expert copier of other people's racing cars, and for 1973 he produced a very faithful copy of AAR's 1972 Eagle. Three of these Kingfish were built and they started at least 55 races over the next ten seasons.
King's previous design had been a copy of the McLaren M16, but had not been quick, failing to finish in the top ten at any point during 1972. The 1973 Kingfish was so indistinguishable from the 1972 Eagle that it is said that the components were interchangeable and that some Eagle customers went to King for parts. Steve Krisiloff proved the car was very quick, qualifying in the top ten eight times during 1973, and finishing sixth on three occasions. Tom Sneva took over the ride for 1974 and placed fifth at Michigan in September, the cars' best result so far. King merged with JC Agajanian's operation for 1976 and built new cars, copies of the Coyote, but the 1973 cars were kept for short track duties. After three years, the Dragon-Offys were dropped, and the 1973 cars brought back out and fitted with Chevrolet engines. The final surviving car was sold off for 1981 and continued to compete in CART until 1983.
All three cars have survived, with the two crashed cars having been repaired. My thanks to Simmo Iskül for his meticulous work examining photographs to establish the race career of the three cars, and to owners Jacques Dresang and Steve Rutkowski for their help with these histories. Please email Allen at allen@oldracingcars.com if you can add anything.
Chassis
History
Current owner
Kingfish 73
'1'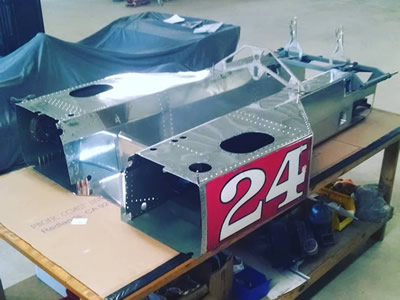 Built by Grant King for Steve Krisiloff to drive in 1973 as the #24 Grant King Racing entry, acquiring many different sponsors during the season. This car started the season red but was repainted blue-and-yellow after qualifying for the Indy 500. Retained the number #24 for 1974 but now driven by Tom Sneva, scoring a fifth place finish at Michigan in September 1974. Retained by the team for 1975 and raced by Bentley Warren at the Indy 500 but crashed in the rain and was very badly damaged. Parts of the car were used to build up a new chassis and what was left of the car remained with its 1973 sister car until both were sold as a project on race-cars.com in 2009 to Rick and Jacques Dresang (Hartford, WI). In 2016, the car was being restored at their Kettle Moraine Preservation & Restoration shop in Hubertus, Wisconsin.
Driven by: Steve Krisiloff, Tom Sneva and Bentley Warren. First race: Trenton International Speedway (R2), 15 Apr 1973. Total of 15 recorded races.
Rick and Alison Dresang (USA) 2017
Kingfish 73
'2'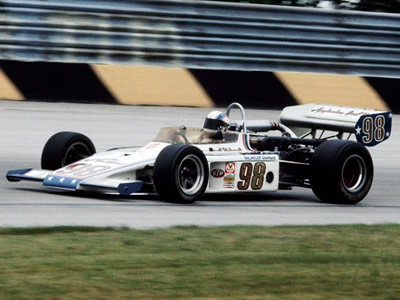 Built by Grant King for the 1973 season and appeared at the Indy 500 that year as the #75 entry for Greg Weld. Weld did not qualify but this car remained red and is therefore the car raced by Steve Krisiloff as the #24 entry on short tracks in 1973. In 1974, this second Kingfish was numbered #26 but only raced twice with that identity, at the Indy 500 with Bentley Warren and at Pocono in the hands of Bob Harkey. It also raced at some other tracks as the #24 but can be distinguished by its unmodified roll hoop. In 1975, the car was raced again at the Indy 500 by Sheldon Kinser, now as the #19 entry. King joined forces with JC Agajanian for 1976 and both 1973 Kingfish were used in the early races, this one as the #98 car for John Martin and later as the #96 for Bob Harkey. The cars reappeared in 1979, fitted with Chevrolet V8 engines and this car took sixth place at Milwaukee driven by Gary Bettenhausen. Its long race career was finally terminated by an accident in practice at Watkins Glen when driven by Tony Bettenhausen II. The car was advertised by racecars.com in 2009. In 2010, it was reported to be in southern California. Owned by Steve Rutkowski (Duanesburg, New York) in 2016.
Driven by: Greg Weld, Steve Krisiloff, Tom Sneva, Bentley Warren, Bob Harkey, Sheldon Kinser, John Martin, Todd Gibson, Gary Bettenhausen, George Snider and Tony Bettenhausen II. First race: Milwaukee Mile (R5), 10 Jun 1973. Total of 24 recorded races.
Steve Rutkowski (USA) 2016
Kingfish 73
'3'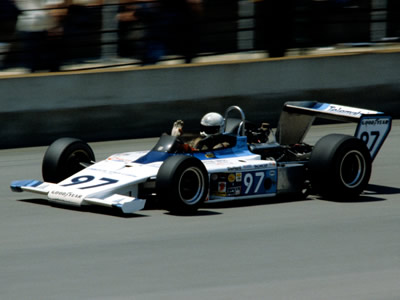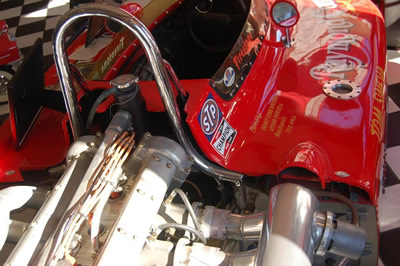 Built in 1975 by Grant King as a new chassis but built up using parts from the original #24 car and raced by Bentley Warren at Pocono in 1975. It does not appear to have been used again until 1979 when it was fitted with a Chevrolet V8 and raced as the #97 JC Agajanian/Grant King entry. After two seasons, it was sold to Norm Hall for 1981 and continued running in CART as the #65 Luxury Racers car, qualifying for races sporadically. Its last known appearance was at Road America in July 1983. In 2014, Jacques Dresang reported that this car was in the offices of Giuffre Bros Cranes Inc, in Milwaukee, WI.
Driven by: Bentley Warren, Phil Threshie, Jerry Miller, Roger Mears, Billie Harvey, Jim McElreath, Jim Hurtubise, Wally Pankratz, Bob Brutto, Tod Tuttle and Phil Krueger. First race: Pocono International Raceway (R8), 29 Jun 1975. Total of 17 recorded races.
Giuffre Bros Cranes Inc (USA) 2014
These histories last updated on .