Kuzma, Kuzma-Kenyon and Coyote-Kenyon 1970-71 Indycar car-by-car histories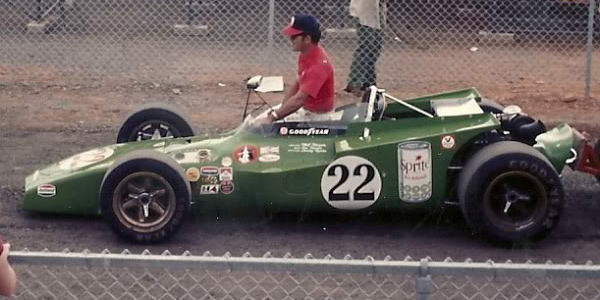 Four closely-related cars were built for the Lindsey Hopkins team in 1970 and 1971, the first three from monocoques fabricated by Eddie Kuzma, and a fourth built up from a monocoque created by Kuzma originally to be a Coyote. They were significantly developed for Hopkins by Don Kenyon and Eldon Rasmussen.
Wealthy Miami-based businessman Lindsey Hopkins had been the owner of a series of Indy 500 entries going back to the 1940s, most recently fielding a 1966 Eagle for Wally Dallenbach in 1969. Hopkins was a director of Coca-Cola, and his company had a new product to sell, a lemon drink developed to be a competitor to arch-rival Dr Pepper's 7-Up. In 1969 and 1970, Hopkins was able to use part of the Sprite marketing budget to finance his Indy car team. For 1970, Hopkins commissioned the construction of two new cars to replace Dallenbach's ageing Eagle and also recruited successful midget racer Mel Kenyon to drive a second entry. A 1966 Coyote was acquired from AJ Foyt's team to give Kenyon something to race until the new cars were ready. The Hopkins operation was led by veteran chief mechanic Jack Beckley, with Lynn Reid assisting him on Wally Dallenbach's No 22 car, and with Don Kenyon joining the team to prepare the No 23 car of his brother Mel.
There were still relatively few Indy teams with the ability to build monocoques to the same standard as the British McLaren, Lotus and Lola teams, so Hopkins and Beckley approached Eddie Kuzma to fabricate the monocoques for the new cars. Kuzma, like Beckley, was an Indy veteran and had fabricated cars for AJ Foyt from 1966 onwards, all of which were evolutions of Foyt's Lotus 38s. Kuzma had also fabricated the 1968 Hawk for Clint Brawner which had won the 1969 Indy 500 in Mario Andretti's hands and had just completed more monocoques for Brawner's new team, which were built up using the name Scorpion for Roger McCluskey to race from the beginning of 1970. They would prove very effective, as McCluskey and teammate Art Pollard finished second in three races in 1970. One key difference between the Brawner Scorpion and the Hopkins Kuzma is that Brawner's car used Brabham-derived suspension with double wishbones and outboard springs inherited from his previous Hawk creations, while the Hopkins cars continued with the Lotus-derived suspension with rocker arms and inboard springs inherited from the Lotus 38. Kuzma even found time to fabricate a monocoque for Grant King, who would build it up as a Kingfish for the 1970 season, and King also took the outboard-suspension route.
The Hopkins cars, which would be known as Kuzmas in 1970, were not as far advanced as Brawner's Scorpions and were only completed in time for the 1970 Indy 500. The plan was for Dallenbach to have the choice of two Kuzmas, one Offy-engined and one with a Ford powerplant, while new team member Mel Kenyon would have his choice of Dallenbach's older Eagle and the newly-acquired 1966 Coyote. The No 22 Kuzma with turbo Offy engine was the first to be ready when the teams assembled at the Speedway, but the car blew three engines in quick succession, and Beckley had to quickly put together the Ford-engined car. This second car wore No 6, the number that Dallenbach was entitled to use as he had finished sixth in the 1969 USAC championship. With time running out, Dallenbach was unable to get the No 6 car up to speed so in the end the team were forced to bring out the old Eagle, now nicknamed "Old Clyde", and Dallenbach qualified in that. Kenyon made the field in the equally old Coyote. As Dallenbach had led the 500 a year earlier in a Beckley-tended Eagle, this was a huge disappointment, and it was soon announced that Beckley would be leaving Hopkins, the split coming a week later, after the Rex Mays 100. Lynn Reid, a protege of Beckley, and Don Kenyon took over as chief mechanics for the rest of the 1970 season and Dallenbach continued to race his old Eagle, while Don and Mel Kenyon worked to develop the Kuzma chassis. Mel raced the No 6 Kuzma-Ford for the first time at Michigan in July, then finished sixth at Ontario in September and ninth at Trenton in October. Dallenbach finally raced the No 22 Kuzma-Offy at Trenton and qualified in a season-best position of fifth.
If you can add to our understanding of these cars, or have photographs that we can use, please email Allen at allen@oldracingcars.com.
Chassis
History
Current owner
Kuzma 70
'the No 22 car'
New for the 1970 Indianapolis 500, and fitted with a turbo Offy engine for Wally Dallenbach to use as Lindsey Hopkins' #22 Sprite entry. After the car blew three engines due to what was believed to be an oil plumbing issue, Dallenbach swapped to an older Eagle for qualifying and the race. The #22 car was used by Dallenbach at Trenton in October 1970, and was then his regular car in 1971, finishing second at Trenton in April, and finishing fourth twice. He crashed the car heavily in practice at Pocono in July, but it was repaired, now in orange paintwork, in time for Milwaukee in August. He then crashed the car again during practice at Phoenix in October 1971, and this time it was "badly damaged". Not seen again.
Driven by: Wally Dallenbach. First race: Trenton International Speedway (R16), 4 Oct 1970. Total of 8 recorded races.
Wrecked 1971
Kuzma 70
'the No 6 car'
New for the 1970 Indianapolis 500, and fitted with a turbo Ford engine for Wally Dallenbach to use briefly in practice as Lindsey Hopkins' #6 Sprite entry. Chief mechanic Jack Beckley then left the team, and Don Kenyon took over his role. The #6 Kuzma was then presumably the car driven by Mel Kenyon at Michigan in July, and at Ontario in September. The #6 car then became Roger McCluskey's regular Kuzma-Ford during 1971, finishing third at Michigan in July, and second at Phoenix in October. McCluskey drove it at a few short track races in 1972, and it was also his unused spare car at the 1972 Indy 500. This car has survived and in 2019 was advertised by Can-Am Cars Ltd on behalf of a customer. The Vintage Indy Registry reports that this car is owned by John Bowman.
Driven by: Wally Dallenbach, Mel Kenyon and Roger McCluskey. First race: Michigan International Speedway (R8), 5 Jul 1970. Total of 16 recorded races.
John Bowman (USA)
Kuzma 70
'the No 23 car'
New for the 1971 Indianapolis 500, and fitted with a turbo Ford engine for Mel Kenyon to use as Lindsey Hopkins' #23 Sprite entry. Kenyon qualified, but the car was destroyed in a massive accident, from which Kenyon was lucky to emerge with only tyre marks on his helmet and a badly bruised leg. Curiously, Mel referred in a newspaper article to having "a third and two demolishes" in the Kuzma-Ford, but photographs show that the car in which he finished third was an Eagle.
Driven by: Mel Kenyon. First race: Indianapolis Motor Speedway (R5), 29 May 1971. Only one recorded race.
Wrecked 1971
Coyote-Kenyon
the 1971 Mel Kenyon car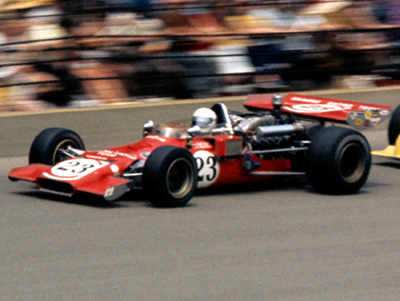 The history of this car is unknown before mid-1971, but it was said to have been built in the summer of 1970, and may have been used by AJ Foyt at some races. After Mel Kenyon's Kuzma was wrecked in an accident during the 1971 Indy 500, the Kenyons acquired a Coyote monocoque. It was described as an unraced 1970 model, but this may just mean that it had not appeared at the Indy 500 in either 1970 or 1971.
It was built up into the same specification as the Hopkins team's two remaining Kuzmas and first appeared at Pocono in July 1971 but Kenyon was still recovering from his Indy 500 injuries, so the car was raced by Wally Dallenbach after he crashed his Kuzma in practice. Dallenbach raced it again at Michigan while his Kuzma was being repaired. Kenyon was due to race it at Milwaukee in August, but handed it over to Roger McCluskey after his Kuzma-Ford had problems during practice. It was raced by Mel Kenyon at Ontario in September, and was presumably his car at Trenton and Phoenix later in the season. This was then Mel Kenyon's car at the 1972 Indy 500, where his #23 entry was described as a Coyote. He qualified, and finished 18th. How this car was used in the rest of 1972 is not known.
The car was progressively modified by Don Kenyon and Eldon Rasmussen over the next two years, including the fitting of Eagle suspension. At Texas World Speedway at the start of the 1973 season, Mel Kenyon raced a further development of this car, now with sidepods and a different nose. This same car was taken to the 1973 Indy 500 where Bob Harkey qualified, and finished 28th. It was described as a "hybrid of a Foyt Coyote and a Gurney Eagle", and as a Coyote chassis modified by Don Kenyon "to handle Eagle parts". One name used for it was "Eaglote". A video shows Kenyon raced it at Milwaukee in August, and it is thought to have been his car at TWS in October. Harkey qualified the car again for the 1974 Indy 500, and this time finished eighth. Indy 500 historian Donald Davidson suggested in his 1974 yearbook that it should be called a Coyote - Kuzma - Kenyon - Eagle - Rasmussen. It was next seen in 1976, where it was at the Speedway for Mel Kenyon to drive, now with McLaren-style sidepods, but he crashed it during practice. Kenyon then raced it at Ontario in September 1976, now back with its 1973/74-shape sidepods.
Subsequent history unknown but in 2013, this car was photographed in Bob Boyce's collection (Michigan City, Indiana), still in 1976 livery but with the long sidepods from 1973/74. According to Bill Wiswedel, who examined it in detail in February 2017, the car looks like a 1969/70 Coyote at the front, but is significantly different behind the cockpit. Still with Boyce in February 2017. By January 2021, this car had passed to Toney Edwards.
Driven by: Wally Dallenbach, Mel Kenyon, Roger McCluskey and Bob Harkey. First race: Pocono International Raceway (R7), 3 Jul 1971. Total of 12 recorded races.
Toney Edwards (USA) 2021
The Hopkins Kuzmas in 1971
For 1971, Hopkins expanded to a three-car operation, and changed the cars' colours to Sprite's green, despite green being seen as an unlucky colour at the Speedway. Reid left to join the Gerhardt operation and Duane Glasgow was brought in to run Dallenbach's car, while Don Kenyon was entrusted with running two further cars for brother Mel and for Roger McCluskey who was rejoining Hopkins after two seasons away. McCluskey must have had great confidence in Kuzma's creations, as he had raced AJ Foyt's Kuzma-fabricated Coyotes in 1969, then moved to Brawner for 1970, and had driven briefly for Grant King in early 1971 before joining the Hopkins team in time for the Phoenix race in March. Coincidentally, McCluskey had finished sixth in the 1970 USAC championship in Brawner's Scorpions so his Ford-engined Kuzma kept the same No 6 that it had worn when Dallenbach's car in 1970. The original Offy-engined Kuzma was driven in 1971 by Dallenbach, who gave the Kuzma its best result so far with second place at Trenton just before the Indy 500, and a third Kuzma was put together for Mel Kenyon to drive at the Indy 500 and would wear No 23. Following the Kenyons' work on the cars, they were described in 1971 as Kuzma-Kenyons. The cars now had fashionably wedge-shaped bodywork on the sides of the cars, similar to that on the very successful Vel's Parnelli Racing Colts.
The 1971 Indy 500 was another difficult time for the Hopkins team. Suspension problems prevented any of them qualifying on the first weekend, with the cars failing to break the 170 mph barrier, and McCluskey's car was taken back to the team's base at Lebanon, Indiana, for modifications. Changes to the rear suspension improved the cars' "bite" in the corners, as did aerodynamic changes to respond to the advances made by McLaren's new M16. With Bobby Unser also coming to the team's aid to advise McCluskey on setting up the car, the changes had the desired effect and all three cars qualified on the final qualifying weekend, giving Hopkins the only three-car team in the race. McCluskey finished ninth in the race but Dallenbach retired with engine problems and Kenyon's car was eliminated in an alarming accident which destroyed the car.
Kenyon needed a replacement car, so Don and Mel acquired a very similar Kuzma-built monocoque from AJ Foyt, which had been intended to become a Coyote, and built it up in the same form as the Hopkins Kuzmas. With Mel still recovering from his Indy 500 accident, this car was first raced by Dallenbach and then by McCluskey before Kenyon raced it for the first time at Ontario. McCluskey and Dallenbach continued to race their regular Kuzmas, and McCluskey matched Dallenbach's best result by finishing second at Phoenix in October. However, Dallenbach crashed his car in practice at that same race, and it was not seen again. McCluskey and Dallenbach stayed with Hopkins, who financed new Antares cars for 1972, and Don Koda joined from the Leader Card Racers team to be McCluskey's chief mechanic. McCluskey continued to race his Kuzma before the Antares was ready, and again after the new car flopped, but Hopkins then bought a McLaren M16 for the veteran driver. The sole surviving Kuzma had its final race at Milwaukee in August, where McCluskey crashed it. The Kenyons' Kenyon-Kuzma-Coyote was later modified with Eagle suspension and continued to appear right up to 1976.
Acknowledgements
This is a very difficult subject as the cars were often entered simply as Sprite Specials, and even when a chassis name was given, it did not necessarily match the car that was fielded at that event. The picture only started to clarify when Michael Ferner, Luis Mateus, Simmo Iskül and others started to collect and examine photographs of the cars at each race. On several occasions in 1970, Dallenbach was listed in results as driving a Kuzma but photographs showed he was in his older Eagle. In 1971, the situation became more complicated as the three Kuzmas acquired new bodywork along the sides which obscured many of the key identifying features. However, it was possible to identify the arrival of the Coyote-Kenyon at Pocono and track that car's usage by Dallenbach, McCluskey and Kenyon through the rest of that season, before it was modified even further from 1972 until its final race in 1976. Arguably the Coyote-Kenyon should be regarded as a Coyote, and listed together with AJ Foyt's 1970 car, but it makes far more sense to cover it as part of the Kuzma '70 story.
If you can add to our understanding of these cars, or have photographs that we can use, please email Allen at allen@oldracingcars.com.
These histories last updated on .