LeGrand Mk 7 car-by-car histories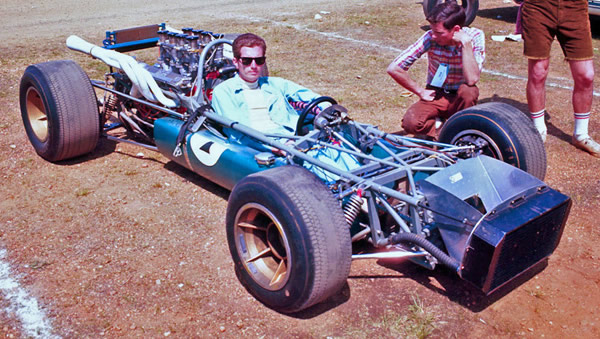 Red LeGrand developed a Formula A version of his successful Formula B car. It was light and very quick, but the FB-based components proved totally insufficient for the highly-tuned ex-Trans-Am 5-litre engines.
LeGrand was the first US constructor to have a car ready for the new 5-litre Formula A in 1968. In the hands of Bruce Eglinton, it won an SCCA National at Las Vegas on 25 February 1968, the first National level Formula A race. With that success, there were a number of orders for 1968, at least three, and it appears that eight cars were built in total. The model was originally advertised with Bartz Chevrolet engines and Hewland LG500 gearbox for $12,845. The Las Vegas winner was sold to Don Richardson, but he had dreadful problems with it. A second car was built up but was crashed while testing at Whitman stadium in June 1968, which left Eglinton in hospital with severe burns. This second car was then rebuilt and became the works car for Jerry Entin and others. A third car was then built for customer Pete Botsford who installed a series of professional drivers for the SCCA's Continental Championship. The highlight of the Pro season was when Sam Posey put Botsford's car on pole at Mosport Park, but he found the thing so scary that he retired to the pits after a single lap.
Other customers have, like Posey, been highly critical of the car. Dave Wolin noted that it flexed badly, so badly in Posey's case that it pulled itself out of gear. Mike Allison, a member of Botsford's crew in 1968, said that Peter Revson 'hated the car in practice due to chassis flex' and Mike also noted that the brakes were 'awful and inadequate'. Jerry Webber, who built his from a kit, was another to comment on the inadequate brakes. Don Richardson summed up his prototype car when he advertised it as "1250 lbs of rotting hell". All in all, it is hard to think of a Formula 5000 car that has been the subject of such consistent criticism.
The Formula A car was described as both the Mk 7 and the Mk 7A, the A just denoting that it was a Formula A car. Please email Allen at allen@oldracingcars.com if you can add anything to our understanding of these cars.
Chassis
History
Current owner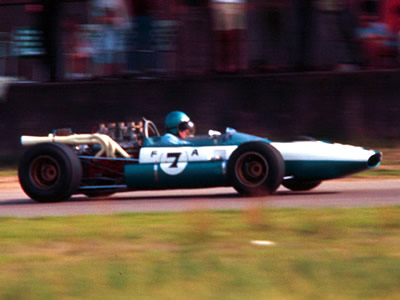 New for Bruce Eglinton to race in the SCCA Regional and National at Las Vegas on 24/25 Feb 1968, retiring on the Saturday but winning on the Sunday. Then sold to Don Richardson (New Orleans, LA) who entered it for Bill Fuller to drive at the opening Pro race at Continental Divide 26 May 1968, but it was very slow and failed to start after the engine blew. Its only known race was when Richardson won an SCCA National at Galveston Airport 7 July 1968, but it was also on the entry list at R8 Laguna Seca 12 October 1968). Advertised by Richardson on 14 Dec 1968 as "1250 lbs of rotting hell", complete with a Chevy running on Webers and Hewland LG500 . There is no sign of the car in 1969 but Richardson advertised it again on 6 Jun 1970. Sold to Art Eatman (Austin, TX) and raced in the SCCA SW Division in 1971, winning the FA class, but he failed to start the Runoffs at Road Atlanta 27 Nov 1971. Art sold the car to Karl Patton (Austin, TX) who planned to add a wing to the nose and use it for autocross. Almost certainly this car advertised by John Anderson (Austin, TX) 5 May 1973. The engine details mention in the advert ('Crane heads, Isky roller') matches that of Art Eatman when he advertised the Richardson car from the same city a year before. Anderson bought the car with L Nelson Spohnheimer (Plano, TX) and they updated it to current SCCA rules, for example with a taller rollhoop, and then used it in Autocross in the Austin area. Spohnheimer drove it for his competition license at Dallas Motor Speedway, before buying Anderson's share during 1973. Nelson Spohnheimer recalls that he towed the car to Fort Lauderdale, FL in early 1974 when he moved from Texas to Florida, and ran it there briefly. About a year later he swapped it for a 1968 Corvette Tri-Power convertible to Bob Moulton (Largo, FL) who ran it on and off until 1976 or 1977. During his ownership, he was able to vouch for the chassis flex and "barely adequate brakes". He offered Don Kearney, a highly successful C Production driver, a run in the car, and Kearney responded that he "wouldn't get out of the electric chair to drive that car". Moulton later stripped it of its Bartz engine and LG500 gearbox and hoisted the chassis onto the wall of Dale Kreider's workshop in St Petersberg. In 2010, Moulton commented that he sold the complete car "a number of years ago". Subsequent history unknown.
Driven by: Bruce Eglinton, Bill Fuller, Don Richardson and Arthur Eatman. First race: Stardust International, 24 Feb 1968. Total of 3 recorded races.
Unknown
A new car replacing the original works Mk 7 sold to Don Richardson, and shaken down by Bruce Eglinton at Whitman stadium June 1968 where he crashed and was badly burnt. While Eglinton recovered in hospital, Jerry Entin did a deal with LeGrand to race this rebuilt second car in return for a loan of engine and gearbox. The car was built up with a stock Chevrolet Camaro engine, fitted with 48mm Weber carbs by Al Bartz, and a ZF gearbox acquired by Entin from Carroll Shelby. The car used Formula B brakes, and Formula B rear hubs. It was then taken to Road America for the Badger "200" on 27 July 1968, but the timing gear broke before the race, and Entin did not start. Entin won a National at Riverside in August and two Regionals later in the year. Dick Guldstrand took over the car for the Laguna Seca 'Pro' race in October and it was then driven by Rex Ramsey at the ARRC, and at the Monaco International Trophy in New Zealand at the end of December. Ramsey continued to drive the car in 1969, winning three SCCA Nationals but was well off the pace in Pro races. The car was last driven by Ramsey at the Sears Point Continental Championship race in June 1969.
In July 1970, Silvia Triechler's 'Silvia Sez' gossip column in Cal Club's 'Post Grid' newsletter mentioned that Chuck Elliott and Bruce Eglinton would be sharing a LeGrand Formula A car in Regionals and Nationals respectively. According to David Zavetsky's comprehensive research on this car, this was the ex-Entin/Ramsey car. Elliott (Playa Del Rey, CA) drove it in an SCCA Regional at Phoenix in September, Eglinton finished second in it at the Riverside National in February 1971, and Elliott also drove it in the Pro race at Riverside in April 1971.
It next appeared when Mal Patterson (San Jose, CA) entered it for the Pro race at Laguna Seca 7 May 1972 as the #79 LeGrand Mk 7A. This would be the MS Patterson (San Jose, CA) that advertised a Mk7A on 17 Feb 1973, although he then stated that it was a 1970 car with two races only and a LG600 gearbox. It was then sold to Ken Owen (Union City, CA) and used in local SCCA racing in 1975 and 1976. According to John Boxhorn, "Owen sold the car to Skip Pack of Hollister, CA in 1977 or 1978" but this may be speculation. Pack and Dennis McLaughlin did own this car, as a bill of sale from Patterson to Owen was with it in 2009, but there may have been other owners between Owen and Pack. David Pozzi recalls that Skip Pack autocrossed a LeGrand at Salinas airport and at Plesanton Fairgrounds in California. Both Pack and McLaughlin autocrossed the car in the late 1970s and early 1980s before they sold it to Butch Gilbert in October 2009. Sold to John F Boxhorn (Mukwonago, Wisconsin) in October 2010. Restored during 2011 and 2012. First tested at Gingerman Raceway (South Haven, Michigan) in May 2013. Run for the first time at HAWK Road America in July 2014. Sold to David Zavetsky in 2019. Listed as a non-starter at Road America in July 2021.
Driven by: Bruce Eglinton, Jerry Entin, Dick Guldstrand, Rex Ramsey, Chuck Elliott, Mal Patterson and Ken Owen. First race: Riverside (R6), 4 Aug 1968. Total of 22 recorded races.
David Zavetsky (USA) 2021
Other known 1968 production
Apart from chassis 001 and 002, three more new cars are known to have been sold to Pete Botsford in Bernardsville, New Jersey but originally from Connecticut; Tom McBurnie in Santa Barbara, CA; and Dave Wolin in Buffalo, New York. These complete cars are listed by the LeGrand Registry as '003', '004', and '005' respectively, but other cars were later sold in kit form and may not have been allocated chassis numbers.
Chassis
History
Current owner
1969
After Pete Botsford's car had been wrecked late in 1968, the other four known Mk 7s were retained by their respective owners into 1969. The works car was raced up to June at least; and the cars of Don Richardson, Tom McBurnie, and Dave Wolin were all still being advertised in 1970.
The first of the LeGrand Mk 7 kits was mentioned in November 1968, when Bill Elder and Joe Callahan were photographed building their car in Lompoc, California. This car never raced and was advertised in May 1969, so it's quite plausible that it was the kit that Jerry Webber bought from Nick DeCourville's shop in North Hollywood, California in the summer of 1969.
Chassis
History
Current owner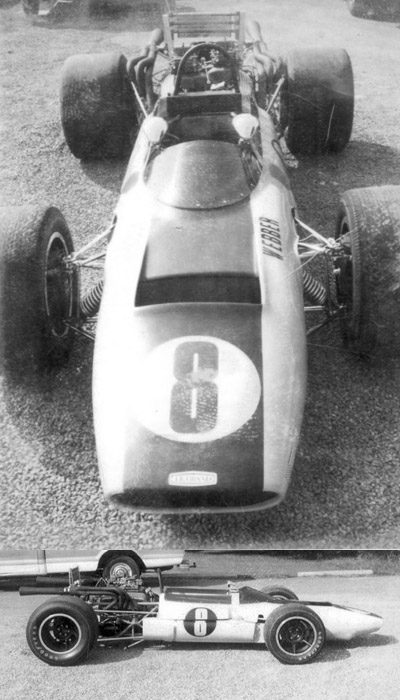 In the summer of 1969, Jerry Webber (Sacramento, CA) learned from his friend Gary Burke about a brand new, never assembled, LeGrand Mk7A kit at Nick DeCourville's shop in North Hollywood, CA. Webber was then just 21, and had only raced in karts, but bought the car for $2,500 and started to build it up with a 305ci Chevrolet engine and ZF transmission. As soon as the car was complete, Webber went to an SCCA Drivers School at Riverside, when he discovered the enjoyment of "sitting between two baffle-less cans of fuel strapped to the tube chassis with only two large hose clamps, and nothing more than what I called "go-kart" Airheart single caliper brakes". He survived the "ordeal", despite a spin on Riverside's main straight when changing into top gear. He did another Drivers School at Vaca Valley where he decided the answer to the LeGrand's strengths and weaknesses was to "go flat in a straight line, park it as I approach a turn, coast thru the turn, and then jump on it again".
Webber had soon had enough of "this monster" and sold it in August 1971. Unfortunately, he cannot recall who bought it, but thinks the new owner "crashed it big time shortly thereafter in turn 4 at Laguna Seca", and he "can't recall if the car survived or not".
Unknown
1970
The Don Richardson '001' would be sold to Texas in late 1970 or early 1971, the works '002' reappeared in mid-1970 for Bruce Eglinton and Chuck Elliott in SCCA Nationals and Regionals, and Tom McBurnie and Dave Wolin both advertised their cars during 1970. Jim Webber also still had his kit-built car.
Gene Forsthofel bought a disassembled Mk 7 from Red LeGrand for the 1970 season, the second kit we can identify with any certainty so far, and therefore the seventh Mk 7 to be built. He raced this car in a couple of Midwest Division Nationals in the summer of 1970.
On 21 November 1970, Kevin Coan (Natick, MA) advertised a "brand new" and apparently disassembled "Formula A LeGrand". This could be the third kit, and the eighth Mk 7, but it could also be a set of parts intended to rebuild Pete Botsford's wrecked car. Botsford listed his home town in 1968 as Bernardsville, New Jersey, but is believed to have lived in Sharon, Connecticut, where he went to the same school as Sam Posey.
Chassis
History
Current owner
Gene Forsthofel (Overland Park, KA) bought a LeGrand Mk 7 from Red LeGrand for the 1970 season. It was shipped to Kansas City in a large crate, and Forsthofel and stepson helper Roger Riekenberg built up an engine for it. Forsthofel raced it in the SCCA National at Mid-America Raceway in July 1970, winning outright, and at Olathe Airfield two weeks later, where he retired. He moved into the Pro Formula B series for 1971, and advertised the Mk 7 in April 1971 as a "F/A LeGrand Wedge". The Mk 7 was bought by Jim Barron (Bragg City, MO), who raced it in SCCA Nationals in 1971, winning his class at Mid-America Raceway in May 1971 and finishing second of ten cars in Midwest Division Formula A that year, qualifying for the SCCA Runoffs. He raced it again in 1972, but only scored two points for fifth in class at Mid-America Raceway in September. He advertised the car in October 1972, and again much later in August 1974, when it was disassembled, and noted that he also had a ZF 5-speed gearbox and a Hewland DG300. Barron, who remembers the car as being '003', sold the Mk 7 to collector and future dealer Chuck Haines, who then lived in Pittsburg, PA. Chuck retained the car for many years. When he advertised it in December 2007 as a LeGrand Mk7A, it was black and wore #88, Gene Forsthofel's racing number in 1970, with 'Plaza Master Tune Up' signwriting from Forsthofel's 1970 sponsorship from that Kansas City company, and also "Team Mgr Don Hawthorne". The car had a chassis plate stating that it was a MK/7A built 12/68 and serial number 008. Some time before March 2013, the car was marked as sold.
Driven by: Gene Forsthofel and Jim Barron. First race: Mid-America Raceway, 5 Jul 1970. Total of 6 recorded races.
Unknown
The 1971 mystery cars
Bruce Eglinton continued to share '002' with Chuck Elliott, and this was presumably the car advertised by LeGrand Race Cars (13213B Saticoy St, North Hollywood, CA) in Competition Press & Autoweek on 12 Jun 1971 as a "race ready" Mk7A. Of the other cars, '001' was with Art Eatman in Texas, 'the Pete Botsford car' had been destroyed, 'the Tom McBurnie car' had vanished from Santa Barbara, and 'the Dave Wolin car' was last seen in the New York area in late 1970. Of the two kit-built cars identified so far, Jim Webber in Sacramento still had his car at the start of the year, and Gene Forsthofel sold his Midwest-based car to Jim Barron.
One mystery appeared in 1971: Joe Simmons of Sherman Oaks, just to the north of Los Angeles, had a LeGrand at the opening race of the Southern Californian regional season. As this was before Webber advertised his car, this is most likely to have been Tom McBurnie's car.
In Washington Region's The Straightpipe newsletter July 1971, Eugene B. Woodruff advertised a "Legrand Mk. 7A FB rolling chassis, 1969 but brand new, never raced." Woodruff (Arlington, VA) had been racing a Lotus Eleven in SCCA Nationals in the late 1960s and would progress to a Royale RP6 in C Sports Racing in 1972 and 1973.
Chassis
History
Current owner
Joe Simmons (Sherman Oaks, CA) raced a LeGrand in the Formula A class in the SCCA National at Riverside in February 1971, the opening National of the west coast season. His car was entered by Import Motor Parts and ran as #28. Unfortunately, Simmons crashed at turn 2 during the race, and the car was "demolished". Nothing more known, but this may have been the ex-Tom McBurnie car.
Driven by: Joe Simmons. First race: Riverside, 14 Feb 1971. Only one recorded race.
Wrecked 1971
1972 onwards
Another mystery Mk 7 appeared in 1972: Don Chab's in Pennsylvania. The location of Chab's suggests strongly that it was Dave Wolin's former car. Chab's car had a Hewland LG500 gearbox and is likely to be the car raced by Ed Lowther in 1973. It is quite likely yo have been the ex-Dave Wolin car.
A later mystery is the 1975 car of Ken Buck, who lived close to the LeGrand factory in northern Los Angeles.
Also, Mark VanLoucks is known to have had a Mk 7 around 1990.
Chassis
History
Current owner
Donald E. Chab (Grove City, PA) advertised a LeGrand Mk7A less engine with or without LG500 on 5 Feb 1972. Nothing more known but given the location, and Dave Wolin's recollection that he sold his car to someone near Pittsburg, this could be 'the Dave Wolin car'. For its likely next owner, see 'the Ed Lowther car', another Pennsylvania LeGrand.
Unknown
Ed Lowther (McMurray, PA) won two SCCA Regionals at Nelson Ledges in September 1972, won an SCCA National at Summit Point 23 Sep 1973 and later finished sixth at the Road Race of Champions Road Atlanta 3 Nov 1973. He advertised his LeGrand ("1973 region and NorthEast Division champion … Chev … LG500 … won 11 or 13 starts") on 29 Dec 1973. Nothing more known.
Driven by: Ed Lowther. First race: Nelson Ledges, 20 May 1972. Total of 7 recorded races.
Unknown
At two SCCA Regionals at Willow Springs in late 1975, Ken Buck (Northridge, CA) raced a LeGrand in Formula A, coincidentally finishing eighth in each race. Nothing more known, but Northridge was a northern suburb of Los Angeles, just ten miles from the LeGrand factory at Sylmar. Buck advertised the car in April 1976, noting that it had a ZF transmission and had been Cal Club co-champion in 1975. He advertised it again in April 1977.
Driven by: Ken Buck. First race: Willow Springs, 5 Oct 1975. Total of 4 recorded races.
Unknown
LeGrands today
The number of Mk 7s built remains unresolved. Allan James' LeGrand Registry allocates the number '003' to 'the Pete Botsford car', '004' to 'the Tom McBurnie car', and '005' to 'the Dave Wolin car', but then adds two or three further cars, including one to Gene Forsthofel and one to a "Phil Smyths". This latter car, which is unknown from race results, was said to have gone to Frank Wright, then Pete Armstrong, then Bill Wiswedel, then Tom Dooley (Scottsdale, AZ), and then to Chuck Haines of Can-Am Cars Ltd. Another document from the Registry partly contradicts this, stating that Dooley bought the car of Scott Dames (Phoenix, AZ). However, Wiswedel recalls this differently. He bought a LeGrand kit in 1980 from someone in Stevensville, Michigan, and sold this car in February 1982 to Chuck Haines. Dooley told Dave Zavetsky that he acquired his LeGrand in Phoenix in September 1997 and sold it to Haines in November 2007. Chuck really has a fondness for LeGrand Mk 7s!
The histories of these cars are complex, and all contain a degree of uncertainty. We can be most confident of the history of 002, owned by 2020 by David Zavetsky, but 'the Gene Forsthofel car' has a solid history from 1970 to 2013. At least two of the Mk 7s were wrecked in period: 'the Pete Botsford car' at Laguna Seca in 1968, and 'the Joe Simmons car' in 1971; but The LeGrand Registry also lists '001' as having been destroyed.
Of the cars that cannot be traced, '001' was last seen Dale Kreider's workshop in St Petersberg in the late 1970s; 'the Tom McBurnie car' was last seen in 1970 (although this car may have gone to Joe Simmons and then been wrecked); and 'the Dave Wolin car' may have gone via Don Chab and Ed Lowther to Chuck Haines, then to Dave Rose, and then to Ray Langston.
A LeGrand Register containing information from the 1990s listed Ken White in New Zealand as the owner of '003', the Tom Dooley '008' and Dave Rose car mentioned above, and two further owners, Tim Joyce and Bill Carlander, both in Florida. Carlander was the person who was restoring Bob Mayer's car about this time.
Chassis
History
Current owner
Acknowledgements
An enormous number of people have help with these histories since 2001, and my apologies if I omit anyone. Firstly, I must thank Wolfgang Klopfer, who researched this period very thoroughly and whose books on F5000 can still be found at all good booksellers. My thanks also to former driver Jerry Entin, Allan James of the LeGrand Registry, former owners Dave Wolin, Jerry Webber, Gene Forsthofel, Jim Barron, Art Eatman, L. Nelson Spohnheimer, Bob Moulton, Chuck Haines, David Rose, Ray Langston, Butch Gilbert, John F Boxhorn and Bill Wiswedel; current owner David Zavetsky, former Botsford mechanic Mike Allison, and to Jacques Dresang, Roger Riekenberg and Walt Taylor.
Please contact Allen Brown (allen@oldracingcars.com) if you can add anything to our understanding of these cars.
These histories last updated on .