LeGrand Mk 7 car-by-car histories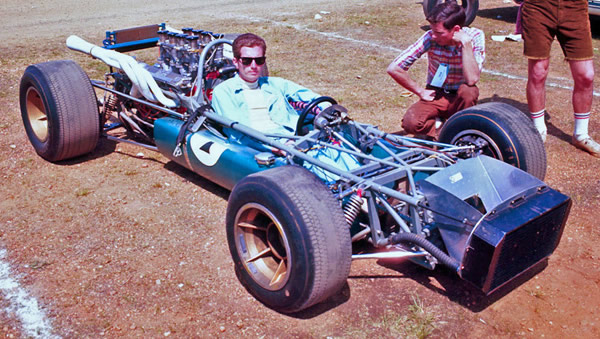 Red LeGrand developed a Formula A version of his successful Formula B car. It was light and very quick, but the FB-based components proved totally insufficient for the highly-tuned ex-Trans-Am 5-litre engines.
LeGrand was the first US constructor to have a car ready for the new 5-litre Formula A in 1968. In the hands of Bruce Eglinton, it won a SCCA National at Las Vegas on 25 February 1968, the first National level Formula A race. With that success, there were a number of orders for 1968, at least three, and possibly as many as seven cars were built in total. The model was originally advertised with Bartz Chevrolet engines and Hewland LG500 gearbox for $12,845. The Las Vegas winner was sold to Don Richardson, but he had dreadful problems with it. A second car was built up but was destroyed while testing at Whitman stadium in June 1968, which left Eglinton in hospital with severe burns. This second car is then said to have been rebuilt and became the works car for Jerry Entin and others.
After that Las Vegas victory, the Mk 7 had limited further success. The highlight of the Pro season was when Sam Posey put Pete Botsford's car on pole at Mosport Park but found the thing so scary that he retired to the pits after a single lap. Dave Wolin has also been highly critical of the car, noting that it flexed badly. Mike Allison, a member of Botsford's crew in 1968, said that Peter Revson 'hated the car in practice due to chassis flex' and Mike also noted that the brakes were 'awful and inadequate'. Don Richardson advertised his prototype car as "1250 lbs of rotting hell". All in all, it is hard to think of a Formula 5000 car that has been the subject of such consistent criticism.
The Formula A car was described as both the Mk 7 and the Mk 7A, the A just denoting that it was a Formula A car. Please contact Allen Brown (allen@oldracingcars.com) if you can add anything to our understanding of these cars.
Chassis
History
Current owner
LeGrand Mk 7
001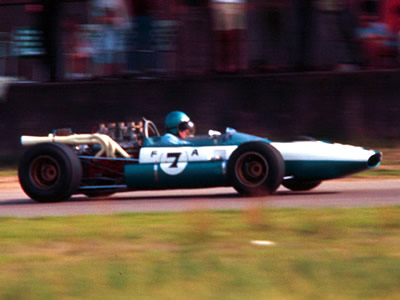 New for Bruce Eglinton to race in the SCCA Regional and National at Las Vegas on 24/25 Feb 1968, retiring on the Saturday but winning on the Sunday. Then sold to Don Richardson (New Orleans, LA) who entered it for Bill Fuller to drive at the opening Pro race at Continental Divide 26 May 1968, but it was very slow and failed to start after the engine blew. Its only known race was when Richardson won a SCCA National at Galveston Airport 7 July 1968, but it was also on the entry list at R8 Laguna Seca 12 October 1968). Advertised by Richardson on 14 Dec 1968 as "1250 lbs of rotting hell", complete with a Chevy running on Webers and Hewland LG500 . There is no sign of the car in 1969 but Richardson advertised it again on 6 Jun 1970. Sold to Art Eatman (Austin, TX) and raced in the SCCA SW Division in 1971, winning the FA class, but he failed to start the Runoffs at Road Atlanta 27 Nov 1971. Art sold the car to Karl Patton (Austin, TX) who planned to add a wing to the nose and use it for autocross. Almost certainly this car advertised by John Anderson (Austin, TX) 5 May 1973. The engine details mention in the advert ('Crane heads, Isky roller') matches that of Art Eatman when he advertised the Richardson car from the same city a year before and is also very similar to the advert by L Nelson Spohnheimer (Plano, TX) in Dec 1973. Walt Taylor recalls all four Texan owners and rates it 'overwhelmingly likely' that they had the same car. He recalls that Anderson used the car just in Autocross or testing. Subsequent history unknown.
Driven by: Bruce Eglinton, Bill Fuller, Don Richardson and Arthur Eatman. First race: Stardust International, 24 Feb 1968. Total of 3 recorded races.
Unknown
LeGrand Mk 7
002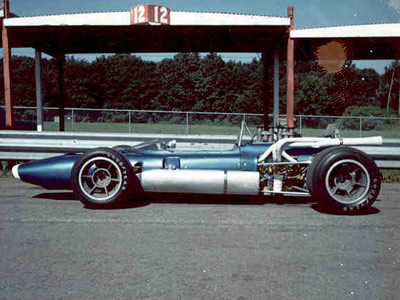 A new car replacing the original works Mk 7 sold to Don Richardson, and shaken down by Bruce Eglinton at Whitman stadium June 1968 where he crashed and was badly burnt. While Eglinton recovered in hospital, Jerry Entin did a deal with LeGrand to race this rebuilt second car in return for a loan of engine and gearbox. The car was built up with a stock Chevrolet Camaro engine, fitted with 48mm Weber carbs by Al Bartz, and a ZF gearbox acquired by Entin from Carroll Shelby. The car used Formula B brakes, and Formula B rear hubs. It was then taken to Road America for the Badger "200" on 27 July 1968, but the the timing gear broke before the race, and Entin did not start. Entin won a National at Riverside in August and two Regionals later in the year. Dick Guldstrand took over the car for the Laguna Seca 'Pro' race in October and it was then driven by Rex Ramsey at the ARRC, and at the Monaco International Trophy in New Zealand at the end of December. Ramsey continued to drive the car in 1969, winning three SCCA Nationals but was well off the pace in Pro races. The car was last seen at Sears Point in June 1969. Subsequent history unknown.
Driven by: Bruce Eglinton, Jerry Entin, Dick Guldstrand and Rex Ramsey. First race: Riverside, 4 Aug 1968. Total of 12 recorded races.
Unknown
Other known 1968 production
Apart from chassis 001 and 002, three more new cars are known to have been sold to Pete Botsford in Bernardsville, New Jersey but originally from Connecticut; Tom McBurnie in Santa Barbara, CA; and Dave Wolin in Buffalo, New York.
Chassis
History
Current owner
LeGrand Mk7
'the Pete Botsford car'
(1968 only)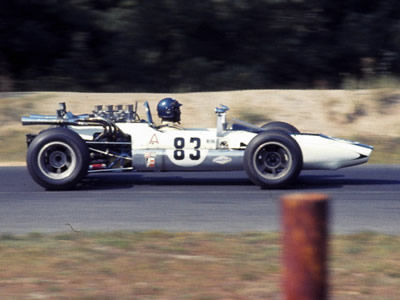 Pete Botsford (Boulder, Col) US 1968: driven by Ron Holmes (DNS at R3 Elkhart Lake 27 Jul 1968), Bob Betts (only at R4 Thompson 18 August 1968), Sam Posey (R5 Mosport Park 25 Aug 1968 and DNS at R7 Brainerd 22 Sep 1968), Peter Revson (DNS at R6 Lime Rock 2 Sep 1968) and Barry Blackmore (DNS at Ken Miles Memorial Race R8 Laguna Seca 12 Oct 1968). Despite Holmes' appearance at Elkhart Lake, the LeGrand was said by Autoweek to be "brand new" when it appeared for Posey at Mosport. Peter Revson was available for the Lime Rock race but hated the car and quickly disappeared when a ball joint failure curtailed practice. Blackmore then drove the car at Laguna Seca and and, in his words, destroyed it in practice. The car was stripped at Red's shop and the carcass towed back to base but Botsford had lost interest in it and the car was not repaired.
Driven by: Ron Holmes, Bob Betts, Sam Posey, Peter Revson and Barry Blackmore. First race: Thompson Raceway (US R4), 18 Aug 1968. Total of 2 recorded races.
Destroyed 1968
LeGrand Mk7
'the Tom McBurnie car'
(1968-1970)
Tom McBurnie (Santa Barbara, CA) SCCA events 1968 with Ford engine. Won SCCA Regionals at Riverside 27 Oct 1968 and at Stardust International 9 Nov 1968. Placed seventh in Road Race of Champions at Daytona 29 Nov 1969. Advertised 23 May 1970, when it was noted as having a Chevrolet engine and Hewland LG600 gearbox. Nothing more known.
Driven by: Tom McBurnie. First race: Riverside, 27 Oct 1968. Total of 3 recorded races.
Unknown
LeGrand Mk7
'the Dave Wolin car'
(1968-1970)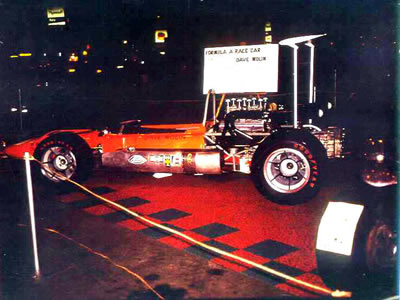 Dave Wolin (Buffalo, NY) as a kit late 1968. Built with Chev engine and used in minor F5000 and in practice for a couple of USAC events with a 320ci Chev. See also Dave Wolin's website. Advertised by Wolin "long wheelbase chassis, Chev, Webers, Hewland" Autoweek 24 Oct 1970 p26. Dave remembers selling it to someone in Pittsburg. Subsequent history unknown but Chuck Haines lived in Pittsburg at that time; he recognises Wolin's name and reckons it is likely that he bought Wolin's car. However, Don Chab owned a LeGrand in 1973, and his home town of Grove PA, is only 60 miles from Pittsburg, so he may have owned it before Chuck Haines. Some years later, probably in the early 1980s, Chuck sold a long wheelbase LeGrand to David Rose (New York) - see the Rose car below.
Unknown
1969
After Pete Botsford's car had been wrecked late in 1968, the other four known Mk 7s were retained by their respective owners into 1969. The works car was raced up to June at least; and the cars of Don Richardson, Tom McBurnie, and Dave Wolin were all still being advertised in 1970.
A further car was advertised by J. Cailahan of E&C Formula Racing (Lompoc, CA) in Competition Press & Autoweek in May 1969. According to myf5000.com's page of LeGrand adverts, it was lacking "tanks, wheels and tires", but had a 5-speed ZF transmission and Airheart "dual spot" brakes. It was "new, never been raced". Is this a sixth Mk 7?
1970
The first unidentified Mk 7 is Chuck Elliott's car, which he raced in SCCA Regionals while a recovered Bruce Eglinton used it in Nationals. The LeGrand Register identified this as the works car, and that makes sense given its location, and the disappearance of that car after June 1969. Gene Forsthofel also appeared with a Formula A LeGrand in a couple of Mid-West Division Nationals in the summer of 1970. The Don Richardson would be sold to Texas in late 1970 or early 1971.
On 21 Nov 1970, Kevin Coan (Natick, MA) advertised a "brand new" and apparantly disassembled "Formula A LeGrand". Is this a seventh Mk 7? Could this be a set of parts intended to rebuild Pete Botsford's wrecked car? Botsford listed his home town in 1968 as Bernardsville, New Jersey, but is believed to have lived in Sharon, Connecticut, where he went to the same school as Sam Posey.
Chassis
History
Current owner
LeGrand Mk7
'the Forsthofel car'
(1970-1971)
Gene Forsthofel (Overland Park, KA) raced a LeGrand in SCCA Formula A at Mid-America Raceway and Olathe Airfield in July 1970. He advertised the car in April 1971 as a "F/A LeGrand Wedge". The car wore #88 in the advert's photograph. Forsthofel moved to a Formula B LeGrand Mk 14 in 1971; then fitted that with a Mazda rotary engine and ran it in Formula A in 1972. In the 1990s, a LeGrand Register was published on the web which listed Forsthofel's car as serial "003", and stated that it was owned by Ken White in New Zealand. White raced such a LeGrand at Whenuapai in 1995. The car was reported to be in the Gary Devon Collection (Auckland, NZ) in 2005.
Driven by: Gene Forsthofel. First race: Mid-America Raceway, 5 Jul 1970. Total of 2 recorded races.
Gary Devon Collection (New Zealand) 2005
LeGrand Mk7
'the Chuck Elliott car'
(1970-1971)
In July 1970, Silvia Triechler's 'Silvia Sez' gossip column in Cal Club's 'Post Grid' newsletter mentioned that Chuck Elliott and Bruce Eglinton would be sharing a LeGrand Formula A car in Regionals and Nationals respectively. Elliott (Playa Del Rey, CA) drove it in a SCCA Regional at Phoenix in September, Eglinton finished second in it at the Riverside National in February 1971, and Elliott also drove it in the Pro race at Riverside in April 1971. The LeGrand Register identies this car as 002. Subsequent history unknown.
Driven by: Chuck Elliott and Bruce Eglinton. First race: Phoenix International Raceway, 26 Sep 1970. Total of 3 recorded races.
Unknown
The 1971 mystery cars
In early 1971, Bruce Eglinton, now recovered from his injuries, continued to share a Mk 7A with Chuck Elliott, and this could be the car advertised by LeGrand Race Cars (13213B Saticoy St, North Hollywood, CA) in Competition Press & Autoweek on 12 Jun 1971 as a "race ready" Mk7A. Three more mysteries appeared in 1971: Joe Simmons had a LeGrand at the opening race of the local regional season; Jim Barron raced a LeGrand at Mid-America Raceway in 1971, quite possibly the car that Gene Forsthofel had raced at the same track the preceding year; and Jerry Webber advertised a Formula A LeGrand from Sacramento in August 1971.
In Washington Region's The Straightpipe newsletter July 1971, Eugene B. Woodruff advertised a "Legrand Mk. 7A FB rolling chassis, 1969 but brand new, never raced."
Chassis
History
Current owner
LeGrand Mk7A
'the Joe Simmons car'
(1971 only)
In February 1971, and the opening SCCA National of the west coast season, Joe Simmons (Sherman Oaks, CA) raced a LeGrand in the Formula A class. The car was entered by Import Motor Parts and ran as #28. Unfortunately, he crashed at turn 2 during the race, and the car was "demolished".
Driven by: Joe Simmons. First race: Riverside, 14 Feb 1971. Only one recorded race.
Unknown
LeGrand Mk7A
'the Jim Barron car'
(1971 only)
Jim Barron (Bragg City, MO) SCCA Nationals 1971 (seen in two races at Mid-America Raceway: 2 May 1971 and 19 Sep 1971). Advertised 28 Oct 1972 (1971?) as "Formula A LeGrand ... invitation to '71 ARRC". Barron advertised this car again in August 1974, when it was disassembled, and noted that he also had a ZF 5-speed gearbox and a Hewland DG300. The DG300 was a much more up-to-date option, suggesting it replace the car's original ZF. Nothing more known.
Driven by: Jim Barron. First race: Mid-America Raceway, 2 May 1971. Total of 4 recorded races.
Unknown
LeGrand Mk7A
'the Jerry Webber car'
(1971 only)
Jerry Webber (Sacramento, CA) advertised a Mk7A-Chev on 7 Aug 1971. Had "5½ total hours of use". This could be 'the Mal Patterson car 'in 1972, as Sacramento is a short drive from Patterson's home town of San Jose. 5½ hours of use is not entirely inconsistent with this being the works car, as SCCA Nationals and Regionals were short races, and it tended to break during longer races. Nothing more known.
Unknown
1972 onwards
Two more mystery cars appeared in 1972: Don Chab's in Pennsylvania and Mal Patterson's in northern California. The location of Chab's suggests strongly that it was Dave Wolin's former car. The best clue to the origins of Patterson's car is that it was fitted with a Hewland LG600, the same as Tom McBurnie's car when it was advertised in mid-1970, and different to the ZF box on the works car when it was last seen. However, Patterson's later advert claimed the car was new for 1970. Chab's car had a LG500 gearbox, and is likely to be the car raced by Ed Lowther in 1973; it is quite probably the ex-Dave Wolin car.
A later mystery is the 1975 car of Ken Buck, who lived close to the LeGrand factory in northern Los Angeles.
Chassis
History
Current owner
LeGrand Mk7A
'the Don Chab car'
(1972 only)
Donald E. Chab (Grove City, PA) advertised a LeGrand Mk7A less engine with or without LG500 on 5 Feb 1972. Nothing more known but given the location, and Dave Wolin's recollection that he sold his car to someone near Pittsburg, this could be 'the Dave Wolin car'. For its likely next owner, see 'the Ed Lowther car', another Pennsylvania LeGrand.
Unknown
LeGrand Mk7A
'the Mal Patterson car'
(1972-)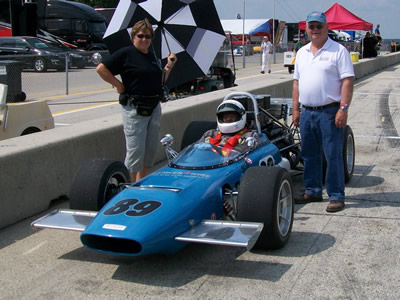 First known when Mal Patterson (San Jose, CA) appeared on the entry list at Laguna Seca 7 May 1972 with the #79 LeGrand Mk 7A. This would be the MS Patterson (San Jose, CA) that advertised a Mk7A on 17 Feb 1973, stating that it was a 1970 car with two races only and a LG600 gearbox. Sold to Ken Owen (Union City, CA) and used in local SCCA racing. Advertised 6 Dec 1975 ('third 1975 NoPac Div') and 13 Dec 1975, again mentioning the LG600 gearbox. According to John Boxhorn, "Owen sold the car to Skip Pack of Hollister, CA in 1977 or 1978" but this may be speculation. Pack and Dennis McLaughlin did own this car, as a bill of sale from Patterson to Owen was with it in 2009, but there may have been other owners between Owen and Pack. David Pozzi recalls that Skip Pack autocrossed a LeGrand at Salinas airport and at Plesanton Fairgrounds in California. Both Pack and McLaughlin autocrossed the car in the late 1970s and early 1980s before they sold it to Butch Gilbert in October 2009. Sold to John F Boxhorn (Mukwonago, Wisconsin) in October 2010. Restored during 2011 and 2012. First tested at Gingerman Raceway (South Haven, Michigan) in May 2013. Run for the first time at HAWK Road America in July 2014. Still owned by Boxhorn in June 2018, but he found it to be undriveable and prefers his Can-Am Lola T163.
Driven by: Mal Patterson and Ken Owen. First race: Laguna Seca, 4 Nov 1973. Total of 6 recorded races.
John Boxhorn (USA) 2018
LeGrand Mk 7
'the Ed Lowther car'
Ed Lowther (McMurray, PA) won two SCCA Regionals at Nelson Ledges in September 1972, won a SCCA National at Summit Point 23 Sep 1973 and later finished sixth at the Road Race of Champions Road Atlanta 3 Nov 1973. He advertised his LeGrand ("1973 region and NorthEast Division champion … Chev … LG500 … won 11 or 13 starts") on 29 Dec 1973. Nothing more known.
Driven by: Ed Lowther. First race: Nelson Ledges, 24 Sep 1972. Total of 5 recorded races.
Unknown
LeGrand Mk 7
'the Ken Buck car'
At two SCCA Regionals at Willow Springs in late 1975, Ken Buck (Northridge, CA) raced a LeGrand in Formula A, coincidentally finishing eighth in each race. Nothing more known, but Northridge was a northern suburb of Los Angeles, just ten miles from the LeGrand factory at Sylmar. Buck advertised the car in April 1976, noting that it had a ZF transmission and had been Cal Club co-champion in 1975. He advertised it again in April 1977.
Driven by: Ken Buck. First race: Willow Springs, 5 Oct 1975. Total of 4 recorded races.
Unknown
LeGrands today
Very little is known about the location of Mk 7s today. Apart from the New Zealand car above, a car appeared at BRIC in 2005, Ray Langson has a car which is believed to be the former Dave Wolin car, Chuck Haines is advertising a car and we also have information from a LeGrand Register maintained in the 1990s.
Also, Mark VanLoucks is known to have had a Mk 7 around 1990.
Chassis
History
Current owner
LeGrand Mk7
'the Dave Rose car'
(1989-)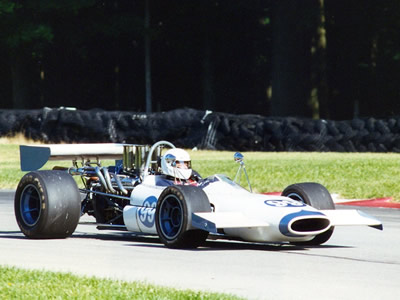 Described in LeGrand Register as a 68 Mk 7. May be the Wolin car. One of two cars Chuck Haines (St Louis) sold to David Rose (NY) in Sep 1989. When purchased the car was red but came without a log book and was also damaged. Cometto Bros (Englewood, CO) made new headers and bodywork for the car. Later sold to Ray Langston (Miami Beach, FL) Oct 1993. Restored and won 1998 HSR Championship for tube-frame cars. Believed to be the only long-wheelbase car, Langston has measured the wheelbase at 95 in, compared with the 90 in mentioned when the car was launched.
Ray Langson (USA) 2004
LeGrand Mk7A
'the John Mayer car'
(2005-)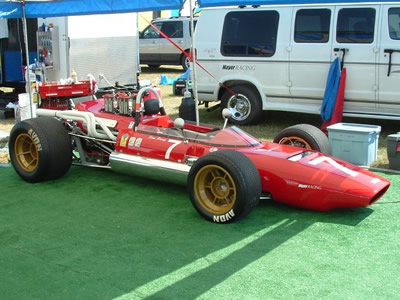 John Mayer's Mayer Racing Team (Chicago) had a red LeGrand Mk7 at the BRIC vintage event at Road America in 2005. it had Sam Posey's name on the side but nothing more is currently known of its history.
John Mayer (US) 2005
LeGrand Mk7A
'the the Chuck Haines "008"'
(2007-)
Chuck Haines has a LeGrand Mk7A that bears a chassis plate stating that it is a MK/7A built 12/68 and serial number 008. Chuck advertised the car in December 2007. It was black with 'Master Tune Up' signwriting and "Team Mgr Don Hawthorne". It wears #88, Gene Forsthofel's racing number in 1970/71. There is a picture on the web that purports to show Forsthofel crashing this car at the 'Sommet des Légendes' in Mont-Tremblant in July 2007. Some time before March 2013, the car was marked as sold.
Chuck Haines (USA) 2007
1990s LeGrand Register (Mk 7/7A entries)
This register was published online some years ago, and appears to be based on information that was current in the 1990s.
| Model | S/N | Class | Yr | Last Known Owner | Location | Active Owner | 1st Owner | Notes |
| --- | --- | --- | --- | --- | --- | --- | --- | --- |
| MK7A | 003 | F5000 | 69 | Ken White | New Zealand | - | Gene Forsthofel | See 'the Gene Forsthofel car' above |
| MK7A | 008 | F5000 | - | Tom Dooley | AZ | X | - | See MK 7A 008 above |
| MK7 | - | F5000 | 68 | David Rose | NY | - | - | See 'the Rose car' above |
| MK7A | - | F5000 | - | Tim Joyce | FL | - | - | |
| MK7A | - | F5000 | - | Bill Carlander | FL | - | - | |
Please contact Allen Brown (allen@oldracingcars.com) if you can add anything to our understanding of these cars.
These histories last updated on .