Lightning 80 car-by-car histories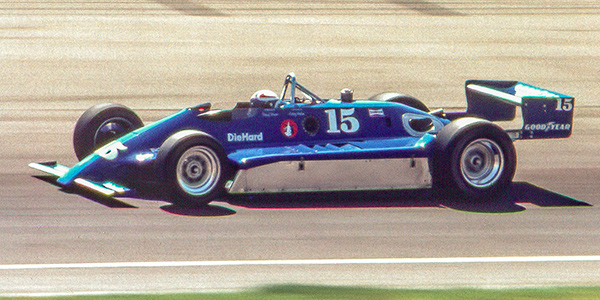 Dave Bruns designed a completely new ground-effect Lightning Indy car for Lindsey Hopkins' team for the 1980 season. It only started six races across four seasons and failed to finish any of them. Hopkins withdrew from Indy racing after the 1981 Indy 500.
After four seasons with the original Lightning design, Lindsey Hopkins decided to invest in a new ground-effect Indy car design for the 1980 season and during 1979 commissioned Dave Klym's FABCAR business in Costa Mesa, CA, to construct the cars. The car was designed by Dave Bruns, who had been responsible for the ADF Formula Ford cars that had won the SCCA Runoffs three times in the 1970s, but his best-known cars began a little later with his revolutionary Swift DB1 Formula Ford in 1983. His Lightning Indy car would follow standard F1 ground-effect principles with a narrow monocoque, wide sidepods with venturi profile, and rocker-arm front suspension. Aerodynamicist Dr Robert Liebeck was also credited.
Janet Guthrie, who had raced in USAC events for Sherman Armstrong in 1980, received further sponsorship from Texaco to cover three races, a NASCAR race at Daytona, a planned USAC race at Texas World Speedway in late April and the Indy 500. Hopkins selected her in to drive the new Lightning, despite the obvious displeasure of Hopkins' regular driver Johnny Parsons Jr. Her sponsorship deal resulted in the car being referred to as a "Texaco Star", although the FABCAR chassis plate included neither a marque name nor a model name, just Hopkins' name as customer. The first car was simply "LHR-001" and would be followed later in 1980 by "LHRB-002" and "LHR-003". Guthrie had the car up to 184 mph during practice for the Indy 500 but the team felt that would not be enough and waved off her first qualifying attempt. After that, ground-effect simply bamboozled the team and Guthrie got progressively slower. Parsons tried the car but blew an engine and Guthrie ran out of time to qualify. She drove the car again at Milwaukee, Texaco deciding to cover this race as the Texas race had been cancelled, but she again failed to qualify and her Indy career was over.
Parsons drove the 1980 Lightning in practice at Pocono, the next race, but hit the wall and destroyed it. A second car was built, and he raced that at Ontario, but used an older Lightning with turbo Chevy engine at other races. Hopkins planned to sell his team after the 1980 season but a sale fell through so he brought the 1979 turbo Chevy and the two 1980 Cosworth Lightnings back to the Speedway in 1981. Gary Bettenhausen was able to qualify one of the 1980 cars but was an early retirement from the race. Hopkins closed down his operation and a few months later handed over the two 1980 cars to Bettenhausen. By November they were based at Bettenhausen's shop in Monrovia, IN, where they would be developed by mechanics Chuck Buckman and Ronnie Breen with the help of GB's twin teenage sons Todd and Cary, and their classmate Kyle Moyer, who would go on to a stellar Indycar career wiuth Penske. Both the cars were entered for the 1982 Indy 500, with Larry Rice pencilled in to drive the backup car once Bettenhausen had qualified. After engine problems almost wrecked the veteran's chances of qualifying, he scraped in on the final day, bumping Chip Mead. Another engine failure in the race brought down the curtain on Hopkins' long career as an entrant at the 500.
Bettenhausen put together a new team for 1983 called American Spirit Racing with John Barnes as crew chief and using the turbo Chevrolet V6 engine in one of the 1980 Lightnings. Funding came from Wayne Hillis and Jack Rogers, who had split with the Provimi team at the end of 1982, and the car was entered as an "H&R Spirit". Larry Rice was again expected to drive a second car, and again never did. Bettenhausen was unable to qualify at the Speedway but did race the cars at two further races, one of them with a normally-aspirated Chevy instead of the turbo. The turbo made one last appearance in the hands of Herm Johnson when he stood in for an injured Bettenhausen at Mid-Ohio. It was the last appearance by a Lightning in Indy racing.
If you can add to our understanding of these cars, or have photographs that we can use, please email Allen at allen@oldracingcars.com.
Chassis
History
Current owner
New for Janet Guthrie to drive as Lindsey Hopkins' #55 Texaco Star entry at the 1980 Indy 500 but she failed to qualify. There were plans for a second car for Johnny Parsons Jr but he was limited to a few laps during practice in Guthrie's car. Guthrie failed to qualify again at Milwaukee a week later, after which her Texaco sponsorship ended and the car was assigned to Parsons to drive at Pocono as Hopkins' #15 entry. He crashed in practice and the car was wrecked.
Driven by: Janet Guthrie and Johnny Parsons Jr. First appearance: Indianapolis Motor Speedway (R2), 25 May 1980.
Wrecked 1980
Manufactured in June 1980 and presumably the car raced by Johnny Parsons Jr at Ontario in October 1980 after he had demolished the first 1980 Lightning in practice at Pocono in June. Raced by Bettenhausen in the 1981 Indy 500 and was then Bettenhausen's backup car at the 1982 Indy 500. This was the car fitted with a twin-turbo Chevrolet V6 and entered as a "Spirit 83" for the 1983 Indy 500 where Bettenhausen made two qualifying attempts but came in both times. It was raced by Bettenhausen at Milwaukee in June but he drove the sister car at Pocono in August. Bettenhausen also practiced the turbo Lightning at Mid-Ohio in September but felt unwell on race day and Herm Johnson was flown in to take over the drive. Then unknown until offered for sale by Chuck Haines (St Louis, MO) still in its 1983 #28 livery.
Driven by: Johnny Parsons Jr, Gary Bettenhausen and Herm A. Johnson. First race: Ontario Motor Speedway (R9), 31 Aug 1980. Total of 4 recorded races.
Chuck Haines (USA) 2015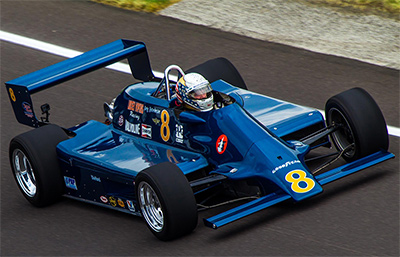 Built in August 1980 to replace the prototype car destroyed by Johnny Parsons Jr in practice at Pocono. This car does not appear to have been at the Indy 500 in 1981, but was one of two cars given by Lindsey Hopkins to Gary Bettenhausen in September 1981. It was Gary Bettenhausen's race car at the 1982 Indy 500 using a Cosworth DFX engine and was then rebuilt for the 1983 season using a 355 ci Chevrolet V8 that Todd Bettenhausen recalls was built by Donnie Ray Everett in Pittsboro, Indiana. Exhibited at the Indy Vintage event in June 2017 when it was owned by Jeff Mendenhall (Greencastle, IN).
Driven by: Gary Bettenhausen. First race: Indianapolis Motor Speedway, 30 May 1982. Total of 2 recorded races.
Jeff Mendenhall (USA) 2017
Acknowledgements
Thanks to Simmo Iskül, 'gbl', Michael Ferner, Simon Hadfield and Ed Brunette for their help on this topic, and to Todd Bettenhausen for his recollections. Autosport gave a brief description of the car (6 April 1980 p5) and other useful sources include the history section of the FABCAR website, photographs of 'LHRB-002' on the Can-Am Cars website, some information about 'LHR-003' from Jeff & Becky Mendenhall's information board, and a George Moore article on Ryan Falconer's turbocharged 209 ci Chevrolet V6 engine which appeared in The Indianapolis Star 19 May 1980 p26.
These histories last updated on .