Lola T153 history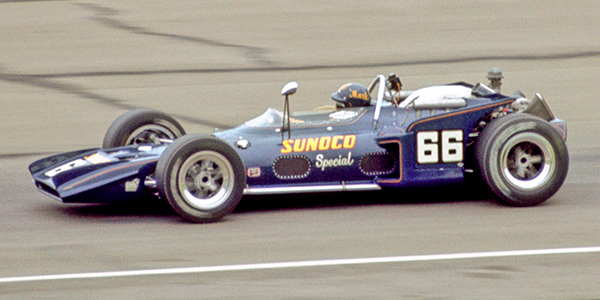 A single Lola T153 with turbo Ford engine was built for Roger Penske's team for 1970, after the conversion of the team's T152 to 2WD proved unsatisfactory. Mark Donohue finished second at the 1970 Indy 500 in this car, but it was rarely used after that.
In 1969, Roger Penske had been an enthusiastic Lola customer for the Lola T70 sports car, Lola T152 Indy car, Lola T163 Can-Am car and Lola T190 Formula 5000, and for the 1970 season bought another F5000 car, a T192, as well as a further Indy car, the one-off Lola T153. The T153 was two-wheel drive of course, as USAC had outlawed four-wheel drive, and was powered by a turbo Ford quadcam engine. The primary focus of Penske and driver Mark Donohue in 1970 was the AMC Javelin they were campaigning in the Trans-Am series, but Donohue had time to drive the team's older Lola T150 road racer in the USAC race at Sears Point in March, taking pole position, and then ran the new T153 at the Indy 500. He qualified well in fifth place and although he couldn't stay with the pace of Al Unser's Vel's Parnelli Colt, Donohue finished in a very impressive second place.
After that Donohue raced the T150 at IRP, but the only other race for the T153 was the California 500 at Ontario in September, where he retired early in the race. Parnelli Jones also got the better of Penske in Trans-Am, where Jones' Ford Mustangs took the title, and Donohue ended the year winning a couple of F5000 races in the T192. Penske and Donohue left Lola after 1970 and bought McLaren M16s for Indy racing in 1971. Donohue raced the T153 at Phoenix and Trenton in March and April, before the McLaren was ready, and it was driven by David Hobbs for Penske in the 1971 Indy 500, qualifying comfortably but crashing out of the race. The Lola was then sold to the team of Leonard Faas and Aggie Agajanian, but it never raced again.
If you can add to our understanding of this car, or have photographs that we can use, please email Allen at allen@oldracingcars.com.
Chassis
History
Current owner
New to Roger Penske, and raced by Mark Donohue at the 1970 Indy 500 as the #66 Sunoco entry, finishing second. Also raced by Donohue at Ontario in September, where Donohue was an early retirement, but he used an older T150 with Chevrolet V8 on road courses. Raced by Donohue at Phoenix and Trenton in early 1971 and then taken to the Speedway as a backup to the team's new McLaren M16. Qualified by David Hobbs but crashed in the race. It was entered at Pocono as a backup, but not used.
The T153 and one of Penske's older Lolas were sold to Leonard Faas, a 57-year-old Syrian from Los Angeles who had made his fortune in insurance. He had been in partnership with J.C. Agajanian in 1970 and 1971, and the pair entered the Lola as #97 at Ontario in September for John Martin to drive. Martin qualified the car but was bumped. Faas and Agajanian then parted company, and Faas entered the Lola as #112 for Martin to drive at Phoenix in October, where he was too slow to qualify. The car was rebuilt as a show car and remained with Faas until it was sold to Chuck Haines in 1985. Haines sold it to John Darlington in June 2003, when it was still in remarkably original condition, and still wearing #112. After restoration by Walter Goodwin's Race Car Restorations, it ran in a demo at the Indy 500 in 2004, and at the Goodwood Festival of Speed later that year. It was present at the Ault Park Concours d'Elegance June 2005, and at the IMS for a vintage display in May 2006. Later on display at the Mark Donohue Tribute Reunion at Road America in 2010. Also at Auto Club Speedway April 2011 but damaged when a right rear tire failed at speed. It appears that the car changed hands at some point after this incident, and when it ran at the Goodwood Festival of Speed in 2015, it was driven by Richard Hamlin. In August 2018, it was auctioned by RM Sothebys at Monterey but did not sell. By March 2020, when it appeared at Amelia Island, it was owned by Craig McCaw (Montecito, CA).
Driven by: Mark Donohue, David Hobbs and John Martin. First race: Indianapolis Motor Speedway (R4), 30 May 1970. Total of 5 recorded races.
Craig McCaw (USA) 2020
Acknowledgements
The research on the Lola T150, T152 and T153 models has been a collaborative effort involving Allen Brown, Michael Ferner, Simmo Iskül, Luis Mateus and another colleague who prefers not to be credited. Thanks also to Gerald Swan at Lola Heritage.
These histories last updated on .