Lola T240 and Lola T242 car-by-car histories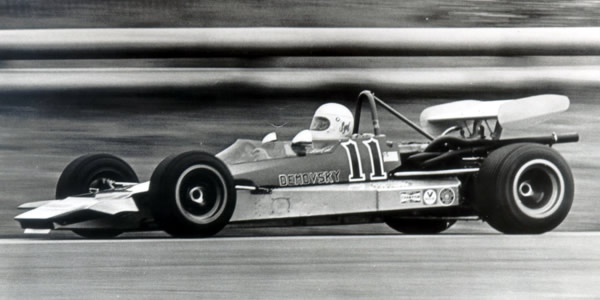 The Lola T240 was built primarily for SCCA Formula B, although a somewhat half-hearted Formula 2 version was produced. It was a big seller in the US.
Lola's US agent Carl Hass had sold over 50 Formula Ford Lola T200s during 1970, and a number of his customers could be interested in a move up to Formula B for 1971, if a suitable car could be made available. Lola's answer was the T240, a dramatic looking car based on a very wide and flat monocoque, with the fuel held in in low sidepods. The car was first seen at the Racing Car Show in January 1971, and although Lola talked of versions for Formula 2, Formula 3 and Formula Atlantic, it was clear that the entire production run was destined for Carl Haas and Formula B.
Lola had been absent from Formula 2 since the Lola T102 design built for BMW in 1968, but Lola's European agent Jo Bonnier was keen to run a car in 1971 for rising star Helmut Marko, who was driving one of Bonnier's Lola T210 sports cars in the European 2-litre championship. There was some discussion of a Chevron B18, but Lola did not want to lose business to their sports racing rivals, so the prototype T240 was converted to Formula 2 specification. It was tested by Frank Gardner at Snetterton at the end of March, but was still completely unsorted when taken to Hockenheim for the F2 race a week later, and its results were poor. Such was Marko's success in sports car racing that he was elevated mid-season to the BRM F1 team, and the F2 Lola was handed back to the factory. Gardner raced it at Hockenheim in October, and got it working better, but the damage to its reputation could not be undone.
In contrast to Marko's experiences, Mike Hiss qualified third and finished second in the T240's first Formula B race. However, after Hiss wrecked his car, the other T240s did not prove to be on a par with the March 71BMs, Brabham BT35s or even Chevron B18s. An improved version, the Lola T242, was released for 1972, but there were few takers. We are still a long way from fully understanding these cars. If you can add any further information, please email Allen.
Chassis
History
Current owner
Unidentified Formula B cars in 1971
Fourteen T240s are listed in Lola records (HU1 to HU15, excluding HU13) and two T242s (HU16 and HU17). All are shown as invoiced to Carl Haas except HU15 which was invoiced to Charlie Hayes on 28 June. Chassis number observations have allowed the first owners to be identified for HU4, HU8 and HU12, and information from the SCCA Logbook has helped with HU1, HU6 and HU15. Former owner Jim Harrell supplied the history for HU17.
That still leaves nine of the original production run that have unknown first owners: HU2, HU3, HU5, HU6, HU7, HU9, HU10, HU11 and HU14. The first owners of these nine cars are likely to be the nine 1971 T240 drivers whose cars are yet to be identified: Mike Hiss, Skipp Walther, Max Mizejewski, Rocky Moran, Chuck Sarich, Jim Sarich, Vincent Dileo, Bill Middleton and Howard Jackson. John Sirmons was partners with Vincent Dileo.
Chassis
History
Current owner
Unidentified Formula B cars in 1972
For the 1972 season, Syd Demovsky retained HU4, Chuck Wannemacher retained HU8 and Quin Calhoun retained HU12. There were also two new T242s which appear to have gone to Tom Fraser and Jim Harrell. Of the unidentified T240s, Howard Jackson, Vincent Dileo and Bill Middleton retained their cars, Rocky Moran's went to Bill Bachman, and Max Mizejewski's appears to have gone to Brooks Frybarger and then onto Charlie Powell, but Skipp Walther, and Chuck and Jim Sarich all appear to have sold their cars.
One of those three unidentified T240s from 1971 that cannot be traced into 1972 must logically be HU15, originally canary yellow, which was bought by Ted Titmus for 1972. Also one of the Sarich cars went to Jim Harrell but that was quickly traded back to Carl Haas so could well have been resold before the regular season began, and there is some suggestion that it went to Bob Lillquist. Finally we have to add HU1 to the mix as that was sold to the US in early 1972 and was with Jeff Overleese in 1972. So that leaves two T240s unaccounted for early in 1972.
New Lola T240 owners in 1972 whose cars cannot be identified include Chris Gleason, Lee Pitman, Cliff Phillips, Joe Shepherd and Bob Lillquist. Lillquist was from Florida but was temporarily resident in the Midwest, and bought a Lola from Carl Haas before returning to Florida. He appeared at a Midwest Council event in July 1972, but did not start the race.
Older Lolas complicate the picture in 1972. Alex Yerkes scored a point in Southern Pacific Division and Bud Rude two points in Northern Pacific Division, both in Lolas of unknown vintage. Another FB Lola driver mentioned here for purposes of elimination was Gerald Hudson who scored three points in Midwest Division in the ex-Brian Cullen Lola T60.
Chassis
History
Current owner
Formula B Lola T240/T242s in 1973
For 1973, Jeff Overleese retained HU1, Ed Kasprowicz bought HU8, and Carmon Solomone bought HU12. Rocky Moran, Howard Jackson, Vincent Dileo and Chuck Powell all retained their cars, although Powell's was wrecked in February and Jackson's destroyed in June. Ted Titmus only had HU15 at the very start of the year, and Tom Fraser's HU16 was also only seen at the very start of the year. J. Lewis Cooper apparently bought HU17, but what he did with it is unknown. Syd Demovsky's HU4 went missing, as did the unidentified car of Bill Middleton. From the 1972 unidentified cars, Lee Pitman, Cliff Phillips and Bob Lillquist all retained their cars into 1973, and Joe Shepherd's car went to George Herscher in West Virginia, but Jim Harrell's T242 went missing almost immediately.
So that's somewhere between five and seven T240s that we cannot track from 1972 to 1973. Two of these, HU4 and HU5, can be explained by a Charlie Hayes Racing Equipment invoice dated 14 July 1973 when he sold both cars to Eric Steele of Formula Cars Inc in Mansfield, Ohio. They are believed to have been intended for a racing school at Mid-Ohio. Two new T240 drivers appeared in 1973: Carl McIntyre, who probably acquired the ex-Bill Bachman T240, and John Kowalski (Cleveland, OH), who may have driven the ex-Demovsky HU4, although that would contradict the Charlie Hayes/Eric Steele invoice.
Relatively few T240s appeared in Divisional FB points tables in 1973. Lillquist was third in SEDiv with 19 points. In CenDiv there were four T240s, with Jackson scoring six points, Kasprowicz four, Solomone three and Cliff Phillips one point in his mystery car. In MWDiv, McIntyre finished third with 15 points, Bachman scored four in what we suspect was the same car earlier in the year, and Gerald Hudson also scored four in his T60. In Southern Pacific, Pitman scored one point in his regular T240. No Lolas appeared in the points tables for NEDiv, SPDiv or SWDiv.
Chassis
History
Current owner
John Kowalski (Berea, OH) raced a Formula B Lola T240 in SCCA Regionals in 1973. Bobby Rahal recalls racing against Kowalski and that his T240 was red. He advertised it in January 1974 from Cleveland, OH, noting an "immaculate stiffened chassis". Kowalski later acquired Tom Klausler's Brabham BT38 for 1975, and then replaced that with Bill O'Connor's Lola T360 for 1976.
As Kowalski entered his car as #11 and it was red, it is likely to have been the car raced by Syd Demovsky in 1971 and 1972. See Lola T240 HU4.
Driven by: John Kowalski. First race: Blackhawk Farms, 1 Jul 1973. Only one recorded race.
Unknown
Carl McIntyre (Boulder, CO) raced a Lola T240 in MWDiv in 1973, finishing third in the division with 15 points. Geography and a common entry number (#70) would suggest this was the car raced by Bill Bachman (Boulder, CO/Nederland, CO) the previous year and then quite possibly became the car driven by Bob Young in 1974. Nothing more known.
Driven by: Carl McIntyre. First race: Hutchinson Naval Air Station, 15 Jul 1973. Total of 5 recorded races.
Unknown
Formula B Lola T240/T242s in 1974
In 1974, Bob Young (J. Robert Young) won MWDiv in his Lola, believed to be a T242. In CenDiv, Ed Kasprowicz scored 19 points in his T240, George Herscher scored six in his T240, and Joe Hill scored two points in his Lola T242. In SEDiv, Bill Hartman scored points in FB with a Formula Ford Lola T200 and Shelley Marrs with a FSV Lola, but former SEDiv T240 racer Bob Lillquist was now racing a Lola in Formula Ford. No Lolas appear in the points tables for NEDiv, SWDiv, NPDiv or SPDiv.
Chassis
History
Current owner
J Robert Young (Snowmass Resort, CO/Glenwood Springs, CO) won MWDiv in 1974 in his Wagnon-Coulter Lola, identified at the Runoffs to be a T242. This could be the T240 raced by Carl McIntyre from nearby Boulder, CO, the previous year. Young moved up to a new Lola T360 for 1975, and advertised the T242 in April 1975. Later in 1975, it was bought from Bob and Don Preston by James Maetzold (Valley Centre, KS), who raced it in 1976 in SCCA Regionals and then SCCA Nationals. He upgraded to a Lola T360 for 1977 but still had the Lola T242 when he advertised it in October 1978. Maetzold recalls that he sold the T242 to someone in Michigan. Subsequent history unknown.
Driven by: J Robert Young and James Maetzold. First race: Hutchinson Naval Air Station, 9 Jun 1974. Total of 12 recorded races.
Unknown
Joe Hill (Westerville, OH) scored two points in Central Division Formula B in 1974 in a Lola. In February 1975, Hill advertised a Lola T242 with fresh Hart twin cam engine. Nothing more known.
Driven by: Joe Hill. First appearance: Mid-Ohio, 1 Sep 1974.
Unknown
Formula B Lola T240/T242s in 1975
In 1975, Ed Kasprowicz soldiered on in CenDiv with his T240 and scored seven points. Bob Young won MWDiv again but had sold his T242 and now had a new Lola T360. Gerald Hudson still had his old Lola T60 in MWDiv but it now ran in FC. Jay Quinn (Salt Lake City, UT) advertised a Lola T240 in Autoweek 1 Feb 1975 p31, and in the same edition were Joe Hill advertising his mystery T242, and Jeff Overleese (Clinton, IL) advertising the ex-F2 car HU1. No Lolas appear in the points tables for NEDiv, SEDiv or SPDiv and the only Lolas in SWDiv and NPDiv were T360s.
Chassis
History
Current owner
Bob Welch (Alexandria, VA) raced a Lola T240 in Formula C in 1975 and 1976. Nothing more known.
Driven by: Bob Welch. First race: Lime Rock, 1 Sep 1975. Total of 10 recorded races.
Unknown
Robert Jones (Tipp City, OH) drove a Lola T240 in SCCA Central Division Formula B races in 1975 and 1976. He advertised the car in Formula magazine in February 1977, when it still had a Hart twin cam engine. He raced it again later in 1977, appearing in a Mid-Ohio Regional in June. Nothing more known.
Driven by: Rob Jones. First race: Indianapolis Raceway Park, 21 Sep 1975. Total of 4 recorded races.
Unknown
Formula B Lola T240/T242s from 1976 onwards
Chassis
History
Current owner
George Roth (Chicago, IL) drove a Lola T240 at the June 1976 Road America June Sprints but failed to start the race. In September 1978, he advertised the car in SCCA Chicago Region's "Pit Patter" newsletter saying that the head was "off for valve job" and that he had "lost interest". Subsequent history unknown.
Driven by: George W. Roth. First appearance: Road America, 6 Jun 1976.
Unknown
Harold Schafke exhibited his Lola T240 at New York Region's car show at Columbia Mall, Maryland, in January 1976. He later won his class at North Carolina Region's SCCA National at Charlotte on 13 Jun 1976, but as the only other FB car present failed to start, Schafke did not score points. Nothing more known.
Driven by: Harold Schafke. First race: Charlotte Motor Speedway, 12 Jun 1976. Total of 2 recorded races.
Unknown
In addition to the above, unknown Lola T240s were driven by Ken Rochocki and Walt Modelski.
Of the cars used in historic racing, Bob Juggins' car was reported in 1996/97 to be HU4, Rick Carlino's was reported in 2007 to be HU11, Kim Baker had HU12 in 2013, and Tim Barrington raced HU5. Ken Rochocki, who died in August 2019, also owned two T240s that had not been unidentified.
Acknowledgements
Chris Townsend has done a huge amount of work on these cars, and his ongoing research is still being integrated into this page. Other T240 drivers that he has uncovered include Tommy Fennell (Highland Park, IL) in 1977, Alex Davis (Houston, TX) in 1980, Jonathan Wolken (Roxbury, CT) and Joe Novak (Bridgeview, IL) in 1981, and Steve Hartgraves in California in 1984.
Thanks also to Tom Erwin for his period notes on US Lolas, to Jeremy Jackson, and to owners and former owners Gary Powell, Charlie Warner, Tom Frasca, Mike Winn, Jim Harrell, Alex Penrith, James Maetzold, Tom Fraser and John Herscher. Thanks also to Bobby Rahal and Sam Brown for their recollections of T240 drivers.
These histories last updated on .