Lola T270 car-by-car histories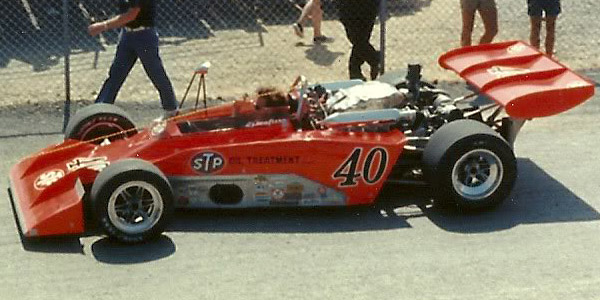 Lola's new Indy car design for 1972, the T270, had the misfortune of being pitched against the McLaren M16B and the new 1972 Eagle. Neither of the teams that ran T270s in 1972 continued through 1973, so all three cars had very early retirements from racing.
Lola had not built any new Indycars in 1971, as principal customer Roger Penske had defected to McLaren, and George Bignotti at the Vel's Parnelli team had already moved on from the design of the T150 series of cars with the Colts with which Al Unser had won the Indy 500 in 1970 and 1971. However, Lola's successes in Can-Am meant the company was very highly regarded in North America, and at the end of 1971, Eric Broadley received expressions of interest from two Indy car team owners, Gene White and Andy Granatelli. White had generous funding from Firestone, and had split from crew chief Dave Laycock, who had built Brabham-based Mongoose cars for White's driver Lloyd Ruby in the previous four seasons. For 1972, White was funding the production of new Atlanta cars, copies of the highly successful McLaren M16, and as an insurance policy he also approached Lola to build a new car. As CEO of STP, Granatelli also had generous funding, but had just endured two rotten seasons with McNamara cars from Germany, and had lost star driver Mario Andretti to the Vel's Parnelli team. Granatelli was starting afresh for 1972 and after finding that he would not be allowed to run a Wankel rotary engine, nor could he get the parts for the old Novi engine, ordered a Lola T270 for veteran driver Art Pollard.
The new Lola was a fairly conventional car, credited to Broadley and Bob Marston, with an aluminium monocoque ending behind the driver, and the Ford V8 engine supported by two tubular A-frames. Suspension was standard, with outboard springs all round, as were the brakes which were inboard at the rear and outboard at the front. The bodywork, however, gave the car a quite dramatic look, as it incorporated a full-width nose with prominent longitudinal strakes on the top surface, which had demonstrated significantly greater downforce in Specialised Mouldings' wind tunnel. Behind the front suspension, the bodywork flared out to the maximum allowed width, with the side-mounted water radiators and single oil radiator situated back near the engine, and ducted along the lines of the successful Can-Am Lola T260 from 1971. The gearbox was a Hewland LG600.
The project was not announced until the first car was shipped to US agent Carl Haas in early April 1972. Two weeks later, Granatelli announced that he had bought a Lola T270 for Pollard to race, and that brother Vince Granatelli would run the car from the team's Santa Monica workshop. George Woodward and Jim Chapman were Lola's representatives at the Speedway, and were looking after Gene White's car, while Lola development driver Frank Gardner was shipped out to Ontario Speedway to do initial testing with the Granatelli car in early May. After qualifying well on the third row, Pollard crashed heavily on 16 May after a rear wheel hub broke, leaving him with a broken leg that would put him out of the race, and the Lola completely wrecked. The car was quickly rebuilt on a new chassis flown in from England and was ready in time for Wally Dallenbach to drive it in the Indy 500, starting from the back of the grid. Dallenbach had qualified for the race in an old Eagle but was bumped by - ironically - one of Gene White's Atlantas, so was available to stand in for the injured Pollard. Meanwhile, Ruby tried Gene White's T270 during practice but preferred to focus on the Atlanta, so journeyman racer Sammy Sessions was strapped into the Lola and easily qualified it, finishing fourth in the race.
Ruby then drove the Gene White Lola at Milwaukee, and Dallenbach drove the STP T270 at Michigan, finishing impressively in second place. They both drove the T270s again at Michigan, where Ruby damaged his. The next race for the T270s was the California 500 in September, where Ruby demonstrated the design's potential when he recorded the fastest time on the second day of practice. A third Lola was present at this race, as a recovered Art Pollard was driving a newly-arrived T272, a modified design with updated suspension and an extra fuel tank on the left side of the car. However, even with three T270s now running at each race, results were mediocre and the Lola was not on the pace of the McLarens or the new 1972 Eagles. After spending over $750,000 and not winning a single race, Gene White pulled out of racing at the end of 1972. Andy Granatelli continued into early 1973 but then transferred STP's funding to Pat Patrick's team, with the Lola T272 only making a couple of appearances in 1973. Andy's brother and long-time STP chief mechanic Vince Granatelli ran the T272 for Graham McRae to drive in the 1973 Indy 500, and later ran the third Patrick Racing Eagle for McRae in the 1973 California 500.
The Patrick Racing sponsorship immediately paid off for STP, as Gordon Johncock won the 1973 Indy 500, adding to Richard Petty's win in the Daytona 500 earlier in the year in his STP-sponsored stock car. STP was also active in other sports, sponsoring March's Formula 1 and Formula 2 teams. Largely by force of personality, Andy Granatelli had built up STP sales from $9m to $100m during his time as CEO, but STP's earnings were no longer keeping pace with the sponsorship outlay, and in late September, STP's majority owners Studebaker Worthington dropped Granatelli and replaced him with the much less flamboyant John Jay Hooker. The Granatelli era in US motor racing had come to a close.
If you can add to our understanding of these cars, or have photographs that we can use, please email Allen at allen@oldracingcars.com.
Chassis
History
Current owner
New to Andy Granatelli's STP, and delivered in mid-April 1972 to Vince Granatelli's workshop in Santa Monica, CA. Entered for Art Pollard as the #40 STP entry at the 1972 Indy 500, but just after qualifying he crashed heavily, resulting in a broken leg and an extensively damaged Lola. The car was rebuilt in England with a new monocoque and returned to Indianapolis in time for Wally Dallenbach to drive in the race. Dallenbach then drove the car at Michigan, where he finished second, Pocono, Ontario, Trenton and Phoenix. This car was not raced again and, like the T272, was used as a show car by STP. In 1977, it was loaned to the Chicago Museum of Science and Industry, and has remained on display in the museum ever since. The car was still in the museum in November 2019.
Driven by: Art Pollard and Wally Dallenbach. First race: Indianapolis Motor Speedway (R3), 27 May 1972. Total of 6 recorded races.
Chicago Museum of Science and Industry (USA) 2019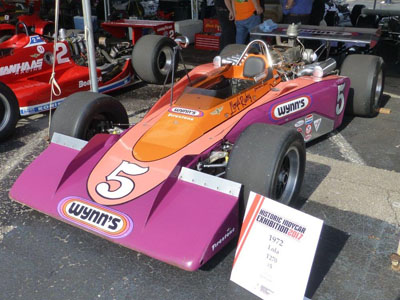 New to Gene White's team, intended as a backup car for driver Lloyd Ruby to the new Atlantas that were being built in the team's workshop. Entered at the 1972 Indy 500 as the #52 Wynns Gene White Firestone car, managed by John Laux. After Ruby chose to concentrate on the Atlanta, Sammy Sessions qualified the Lola and went on to finish fourth. Ruby then raced the Lola at Milwaukee, and after he wrecked his Atlanta at Michigan, raced the Lola at Pocono, where it was also damaged. Ruby was fastest in the Lola on the second day of practice at Ontario, and then stayed with the Lola for the rest of the season. His best result was seventh at Phoenix. Gene White's team was disbanded at the end of 1972, and the cars were put up for sale. The subsequent history of the Lola is not known, but in May 2017, collector Kenneth Keilholz (Cincinnati, OH) had a Lola T270 at the Indianapolis historic event, wearing #5 and in Ruby's Wynns livery.
Driven by: Sammy Sessions and Lloyd Ruby. First race: Indianapolis Motor Speedway (R3), 27 May 1972. Total of 6 recorded races.
Kenneth Keilholz (USA) 2017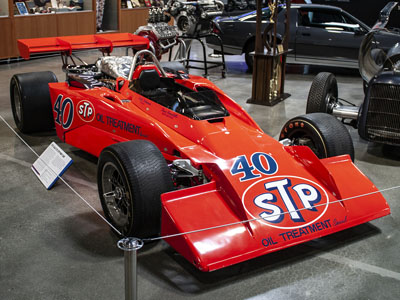 New to Andy Granatelli's STP in time for the California 500 at Ontario in September 1972, where it was raced as the #20 entry by Art Pollard. According to Lola records, this was designated a T272 and had modified suspension. Pollard raced this car again at Trenton and Phoenix, and also at Texas World Speedway at the start of the 1973 season. STP then decided to back the Patrick Racing team, and the final appearance of the Lola was in practice at the 1973 Indy 500, where Graham McRae drove it before being moved to one of the Patrick Racing Eagles. The car was retained by STP and used as a display and promotion car around the Midwest for a number of years. In 1977 it was loaned to the Briggs Cunningham Museum (Costa Mesa) but it is unclear what happened to it after that museum closed in 1987 and most of its collection was acquired by the Miles Collier Collection in Florida. In 2011, the T272 was reported to have been loaned by Andy Granatelli to a museum in Kokomo, Indiana. By early 2018, it was on display in the World of Speed Museum in Wilsonville, Oregon. A car in #40 STP livery on display in the World of Speed Museum (Wilsonville, OR) in January 2020. By September 2021, it was in the Indianapolis Motor Speedway Museum.
Driven by: Art Pollard and Graham McRae. First race: Ontario Motor Speedway (R8), 3 Sep 1972. Total of 4 recorded races.
Indianapolis Motor Speedway Museum (USA) 2021
Acknowledgements
The Lola T270 was described in Autosport 13 April 1972 p2. My thanks to researcher Luis Mateus, to Gerald Swan at Lola Heritage, and Ian Blackwell for his photographs.
There has been a degree of uncertainty over which team had HU1 and which had HU2, as Lola records show both cars going to US agent Carl Haas. The Gene White team were the first to be mentioned in connection with the T270, which has led some authorities to identify the Gene White car as the first one built. However, Lola records show a date of 10 April 1972 against HU1 and 25 April 1972 against HU2. Newswire reports published on Tuesday 18 April 1972 said that the Granatellis' car had arrived in their workshop in Santa Monica "last week", indicating an arrival date between 11 April and 15 April, which can only be HU1.
If you can add to our understanding of these cars, or have photographs that we can use, please email Allen at allen@oldracingcars.com.
These histories last updated on .