Lola T350 and Lola T360 car-by-car histories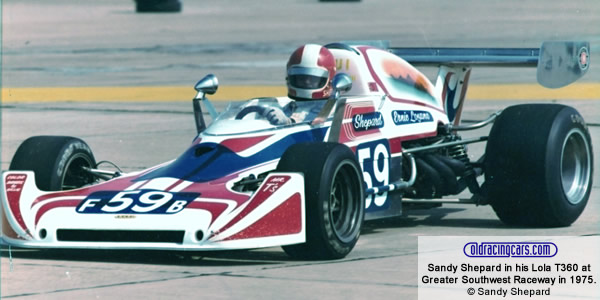 The Lola T360 was Lola's 1974-1975 Formula Atlantic car, building on the success of the company's FSV and FF designs in the US. A Formula 3 derivative, the T350, was not a success and was converted to T360 specification.
Lola had a great deal of success in US road racing in the early 1970s, both with their large Can-Am and F5000 cars, as well as at the smaller end with Formula Ford and Formula Super Vee. American agent Carl Haas sold huge numbers of these cars, including 54 T200 Formula Ford in 1970 alone, and 23 T250 Formula Super Vee in 1971. The last Formula Atlantic model had been the 1972 T240, built for F2 and F/Atlantic, but although successful at Division level, it achieved little in the two Pro series. In 1973, Haas sold 17 of the latest Formula Super Vee, the T320, and such was its success that another 12 updated T322s were sold for 1974. Also in 1973, Lola started work on a new design for Formula 3 and Formula Atlantic, categories then dominated by March Engineering's products. The Formula Atlantic T360 was the priority, as Carl Haas would be able to sell it in significant numbers, and the F3 version, the T350, followed later.
The product of Lola boss Eric Broadley and his Chief Engineer Bob Marston, the T350/T360 was similar to the T322 FSV, consisting of a three-quarter monocoque of L72 and NS4 aluminium alloy, with a sub-frame at the back allowing the engine to be a semi-stressed member. Suspension was entirely orthodox, with double wishbones and outboard springs at the front, and reversed wishbones, radius rods and outboard springs at the rear. A full-width nose, not dissimilar to that the the 1973 March 732 and 73B, housed the main radiator. It was fitted with the Hewland FT200 gearbox.
Carl Haas was a bit busy selling a staggering 71 Formula Ford Lola T340s in the American market, but the FF model had been available from November 1973, whereas the T360 did not make its first appearance until April 1974, and only started to show potential when Richard Scott put the works development car on the front row at Silverstone in May. Two cars were then ordered by the Traylor Engineering pairing of Bill O'Connor and Tom Klausler, and the talented Klausler won first time out in the Players Canadian series race at Gimli in June. Further Haas sales were made to top Canadian Gary Magwood, with a number more being readied for the 1975 season. Klausler won two rounds of the Canadian series, but as his car had not been ready until June, he narrowly lost the title to Bill Brack. However, Klausler then won the major non-championship Pro races at Road America, Trois-Rivières and Waterford Hills to end 1974 as the fastest driver in Formula Atlantic. Teammate O'Connor also won the high-profile US GP support race in his T360. Meanwhile, sales in the UK were limited to just Nigel Clarkson, although Lola loaned out the development car to Ken Bailey and later to Ted Wentz.
Klausler got a new T360 for 1975, one of ten that practiced for the opening race of the 1975 Players Canadian series, including the two-car Bill Scott Racing team of FSV alumni Howdy Holmes and Elliot Forbes-Robinson, as well as two future stars in Bobby Rahal and Tom Gloy. In a highly competitive year with Lola, Chevron and March very closely matched, "EFR" won two rounds, and Klausler had a string of podium finishes which left him third in the championship. There were no 1975 sales in the UK, where Nick May had the ex-Clarkson car and Ted Wentz contined with the works development car, winning one race and generally being near the front of the field. Late in the season, after Roy James had written off the works car in a test, Ted Wentz was loaned the "1976 prototype" T360 for the last few races.
A new T460 design was sold in 1976, and the American T360s moved down into SCCA Divisional level, winning Central and Midwest Divisions in 1976. In the UK, Tony Trimmer won the opening two round of the 1976 Indylantic series in the works development car, but it was then sold to Mike King, who was unable to repeat Trimmer's performances.
Chassis
History
Current owner
The 1975 mystery cars
At the Trois-Rivières street race at the end of August 1975, which was after the end of the Players season, two Canadians appeared with unidentified T360s, David Westgate and Jacques Desjardins. One of these could have been Robert Joubert's HU21, as Joubert did not race at Trois-Rivières and his teammate Dave Walker drove Joubert's converted T350. Chris Townsend points out that Jacques Desjardins' car was reported to have a Nicholson BDA, which were very rare in Canada in 1975. Joubert's team had used Nicholson BDAs, suggesting Desjardins had acquired or hired Joubert's HU21. However, the history given for HU21 by later owners suggests Westgate was involved with it.
If one of these newcomers was using HU21, what was the other using? Not Rahal's HU9, Holmes' HU10, Forbes-Robinson's HU11, Klausler's HU12 or Gloy's HU16, as all were in the same race. Gary Magwood's HU6 based in Toronto, and Allen Karlberg's HU14 in Washington state can be discounted as both Magwood and Karlberg are sure their cars were never hired out. HU5, HU7 and HU18 were in England. That leaves Mike Hall's HU2 and Bill O'Connor's HU3, both of which were at Brainerd a week later, the mystery HU4 in California, Robert Young's HU8 in Colorado, the Pierre Phillips/Tom Weichmann HU15 in Washington state, and Sandy Shepard's HU17 down in Texas. None of these six seem very plausible hire deals.
That only leaves two other possibilities: the two Bill Scott Racing cars usually driven by Fred Philips and Bill Scott. Both missed Trois-Rivières but were at Brainerd, allowing for a one-off hire deal at Trois-Rivières, but if that had been the case, the cars would have been expected to run with the usual numbers. Both Desjardins (#87) and Westgate (#71) ran with numbers that had not previously been used in the series. Westgate's car was later entered by him for Victor Larose in 1976, so could not have been a hire deal in 1975. To make it even more complicated, Desjardins later advertised two Lola T360s in 1976, suggesting these two cars stayed together. Could Desjardins and Westgate have bought both Joubert's cars, leaving Walker, who was in town anyway, to hire another T360?
Chassis
History
Current owner
Jacques Desjardins (Ste-Thérèse, Quebec, Canada) raced a Lola T360 at Trois-Rivières in August 1975, and at Road Atlanta in April 1976. In December 1976, Desjardins advertised two March 75Bs and two Lola T360s. He advertised all four cars again in April 1977. Nothing more known.
Driven by: Jacques Desjardins. First race: Trois-Rivières, 31 Aug 1975. Total of 2 recorded races.
Unknown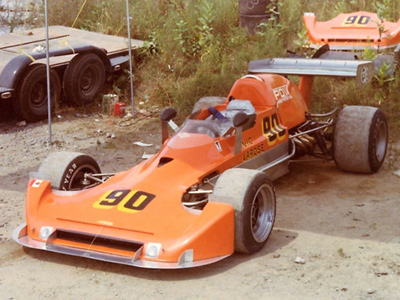 David Westgate (Sainte-Thérèse, Quebec, Canada) raced a Lola T360 at Trois-Rivières in August 1975. In 1976, Westgate entered a T360 for Victor Larose (Mount Royal, Quebec) at Mont-Tremblant, Mosport Park and Trois-Rivières. Nothing more known.
Driven by: David Westgate and Victor Larose. First race: Trois-Rivières, 31 Aug 1975. Total of 4 recorded races.
Unknown
The 1976 mystery cars
It appears that 21 T360s were built, with chassis numbers running from HU1 to HU22, but excluding HU13. Additionally, a car was sold in parts that is known only as 'AU1', but HU19 does not appear in Lola records. Also included here is the Lola T350, which had been rebuilt by Lola to T360 specification and sold to Robert Joubert with T360 HU21. By the end of 1975, HU1, HU6, and HU7 had been destroyed, leaving a total of 19 T350/T360s remaining.
Fourteen of the T360s can be tracked through the 1976 season: Mike Hall retained his ex-Tom Klausler HU2 unused; Bill O'Connor's HU3 went to John Kowalski; the puzzling HU4 was with Jon Norman; Nick May's ex-Nigel Clarkson HU5 went to Brian Robinson; HU8 was retained by Robert Young; Bobby Rahal's HU9 went to George Herscher; the Elliot Forbes-Robinson BSR HU11 went to John Weakley; Tom Klausler's HU12 went to Tom Price; Allen Karlberg's HU14 went to Larry Bergman; Tom Weichmann's HU15 went to Sans Thompson; Tom Gloy's HU16 went to Phil Threshie; Ted Wentz' HU18 went to Tony Trimmer; Fred Phillips's HU20 was retained; and the 'AU1' mystery was still in Australia.
The five cars that are not known after the end of 1975 are Howdy Holmes' BSR HU10; Robert Joubert's HU21 and also his T350 HU1; and Bill Scott's HU22, although the latter may have stayed with BSR in early 1976. Also, Sandy Shepard's HU17 was traded back to Carl Haas around May 1976.
The two late-1975 mystery cars of David Westgate and Jacques Desjardins remain unresolved, to which can be added the two unresolved T360 owners in 1976 identified so far, Joe Colantonio and James Cushing. Joe Colantonio is likely to have bought the Howdy Holmes BSR HU10, and Cushing is likely to have been driving Tom Price's ex-Tom Klausler's HU12.
Chassis
History
Current owner
Kurt Buess (Gelterkinden, Switzerland) raced a Lola T360 in Swiss championship events in 1976 and 1977, and in French hillclimbs in 1977 and 1978. The car was fitted with a Cosworth BDH engine and ran in the 1300cc class. In July 1978, the engine was changed to a 2-litre Cosworth BDE. Last seen at Dunières in July 1978. By 1980, Henri Petitjean (Liestal, Switzerland) was racing a Lola T360, and he may well have had it the season before. He raced it in 1980 with a 1600cc engine, and was then said to be using a 2-litre BMW in 1981. He crashed heavily at Wissembourg in July 1981, hitting a stone bridge, and did not race again. After his death in 2016, his obituary said that he had raced the Lola T360 from 1979 to 1981, at first with a 1300cc engine and later with a 2-litre engine. Given the severity of the accident, it is assumed this car no longer exists.
Driven by: Kurt Buess and Henri Petitjean. First race: Dijon-Prenois (R1), 11 Apr 1976. Total of 33 recorded races.
Wrecked 1981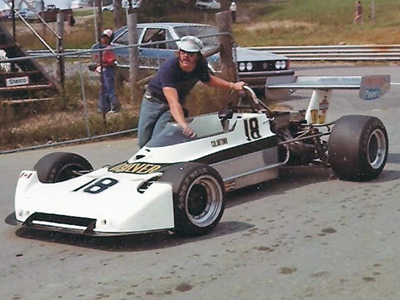 Joe Colantonio (Glenolden, PA) raced a Lola T360 in the Players Canadian Formula Atlantic series and the IMSA Formula Atlantic Championship in 1976. His car was white with a black stripe, and carried support Dynacord and Barcus Berry. In May 1977, he advertised the car, noting that it had a new monocoque in April 1977 and had been "completely gone over". Subsequent history unknown.
Driven by: Joe Colantonio. First race: Road Atlanta (R1), 11 Apr 1976. Total of 4 recorded races.
Unknown
James Cushing raced a Lola T360 at the Road Atlanta IMSA race in April 1976 and at an SCCA National at Road America in June 1967. At Road America, he was entered as #67, so it is likely that he was driving the T360 HU10 that Tom Price raced in Midwest Council events that season.
Driven by: James Cushing. First race: Road Atlanta (R1), 11 Apr 1976. Total of 2 recorded races.
Unknown
The later mystery cars
Chris Townsend's research has discovered a few more Lola T360 drivers, about which little is yet known. Nick Karabetsos, from the Chicago area, used a Lola T360 for SCCA Drivers School in 1977, and then ran CenDiv Regionals with it in 1978. The idea that it could have been HU2 does not work now that more results have been discovered. Bernard Dennison, from Columbus, Ohio, also had a T360 for Northeast Division and Central Division Regionals in 1978, and Dean Lundgreen (Franklin, WI) had a T360 in 1979. Dennison's could have gone to Lundgreen. One of these cars is likely to be the ex-John Kowalski HU3, another may be Sandy Shepard's HU17, which is known to have returned to Carl Haas in May 1976, and if there was a third car, it might have been either the ex-Howdy Holmes HU10 or the ex-Phil Threshie HU16.
In October 1978, Dave Lafontaine (Mystic, CT) was seeking Lola T360 spares. Don Lafontaine (Mystic, CT) advertised a T360 in November 1984
Chassis
History
Current owner
Niki Karabetsos (Chicago, IL) drove a #83 Lola T360 in SCCA Driver School and at least one SCCA Regional in 1977, and then in SCCA Regionals and Midwest Council events up to the end of 1978. Karabetsos acquired a T460 for 1979, and the subsequent history of the T360 is unknown.
Driven by: Niki Karabetsos. First race: Blackhawk Farms, 25 Jun 1978. Total of 3 recorded races.
Unknown
Doug Moe (Bremerton, WA) owned a Lola T360 in the 1980s, which had been fitted with sports car bodywork and a Mazda engine. Exactly when Moe started racing the Lola is unclear, as he had a series of BSR class "Mazron" sports racing cars that he used in ICSCC events from 1977 (the "Mk 1"), 1978, 1979, 1980 and 1981 (the "Mazron Mk V"). The name would suggest a Chevron-Mazda combination. Moe was reported to be driving the Lola T360 in 'B' Sports Racing with Mazda engine in September 1985, and as he does not appear in the ICSCC points table for the 1983 or 1984 seasons, that would suggest he first raced it in 1985. The T360-based car was raced by Bill Hill in the CAT championship in 1987, after which it was reportedly stored. Early in 2003, Moe sold the the car to Allan T. Chou (Westfield, NJ), and in 2009 it was being restored. Bought from Chou in 2012 by Guilbert Twiss (Pittsfield, MA). Bought from Twiss by Dean Baker (Bowmanville, Ontario, Canada) in 2022.
Driven by: Doug Moe and Bill Hill. First race: Westwood, 15 Sep 1985. Total of 5 recorded races.
Dean Baker (Canada) 2022
In addition to the above, unknown Lola T360s were driven by Bernard Dennison and Gary Heath.
Please contact Allen Brown (allen@oldracingcars.com) if you can add anything to our understanding of these cars.
Acknowledgements
Much of the ground work and heavy lifting on these histories was performed by Chris Townsend, using both Lola records and Carl Haas' records, and also ploughing through classified advertisements in Competition Press & Autoweek and contacting many former owners. Our thanks also to Alan Brown, Adam Ferrington, David McKinney and Bryan Miller; to original drivers Allen Karlberg, Carl Liebich, Gary Magwood, Bobby Rahal, Sandy Shepard, Sans Thompson and Doug Phelps; and to current owners Dean Baker, Colin Haste, James Frank, Allan Chou, Michael Arnold, Guilbert Twiss and Andrew Wait.
Thanks also to Peter Viccary for generously allowing the use of his pictures from his website gladiatorroadracing.ca.
These histories last updated on .