Lola T450 car-by-car histories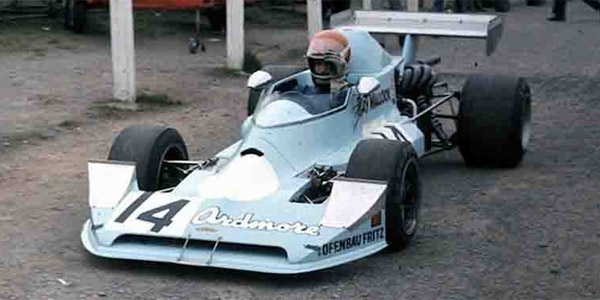 Lola made another attempt to break into Formula 2 in 1976 with the Lola T450, a variant of the Lola T460 Formula Atlantic. Although the development car performed well, the production T450s exhibited serious handling problems, and three of their four customers quickly abandoned them.
The Lola T360 had been very successful in Formula Atlantic in 1974 and 1975, and for 1976 Lola embarked on a development programme to produce a car that retained all the T360's positive qualities, such as straight-line speed, but to improve cornering ability. This T460 was successfully developed over the 1975/76 winter, and incorporated narrower track, an improved braking system with Lockheed calipers and ventilated discs front and rear, and completely revised suspension geometry. Four F2 cars were sold on the basis of this development car, the main difference between the Atlantic and F2 models being the two extra fuel tanks on the T450, contained in sidepods. When the first production T450 was delivered and started testing at the end of February, it was immediately clear that something had gone badly wrong. The car's handling was dreadful, but a worse problem was that the rear suspension geometry placed so much load on the driveshafts that they snapped.
Ray Mallock was moving up to Formula 2 from Formula Atlantic with Creighton Brown's Ardmore Racing and chief mechanic John Heitman, and what should have been his big break turned into a disaster. He wrecked the ill-handling T450 on the start line at its first race, and retreated to his March 75B while the Lola was repaired. Ian Ashley then hired the Ardmore T450 for the Thruxton F2 race, but was so far off the pace he elected not to start the race. The second T450 was sold to the Marlboro-backed ATS Wheels team for Formula Super Vee standout Mikko Kozarowitzky, but he quickly fled the scene as well. Two privateers had lower expectations, but even those weren't met.
The ex-Mallock car was converted to a T460 for Adrian Russell and ran happily if slowly for a couple more seasons before moving into speed events with David Render, and later to historic racing in the Seattle area. Another is used regularly in France after a career in French hillclimbs, and a third is being used in the Netherlands, but the fourth remains missing.
If you can add to our understanding of these cars, or have photographs that we can use, please email Allen at allen@oldracingcars.com.
Chassis
History
Current owner
Lola T450
HU1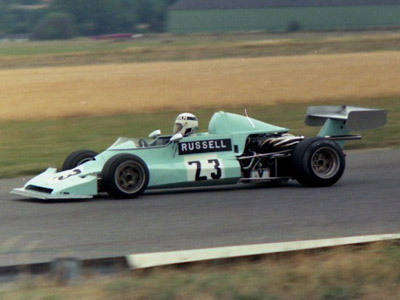 New to Ardmore Racing, fitted with a Swindon BDX F2 engine and raced by Ray Mallock in the opening Shellsport Group 8 race at Mallory Park in March 1976. As the race started, Mallock was pushed into the pits Armco and the Lola washeavily damaged. It was repaired at Lola and hired by Ian Ashley for the F2 race at Thruxton in April, but the car's handling was so poor in practice, he elected not to race it. Then converted to Formula Atlantic specification and sold to Adrian Russell (Thornton Heath, Surrey) for Indylantic and Group 8 in 1976, and in libre for the first half of 1977. Then fitted with a 2-litre Swindon BDX bought from Val Musetti, and used in Shellsport G8 for the remainder of the season. To David Render for 1978, and used in sprints and hillclimbs with a 1600cc BDA but only rarely used from 1978 to 1983. Sprinted by Jonathan Skinner and Anthony Lane later in 1983, and in 1984. Sprinted by Mike Lane from 1984 to 1986. Sold by Lane to Rod Fisher for sprints with a 2-litre BDA in 1988 and 1989. Sold by Fisher to David Dedrickson in about June 2001, and run in Seattle area historic events.
Driven by: Ray Mallock, Ian Ashley, Adrian Russell, David Render, Antony Lane, Jonathan Skinner, Mike Lane and Rod Fisher. First race: Mallory Park (UK R1), 21 Mar 1976. Total of 42 recorded races.
David Dedrickson (USA) 2020
Lola T450
HU2
New to Gunther Schmidt's Marlboro ATS Team for Mikko Kozarowitzky to drive in F2 in 1976, but the highly-rated Finn quickly abandoned the car, and moved to the Project Four team. Lola favourite Ted Wentz drove the car at Salzburgring in May, as Lola attempted to sort out the handling, after which it was raced by Bertram Schäfer and Reinhold Jöst. Driven by Wentz again at the Shellsport G8 race at Brands Hatch in August, where the car had a Hart engine, and Wentz had some success sorting out the handling. Its last appearance was at Hockenheim in September, where Mikka Arpiainen did well to qualify. Subsequent history unknown.
Driven by: Mikko Kozarowitzky, Ted Wentz, Bertram Schäfer, Reinhold Jöst and Mikka Arpiainen. First race: Hockenheim (R1), 11 Apr 1976. Total of 6 recorded races.
Unknown
Lola T450
HU3
New to Yves Courage, fitted with a BMW engine for French hillclimbs. Courage soon abandoned it for his older Surtees TS15A. Next seen in 1981, when Patrick Bornhauser ran it in the 1600cc class of French hillclimbs. According to the research of later owner Guillaume Bonatre, it then went to Jean-Paul Paria (surname unconfirmed) in the early 1980s, then Robert Greusard 1983, Nobert Delage 1983, and Philippe Graby 1985 to 1986. It was acquired by Daniel Job in 1992 and sold by him to Guillaume Bonatre (Ousson sur Loire, France) in 1997. After restoration, it was run for the first time by Bonatre at Dijon Prenois. Used by Bonatre in historic racing and French hillclimbs for many years. Still with Bonatre in November 2019.
Driven by: Yves Courage and Patrick Bornhauser. First race: Charnizay, 14 Mar 1976. Total of 11 recorded races.
Guillaume Bonatre (France) 2019
Lola T450
HU4
New to Team Warsteiner Eurorace, fitted with a BMW engine and raced by Roland Binder in F2 in 1976. Returned for a couple of races in 1977. Subsequent history unknown. According to Lola Heritage, this was the car used in historic racing by Gerard van 't Hoog between 2007 and 2009.
Driven by: Roland Binder. First race: Hockenheim (R1), 11 Apr 1976. Total of 5 recorded races.
Gerard van 't Hoog (Netherlands) 2009
Sources
There was a full description of the new Lola T450 and T460 in Autosport 8 Jan 1976 p5. The Lola Heritage site has an excellent page on the Lola T450.
Thanks to Chris Townsend, Steve Wilkinson and Dan Rear for their research on this topic. Thanks also to Thomas Bonatre for the ownership history of HU3.
If you can add to our understanding of these cars, or have photographs that we can use, please email Allen at allen@oldracingcars.com.
These histories last updated on .