Lola T530 car-by-car histories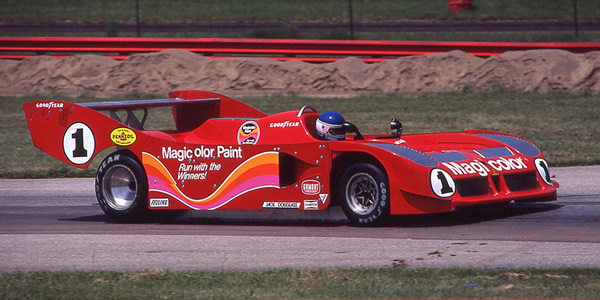 The Lola T530 was Lola's attempt to build a dedicated ground-effect single-seater Can-Am. It dominated 1980, winning seven of the nine races but was overtaken in 1981 by the new March 817, CAC-2 and VDS designs.
One of the largest racing cars ever built, the T530 was used by nearly all the major teams in 1980 after Chevron, who were due to supply VDS and Newman, collapsed into liquidation. Ten cars were built in 1980, but the VDS team built two or three more T530-style tubs for their later VDS Can-Am cars. A further "T532" project has been accumulated from surviving 1981-spec T532 parts plus a spare tub from Lola.
One of the key problems with the identification of the T530s is the confusion between T530 HU10 and VDS-001. As the histories below make clear, the car that currently wears the T530 HU10 chassis plate is VDS-001. The chassis plate was transferred off HU10 onto the VDS after John Foulston acquired the VDS for the 1985 Thundersports season. The real HU10 is therefore missing its chassis plate, and is now thought in some quarters to be HU2.
If you can add any further information, please email Allen.
Chassis
History
Current owner
The Lola T530s after 1982
By the end of 1982, surprisingly few intact T530s remained in the US. John Foulston had bought HU1 and HU10 and shipped them to England; HU6 had gone to Columbia; HU2, HU3 and HU7 had been damaged beyond salvage; and both HU4 and HU9 had been very heavily damaged at Laguna Seca in October 1982. This left only Mike Brayton's HU8 and Newman Racing's HU5, which hadn't been seen since late 1980. When Burke Ratcliffe were hunting for Can-Am cars to use in Thundersports in 1986, it appears that Brayton found every available T530 to sell to them. Only the heavily damaged HU4 remained in the US.
Chassis
History
Current owner
Accumulation of T530 and T532 parts plus tub acquired from Lola by Burke-Ratcliffe (UK) in 1986. Believed to be the car advertised by BRR Motorsport November 1988 ("currently being built up with new tub. Available race ready February 1989")? To Mike McComas (Pampa, TX) 1989 - Bill Chizar (San Francisco, CA) 1995 and later Michael Duncan (Los Altos, CA, later Colchester, CT) to Mel Spillman (San Antonio,TX) some time before 1999. Spillman was jailed in 2002 and his collection was sold off by the State of Texas District Attorney's office. The destination of the Lola T530 is unknown.
Unknown since 2002
These histories last updated on .