Lola T550 and Lola T560 car-by-car histories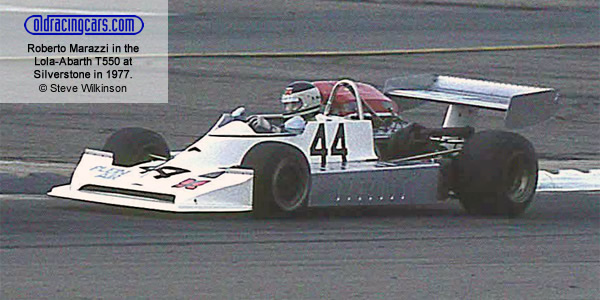 The Lola T560 was built for Formula Atlantic in 1977 but only one was sold. The second T560 was used briefly in Formula 2 as a T550.
Like the 1976 F2 and F/Atlantic cars on which it was based, the Lola T560 was a "three-quarter" monocoque fabricated with NS4 aluminium alloy sheet, and using a tubular steel sub-frame around the engine. Suspension was very conventional, with double wishbones at the front, and a lower wishbone, single upper link, and twin radius rods at the rear. Springs and dampers were outboard all round. Brakes were outboard at the front, and inboard at the rear. Transmission was via a Hewland FT200 as usual. A single fuel cell (14 Imperial gallons/16½ US gallons/63 litres) was used to SCCA standards, and the main radiator was in the nose. The weight was given as 970 lbs (441 kg), the same as the T460. The dimensions were also the same as the T460 except the track, which had increased from 48 to 53 in at the front and from 52 to 53 in at the rear.
The Lola T460 had sold well in 1976, so the failure of the T560 in 1977 was unexpected. Changes from the T460 were minor, and an update kit was issued that allowed some of Lola's US customers to upgrade their T460s to T560 specification without investing in a whole new car. The prototype T560 was sold to Jerry Hansen, but the second monocoque was used for a Formula 2 project, temporarily using the identity T550 HU1. Holbay's Abarth F2 engine proved no more reliable than it had been during its brief appearances in 1976, and the car only appeared at one race. After testing in December 1977 suggested Holbay may finally have solved the Abarth's problems, there was a suggestion of Alo Lawler running it in 1978, but this again came to nothing. The T550 became T560 HU2, and was sold to David Render, who borrowed the Abarth engine from Holbay and used the car in sprints for several years.
The T550 was Lola's last attempt to build a Formula 2 car until the Toleman TG280 design was licenced from Toleman and put into production as the T850 in 1981. The T560 similarly saw the end of Lola's ambitions in Formula Atlantic until the ground-effect Lola T760 in 1979. The T550 and T560 were the last of a family of Lola monocoque single-seaters inspired by the T320 Formula Super Vee range and comprising the T350 F2 and T360 F/Atlantic in 1975, then the T410 F/Renault, T430 F5000, T450 F2, T460 F/Atlantic and T470 F3 in 1976, and finishing with the T510 F/Renault, T550 F2, T560 F/Atlantic and T570 F3 in 1977. The next F3 car, the 1978 T670, used the same tub as the FSV T620.
Please contact Allen Brown (allen@oldracingcars.com) if you can add anything to our understanding of these cars.
Chassis
History
Current owner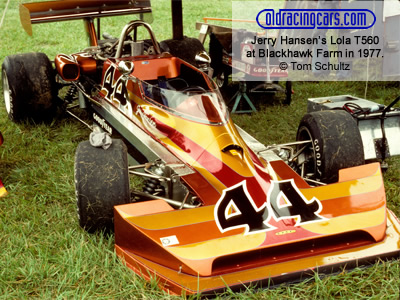 New to Jerry Hansen (Long Lake, MN), and logbooked with the SCCA on 17 August 1977. Then to Bruce Clark (Wayzata, MN) 1 May 1978, and raced in SCCA Nationals and occasional nearby Pro races over the next few seasons. He stopped racing after an accident in practice at the Road America Pro race in July 1981. He retained the T560 until 1989, then he sold it to Richard George. It then went to Denis Tobin in 1990, to Michael Henderson in Australia in 1995, then to Colin Haste (Port Macquarie, NSW, Australia) in 2000. Used in historic racing until an accident at Sandown in Australia 2002 left the car very badly damaged. The car was repaired and racing again by 2010, and raced regularly in Australian historic racing thereafter. Raced at Historic Sandown in October 2019.
Driven by: Jerry Hansen and Bruce Clark. First race: Blackhawk Farms, 21 Aug 1977. Total of 8 recorded races.
Colin Haste (Australia) 2021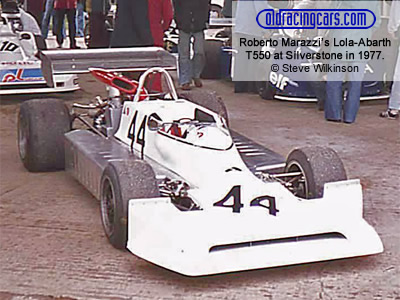 First seen as a Lola T550 with Holbay Abarth engine for Roberto Marazzi at the Silverstone F2 race in March 1977, but did not start. Not raced in 1977, but tested by Bruce Allison and Bob Evans in December. Alo Lawler was due to run the car in 1978, but abandoned the project after persistent engine problems. Sold to David Render for sprints in 1979, still with the Abarth engine borrowed from Holbay, and used until 1982 when the Abarth was returned, the Lola fitted with a 2.8-litre Hart engine, and used in this form until 1985. Sold to Jonathan Toulmin for 1988, who continued to run it with the Hart engine, then to Alan Newton, who bought the Abarth motor from Holbay and refitted it. Sold to Colin Pool in 1996, who sold it on to Francesco Molino. Sold by Molino to Thomas Steinke (Hamburg, Germany) in 2012, but later sold back to Molino. Still owned by Molino in December 2019.
Driven by: Roberto Marazzi, David Render, Allan Humphries, Jonathan Skinner and Jonathan Toulmin. First race: Curborough (R4), 3 Jun 1979. Total of 50 recorded races.
Francesco Molino (Italy) 2019
Acknowledgements
Thanks to Gerald Swan, whose Lola Heritage website is a fabulous source of information on the Lola T550, Lola T560 and other models. Thanks also to owners and former owners Colin Haste, Colin Pool, and Thomas Steinke, to researchers Steve Wilkinson, Chris Townsend, Derek Harling, Bryan Miller, Alan Brown and Dan Rear, and to Tom Schultz and Steve Wilkinson for the use of their photographs.
Please contact Allen Brown (allen@oldracingcars.com) if you can add anything to our understanding of these cars.
These histories last updated on .